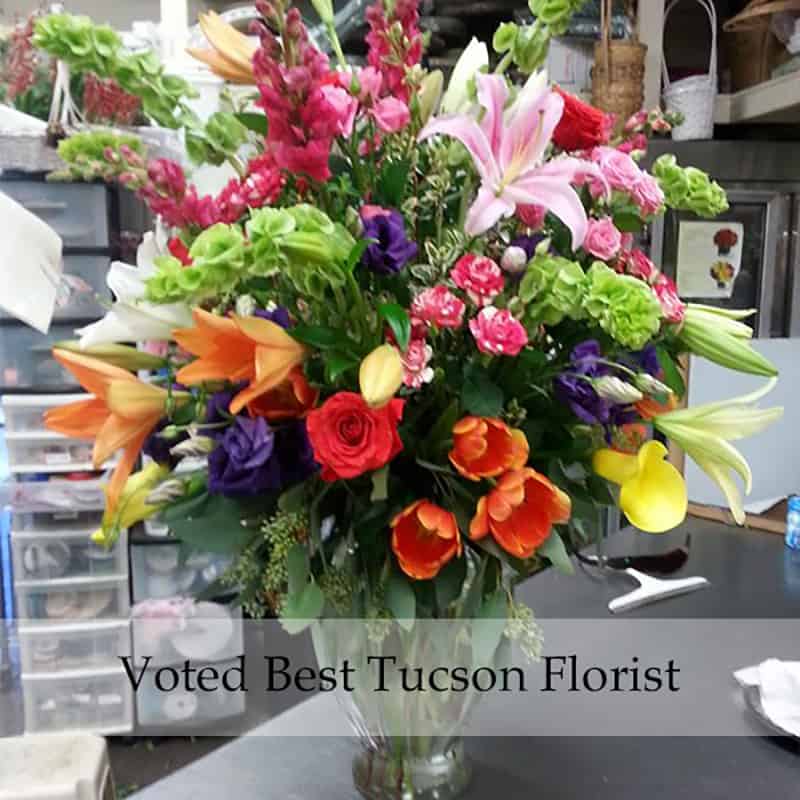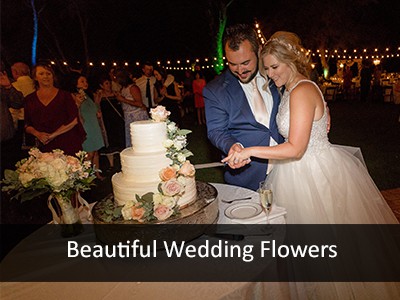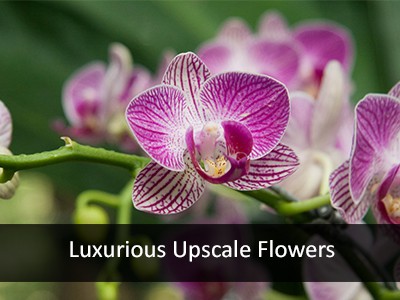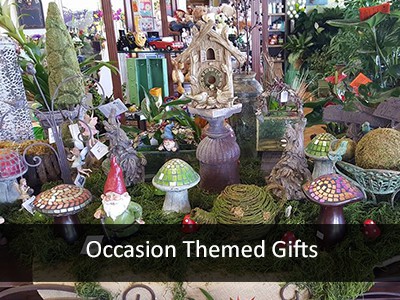 Most Recent Posts
Now is an ideal time of year to add more greenery to your life, whether it is inside your home with green plants and succulents or garden baskets for the porch or balcony. At our Tucson flower shop, we also offer an extensive plant center that offers a wide range of plant types. This includes succulents, green plants, orchids, and more. We are excited to share our floral designers love of creating beautiful plant displays almost as much as floral designs. To enhance the beautiful look of everything from succulents to European-style gardens, we also use a diverse choice of containers. Many are keepsake containers that are good for future flowers or plants as the plants outgrow the containers. They also make good decor items. This includes containers that look like vintage automobiles as well as Weber charcoal grills and more. All of our plants come from flower and plant partner farms that share our values of high quality and long-lasting options. Our customers love that they can enjoy their plants for months and even [...]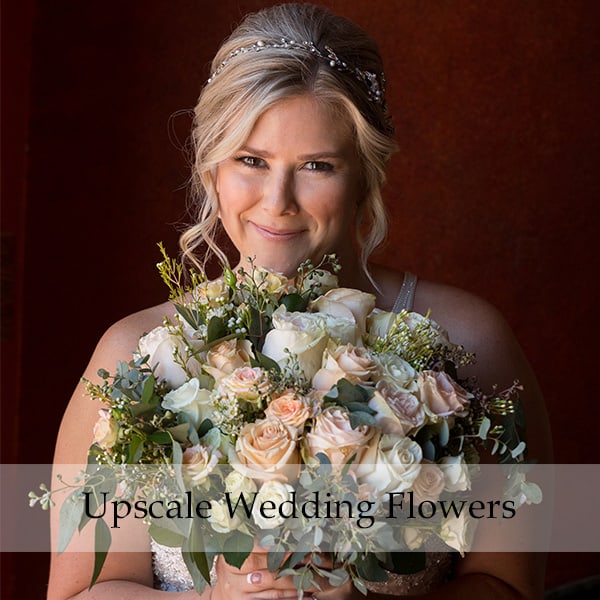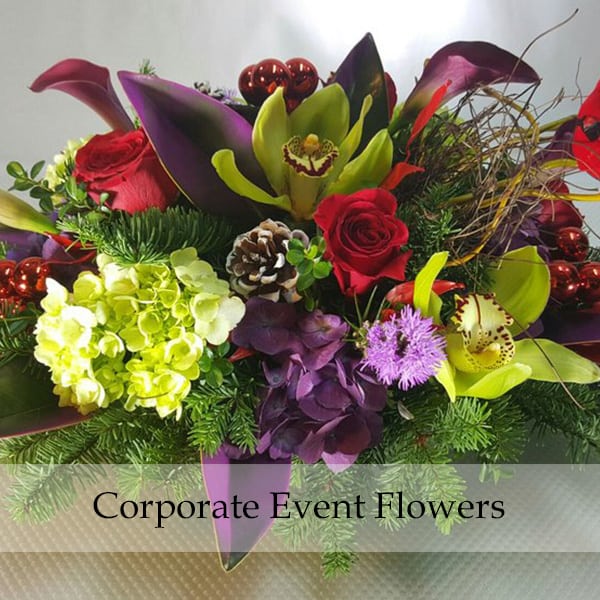 Browse Through All Blog Posts
Orchids are a stunning tropical blooming plant that can live a long life in your home or office. They regularly bloom with just minimal care. Here are some tips on how to take care of orchids and recommendations on the best place to keep them when displaying them indoors. Main Care Requirements for Orchids There are some basic orchid care tips. First, most orchids only require water once a week. Don't over water because this can cause root rot. Second, put your orchid in a bright windowsill, facing east or west. Third, orchids do well when fed weekly with an orchid fertilizer. Finally, it's best to repot the orchid once it stops blooming. Now, let's look at some more detailed tips on orchid care. Orchids are Diverse and Have Unique Care Needs It may be difficult to believe, but the orchid family has over 880 different types and more than 22,000 species. These tropical plants are known as "air plants" because they hang on to trees for support while others are "rock plants" and grow on or among rocks. Still other orchids are terrestrials and grow on the jungle floor. With so many home environments, it's easy to see why orchids also require diverse care. However, all orchids require the right light, food, humidity, water, air movement and temperature to thrive.  Orchid Containers Orchids do not grow in pots in the wild so it makes sense to think a lot about how putting them in containers may impact their comfort. Make sure to use a pot that can provide room for the roots to breath and move as well as provides an ample environment for moisture. Good options include plastic pots and ceramic pots. Making an Orchid Feel at Home Since orchids like humid environments due to their origins in the tropics, consider using a humidity tray to recreate that environment for the orchid. This also can help improve air flow. The temperature an orchid requires also depends on the type of orchid. Phalaenopsis orchids thrive in a daytime temperature anywhere in the mid seventies to mid eighties while dendrobiums like their temperature to be around 10 degrees cooler. Order Today! Call us to order your very own orchid plant or send one as a special gift. We offer no-contact delivery and curbside pickup at our Tucson flower shop.
We are so happy to be working with our customers throughout Tucson. Mother's Day was a wonderful week of giving and spreading joy among all those Moms who are so deserving of gifts galore. As we move forward, there are many more celebrations on the horizon, so we want to make these as affordable as possible. These celebrations may include birthdays, get-well wishes, and graduations. How it Works That's why we offer a special promotion called Deal Of The Day - Best Blooms. When you place an order online or by phone, our award-winning designers in our Tucson flower shop will put together  a selection of fresh flowers from over 50 varieties to create a custom arrangement just for you and/or your recipient. There are many sizes available to fit your budget. The traditional size is 59.95; the fancy size is $79.95; and the premium is $124.95. Each one includes flowers that would typically cost 10%-20% more when purchased separately from the Deal of the Day promotion. This means we are tasing on an extraordinary value to you. When you order, be sure to tell us what flowers and colors you or your recipient loves so we can find ways to incorporate these and further personalize the floral design you order. Bestsellers Be sure to also check out our selection of floral designs online, which offer more beautiful ways to let others know you are thinking of them or celebrating with them from afar. The bestsellers collection includes all of our most popular flower arrangements that are the most-ordered bouquets from our Tucson flower shop. Delivery Options We offer no-contact delivery options for the local Tucson area. With a limited amount of staff and focus on more health and safety processes, our delivery hours are limited. We recommend that you place your order for the Deal of the Day or anything else you order from us well in advance of the intended date. That way, we can get your order on our schedule. We appreciate your patience during these unusual times and are thrilled to be able to offer our floral services in such uncertain times.
This Mother's Day, which falls on Sunday, May 10th, we are encouraging everyone to order early. We are fortunate to report that we are doing well thanks in large part to the support of our local Tucson community. However, our supply chain could experience some issues due to the pandemic. We are so proud of our Mother's Day floral collection this year. It's really beautiful and reflects the creative spirit of our incredible floral design team that has shown resilience in the face of so much uncertainty. They truly went above and beyond, with the idea that they could bring cheer, love, and positivity to more people during such a difficult time period. Here are some ways to brighten Mom's week before, during, and after Mother's Day: Select your Mom's favorite type of flower and buy them in bulk so you can arrange these in various containers around the house. That way, she'll see those tulips or roses in each room she enters. You can even deliver bright and bold sunflowers. That's sure to keep her smiling because there is a little bit of sunshine in every room. Take advantage of our Deal of the Day. Not only does this option for Mother's Day offer significant value, it also gives our floral designers the chance to make something unique for your Mom. She can feel like the VIP she is when she realizes the floral design was made just for her.  Opt for something different and unusual this year to really surprise Mom. For example, our Azalea tree is a stunning flowering plant that is shaped in a topiary style. It's an eye-catcher. Help Mom brighten her porch, balcony, or patio with a colorful planter filled with flowers, blooming plants, and greenery or a selection of succulents. Pick a beautiful floral design from our Mother's Day collection that gives Mom a mix of flowers and colors along with many keepsake containers, offering two gifts in one and something to enjoy for years to come.  Order and Delivery Please think about scheduling your delivery earlier than normal as well. Please don't wait until the last minute to order or to send your Mother's Day gift. We have limited delivery slots because of the no-contact delivery and need to ensure that we follow strict guidelines for everyone's health and safety. When you send flowers during this upcoming week your Mom will have the chance to enjoy them during the days leading up to Mother's Day.
Mayfield Florist Voted Best Florist In Tucson Arizona For florist all across America, Mother's Day historically generates more sales volume than any other single holiday. Mother's Day will be here soon. If you are checking your calendar, it falls on Sunday, May 10th. If you are like most of us, you haven't been able to see your mom in quite some time. Some of our Mom's live in different states. Others live just down the road, but with the stay at home mandates and social distancing requirements, we just have not been able to spend any quality time with them. Whatever your circumstance, now would be a great time to send a beautiful floral arrangement to her. The Benefits Of Fresh Flowers Flowers are always a great Mother's Day gift idea. There is nothing better than receiving a beautiful, farm fresh flower arrangement. The fresh flower designs in our Mother's Day floral collection include some stunning designs. A bouquet of flowers is the perfect way to brighten your Mom's day. Studies over the years point to the fact that fresh flower bouquets are in fact one of the most preferred gifts at Mother's Day. Not only are the beautiful, a fresh floral design will literally fill any room with a wonderful aroma. Delivery Options Available We offer a number of different delivery options. Traditionally, we provide nationwide same day delivery, or local same day or express flower delivery service. Nationwide same day flower delivery is the perfect solution if you need to send flowers to your mom and she lives in another state or a city that is not close to where you are. During Mother's Day, nationwide delivery is one of the most heavily utilized delivery requests we receive. The shelter in place and non-essential business closure mandates have made nationwide delivery a bit more problematic for this Mother's Day. We are still going to be able to provide you with nationwide same day service this year, in most cases. Still, with everything going on right now with the pandemic, there may be a handful of situations where we cannot guarantee service. In the greater Tucson area, we are able to provide local same day delivery. In many cases, we can also still offer express delivery service. Currently, all of our retail locations closed. All orders must be placed either through our website ( https://mayfieldflorist.com ) or by phone. Our primary phone number is (520) 886-4443. When you order for local same day or express service, our delivery team will contact you when they are in the process of delivering your arrangement. We are following social distancing mandates by utilizing what we are referring to as no contact delivery. Meaning, we will alert you to the arrival of your arrangement, then leave the fresh flower bouquet on your doorstep. Red Ecuadorian Roses, Stunning Oriental Lilies The Best Flowers In Tucson Arizona The award winning floral design team at Mayfield Florist created this stunning floral arrangement. [...]
Mayfield Florist Voted Best Florist In Tucson Arizona Mayfield Florist has been serving Tucson AZ for nearly 40 years. We operate multiple flower shops in Tucson, Arizona. Our firm was started by Patsy Coleman and is now run by sons Don and Greg. The Mayfield design firm employs an expert team of floral designers. These floral artisans create luxurious, upscale flower arrangements. We use the finest, freshest, highest quality floral products available. Our customers have come to enjoy the fact that they are able to choose from all top favorite flower varieties. Here are some of the wonderful flower varieties we have in-stock this month; Alstromeria, Asiatic Lilies, Dahlia, Daffodils, Ecuadorian Roses, Gerbera Daisies, Holland Tulips and exotic Cymbidium and Dendrobium Orchids. We try to create really unique floral arrangements and we have arrangements themed after the cities and customers we serve. Check out the arrangements in our luxury and exclusive lines. Our goal is to have a signature floral design for each city that falls within our normal scope of local business. Check out the signature design we have for Tucson. It is pictured in the upper left of this page. We call this one, "Epic Day in Tucson." This arrangement is full of gorgeous seasonal flower varieties. Primary from our Summer collection. We used some beautiful sunflowers, gorgeous flowering hydrangea, roses and other assorted stems as needed to make an artful arrangement. This type of arrangement is perfect as an anniversary gift, for a birthday celebration or send it as a get well gift. We find that people of all ages just love this floral arrangement. It is historically been one of the top selling arrangements for us for a number of years. If you are looking to make a lasting impression, Epic Day in Tucson will accomplish that goal. We guarantee the recipient is going to love it. Ecuadorian Rose Collection We purchase many of the flowers we sell farm-direct. Our Ecuadorian Rose Collection is one great example of that. We buy our roses direct from the farms in Ecuador because those roses are grown in near perfect conditions for rose plants. The roses we buy come from the more mountainous area, where the rose plants enjoy the perfect blend of sunlight, moisture and soil conditions. Buy direct from the growers offers all kinds of advantages for us and for our customers. Farm-direct roses means our customers receive the finest, freshest, highest quality roses available in Tucson. Ecuadorian roses are simply stunning and known for being some of the most beautiful anywhere in the world. An Ecuadorian rose will generally have a longer stem than most of the domestically grown roses many other flower shop owners purchase. In addition to the longer stems, Ecuadorian roses are known to have larger and generally superior blooms. Because our roses are shipped straight to us from the flower farms, we can guarantee freshness. Fresher roses translate directly [...]
Mayfield Florist Local Same Day & Express Flower Delivery Ever feel like your world has been turned upside down? The past 3 weeks have really felt that way to many of us in the Tucson, Arizona area. Just a few weeks ago, our 4 floral design centers were open to the public for in-store shopping. Now they are temporarily closed to the public, while we do our part to help protect the health of our employees and Tucson area families. At this point, we are still able to accept orders via phone and through our Mayfield Florist Website. Our delivery staff can still provide local same day delivery. We also offer a great no touch delivery option as well. Meaning, customers who prefer that we leave the arrangement on the doorstep can be accommodated. It has been interesting to see that many customers have actually opted for the no touch service. In the event a customer does opt for no touch delivery, we do make an concerted effort to notify them by phone when the delivery has been accomplished. We have spoken with quite a few customers over the past few weeks. They really seem to long for the day when they could come in and shop at one of our beautiful flower shops. We offer a wide array of occasion themed gifts that have always been very popular. Many enjoyed the opportunity to shop, while they waited for one of our expert designers to custom design a gorgeous fresh flower arrangement for them. We want you to know this. The team at Mayfield Flowers really misses you too! We can't wait for the day when we can welcome you back into our flower shops and greet you with a warm smile and a hug. Ok, so maybe a social distancing knuckle bump, if you are more comfortable with that. As the cabin fever builds, we encourage you to stay the course. This too shall pass. To help pass the time, we will do our part to provide you with some gorgeous floral design photos to help brighten your day. This week, we want to share some of the beautiful Easter and Spring themed floral designs that would normally be flying off the shelf. Local Same Day and Express Delivery Mayfield Florist offers local same day and express flower delivery service. Our local delivery zone is one of the largest of any of the flower shop operating in the Tucson Arizona area. Customers who live and operate within our local delivery zone may choose between same day or express flower delivery service. Our express service is really great. Especially when you need to have flowers delivered by a very specific time of day. Using express delivery, you can get flowers to the intended recipient, generally within four hours of the time you place the order. Nationwide Same Day Delivery In addition to local delivery, Mayfield Florist [...]
Mayfield Florist Tucson's Flower Shop Delivers Cheer For the Spring Season With two flower shops in Tucson, Arizona to serve customers along with a convenient mobile-friendly floral and gift website, we are focused on giving you the best value, service, variety, and quality for your event or occasion throughout the spring season and beyond. All of us here in Tucson could use some bright spots in our lives. Now more than ever, it's time to stay connected and let each other know we are here for each other even if we can't be in-person. We are offering no-contact flower delivery and curbside pickup so you can send and give flowers to each other as well as add some cheer to your home. Our spring favorite flowers are here and we'd like to share them with you from our spring flower collection: Lilies Here are two beautiful ways you can add lilies to your life and those you love; Lily Sunshine Our Lily Sunshine floral arrangement gives you a generous bouquet of bright yellow lilies and seasonal greenery in a vase. So Enchanting Bouquet This bouquet combines red roses and pink lilies into one sensational floral display. Daisies Daisies are another spring flower favorite.  It's hard not to smile when you see these bright, cheerful flowers. Dashing Daisies This daisy option gives you a bowl of yellow and white daisies. It's filled to the brim with these spring delights. Make a Wish Send your best wishes with this bold floral display. There are yellow daisy chrysanthemums, purple asters, and red and orange carnations in a clear ginger vase that's been tied with a green plaid bow. Tulips One of our floral design team's favorites, tulips are here! Check with us on what colors are currently available when you order online or by phone. We can combine tulips with other favorite flowers. For example, our "Full of Love Bouquet" features roses, tulips, and carnations in a vase. What a way to express your love for those around you! Thank You! Thank you for your continued support of our small business here in Tucson. We will get through this together!
Mayfield Florist Tucson's Flower Shop Offers Wedding Planning Services With two flower shops in Tucson, Arizona to serve customers along with a convenient mobile-friendly floral and gift website, we are focused on giving you the best value, service, variety, and quality for your event or occasion. We have an incredible team of floral designers and wedding and event consultants that want to make your special day as special as possible. Today is the perfect day to get started. March 20th is National Proposal Day, a day that was created to celebrate the commitments we make to our significant others by recognizing it formally through engagement and marriage. It provides an anchor for families and communities everywhere. We are here to get you started on wedding planning and will stay with you all the way until you finish your big day. To help you start the process, be sure to check out our exclusive wedding flower website that we created as separate to our regular flower service website. On this website, you will find a portfolio that showcases the previous wedding flowers we have created. There is a diverse gallery that shows seasonal weddings, themed weddings, different sizes of weddings, and unique wedding styles. You can feel confident about what we do and get ideas for your own wedding. The website also includes a convenient way to reserve your free wedding consultation, including a phone and email address that helps you get it scheduled. Once you have scheduled your consultation, you will be able to come in and sit down with our floral designers and consultants, see what we can do for you, discuss floral design ideas and packages, and learn about our one-on-one service for your wedding. You can see examples of wedding flowers for ceremonies, receptions, wedding parties, and cakes. It's never too early to start planning your wedding even if you don't have it scheduled or won't hold it until this summer or beyond. We look forward to hearing from you!
Mayfield Florist Tucson's Flower Shop Delivers Fresh Flowers and Plants With two flower shops in Tucson, Arizona to serve customers along with a convenient mobile-friendly floral and gift website, we are focused on giving you the best value, service, variety, and quality for your event or occasion. We have a wide selection of fresh flowers and plants to celebrate St. Patrick's Day on Tuesday, March 17th. Here are some ideas for giving and celebrating on St. Patrick's Day: Napa Valley Centerpiece This elegant centerpiece works well for a formal St. Patrick's Day dinner or event. It includes a mix of white and green hues in a large, keepsake French country pot. Zensational Go tropical with your St. Patrick's Day celebration by showcasing this tall, green floral arrangement filled with orchids. Limelight Bouquet This unique green-themed arrangement is tall and offers a mix of textures, including flowers, greenery and accents that even include bamboo.  Bisbee Grand Our floral designers created a luxury floral arrangement that offers a bright and cheerful way to celebrate St. Patrick's Day. It includes cymbidium orchids, jade green roses, hydrangea, natural wood, and succulents in a rustic wooden box. Plants Galore When it comes to green, you'll get lucky at our Tucson flower shop because we have a wide selection of green plants, blooming plants, and dish and basket gardens. The plant collection also includes the ever-popular succulent plant, including special succulent gardens. Other St. Patrick's Day Treats Look for other St. Patrick's Day ideas in our Tucson flower shop, including festive balloons, gift baskets, and more. Order today!
Mayfield Florist Tucson's Flower Shop Offers Unique Birthday Gifts With two flower shops in Tucson, Arizona to serve customers along with a convenient mobile-friendly floral and gift website, we are focused on giving you the best value, service, variety, and quality for your event or occasion. Our award-winning floral design team has a wide range of creative floral designs to express your celebratory wishes for birthdays for friends, family members, colleagues, neighbors, and clients. We have a wide selection of birthday gifts in our birthday collection, including birthday gift ideas for the guy or woman in your life. You can also shop by milestone birthdays. Here are some birthday ideas to get you started that you can order in our Tucson flower shop or through our website: Colors Of The Rainbow Bouquet This bold floral display celebrates birthdays in a big way. It's a tall, large, and luxurious bouquet of colorful hydrangea, roses and lilies in literally every color of the rainbow. Regal Orchids Go with a long-lasting birthday gift that is as timeless as your birthday recipient. This orchid display offers many colors. Check with us when you order to see what colors are currently available. Mayfields Sunrise Splendor This rose display for a special birthday features large, high-quality Ecuadorian long-stem roses in shades of orange, light orange and dark orange arranged in a sparkling flared vase. There are 24 stunning roses included. Spirited This gorgeous floral display offers a wide range of seasonal flowers and greenery in bold, joyous colors that your birthday recipient is sure to enjoy. Desert Beauty Succulent Garden Not everyone on your March birthday life may love flowers. For the green thumb birthday recipient, consider this slate dish filled with a range of long-lasting sculptural succulents. Don't forget that we also have other birthday treats like balloons, cards, local artisan items, and more in our Tucson flower and gift shop so drop by and order in-person!