Mayfield Florist Winter Flower Bouquets
Winter Flower Bouquets at Mayfield Florist will leave you awe stuck. Above all, they are fresh and beautiful. As we know, Winter is the coldest of the four seasons. However, people still enjoy the many winter activities that are available. The official first day of Winter 2021 was December 21st. Some of the favorite activities are snowboarding, snow skiing, ice skating, having snowball battles and much more.
Above all, Winter is perfect time to stay  home.  For instance, people enjoy hot beverages, watching movies and above all, spending time with family. Mayfield Florist sells the very best Winter Flower Bouquets. Therefore your home will be pretty and smell nice as you spend more time indoors.
In short, as you shop for flowers at Mayfield Florist, some of the favorite Winter Flowers are:
Lilies – These flowers were first discovered in 1580 B.C. They are perennials and often symbolize different things. For instance, the pure white Lily symbolizes chastity.
Chrysanthemums – Similarly called mums, these flowering plants are native to East Asia.
Daisies – This flower was introduced from Europe to the US. They have a bright yellow enter surrounded by many petals.
Roses – There are over 300 varieties of the Rose. Depending on the color, they can symbolize different things.
Sunflowers – Large yellow flowers. The Sunflower is known as the happy flower.
For example, below are some product descriptions and images of the Mayfield Florist Winter Flower Bouquets.
Gift of Grace Bouquet
Elegantly understated, this stunning array of white roses and lilies in a stylish silver scalloped design bowl is an eloquent way to convey your love and support.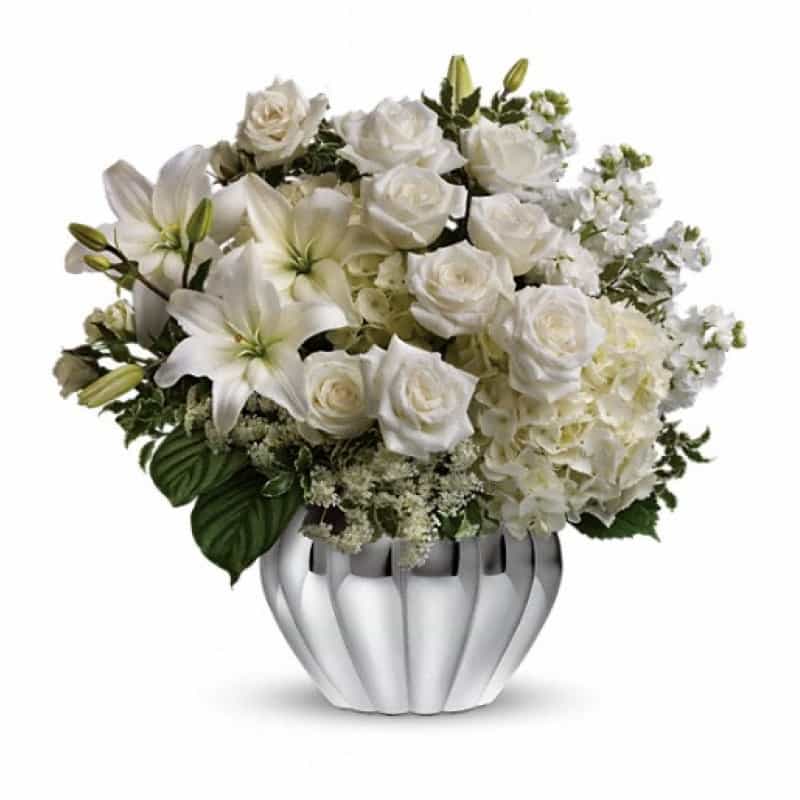 Designers Choice Luxury
Home › New Years › Designers Choice Luxury
Premium Luxury Floral Designs
Only Available In Local Tucson Area
Let our expert floral design team create a luxurious floral arrangement for your special someone. The image shown on the website is an example of the style of arrangement you may receive. Our designers will pick out the freshest, most luxurious flowers that we have available and create a gorgeous floral design for you. To be clear, we purchase flowers based on seasonal availability. Some of the flowers shown in the sample image may not be available to our designers at the time you place your order.
If that occurs, we reserve the right to substitute some of the varieties for flowers of equal value and quality. Trust our Award Winning Designers to create a stunning floral design for you. We guarantee you and the recipient are going to love it!
Saddlebrooke Florist – Same Day Flower Delivery to Saddlebrooke
Florist Saddlebrooke Arizona
Farm-Direct, Luxurious Flowers Plants and Gifts
Mayfield Florist offers the best selection of fresh flowers in Tucson and Saddlebrooke Arizona. We are a second generation, family owned and operated floral design firm. We provide flowers for all occasions. Our wedding and event flowers are simply breathtaking. We employ a very talented team of floral designers. They create some of the most luxurious, upscale flower arrangements you can imagine. The delivery staff at Mayfield Florist is second to none. They make daily delivery runs to all Tucson area hospitals, churches, funeral homes and mortuaries.
Local Same Day & Express Delivery    |    Nationwide Same Day Flower Delivery
Customer Testimonials
Check out our many Customer Testimonials on our Website. Here is one below:
I continue to be amazed at the quality of both the service and the flowers from Mayfield Florist. Over the years they have stepped up in difficult times and made my life easier and more peaceful with tremendous results. The most recent case and point happened last evening. As I struggled to sleep I suddenly realized that I had given them the wrong time for a graveside service I was attending the next morning.

I decided to leave them a message at 2:04am (yes in the morning). To my utter surprise an employee of Mayfield Florist answered the phone and assured me that the flowers would be there for the 10:30am service after I had told them it was at 2:30pm. They were delivered timely and they were gorgeous. Exactly what I wanted. They continue to amaze me and I hope that you give them a try. I am sure you will be amazed too!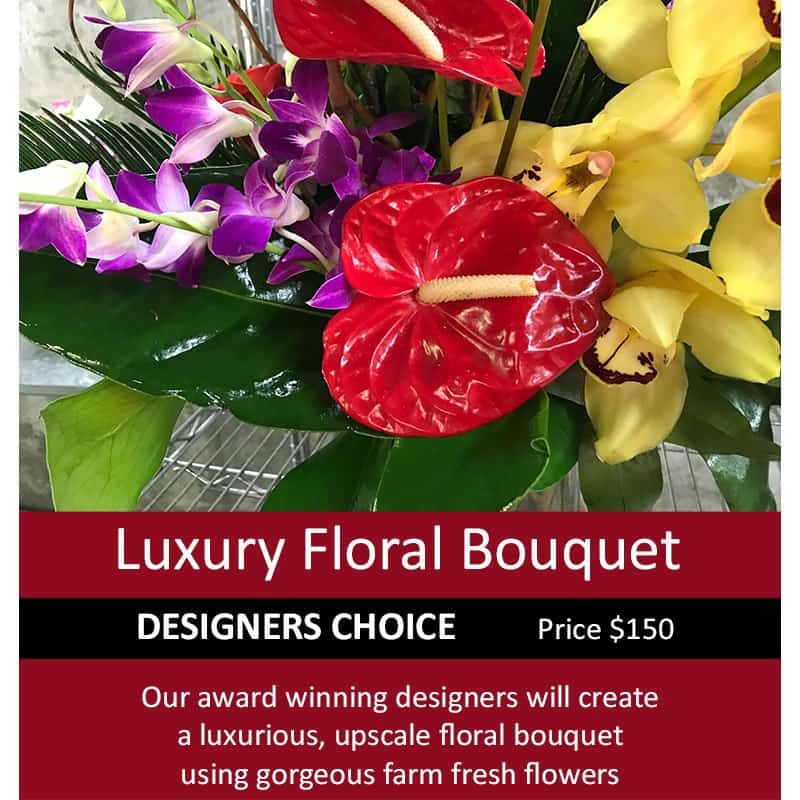 At Mayfield Florist, the products we sell include farm fresh flowers, plants and gifts for all occasions. We employ one of the most talented floral design staffs in Arizona. They are known for producing luxurious, upscale floral designs. The delivery staff at Mayfield Florist makes daily delivery runs to all Tucson and Casas Adobes area hospitals, churches, funeral homes and mortuaries.
1610 North Tucson Blvd
Tucson, AZ 85716
Get Directions »