Mayfield Florist offers the best Farm Fresh Flowers in Tucson
The Spring Season is officially here, and Easter is just around the corner!  There is no better time to visit Mayfield Florist and shop with us to see our Easter and Spring Flowers Collection.  With Easter being such a popular holiday to spend time with loved ones and friends, flowers play a major part of the Easter Holiday. Not only do flowers add beauty and freshness to the Easter Holiday and Spring Season, but they also have religious meaning in some cases as they relate to Easter.  Mayfield Florist has a broad selection of Easter and Spring Flowers.
Spring and Easter Flowers from Mayfield Florist are a welcomed gift. Mothers and grandmothers love Easter Flowers as well as your significant other, co-workers, church groups or even as an Easter dinner gift. It is recommended that Easter Flowers arrive one or two days prior to the Easter celebration beginning but Spring flowers are welcome to arrive anytime!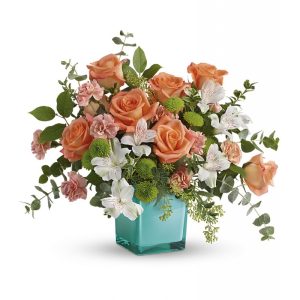 There are many fun family April activities in Tucson AZ.  For example, the Easter ExtravaganZOO sounds super fun. It is being held on April 16 at the Reid Park Zoo.
Filled with great activities like an Easter Egg Hunt for the kids and a chance for them to meet the Easter Bunny. There are other activities also plus a marvelous menu and beverages for the adults.
Please visit a Mayfield Florist Floral Designer and allow us the honor of helping you prepare a thoughtful Easter and/or Spring Flower arrangement. Below is a short list of some popular Easter and Seasonal Spring Flowers:
Tulips – These amazing springtime flowers are very low maintenance. You plant the bulbs in late fall or early winter.
Lilies – Trumpet shaped blooms coming in a multitude of colors, Lilies are fragrant and elegant.
Hyacinth – These bloom in purple, pink and white. They are some of the favorites as a pot or vase decoration. They are thought to symbolize peace of mind.
Baby's Breath – These are very delicate flowers. It is said they represent the Holy Spirit.
Daisies: White daisies are said to have the symbolism of the innocence of the Christ child.
Lilacs – Found in several varieties, Lilacs are colorful and very fragrant. Despite the old wives' tale that if is bad luck to bring them indoors, their blooms of blue, pink, white and lilac will brighten up any home.
Daffodils – Colors of peach, apricot, orange, coral, white and yellow the Daffodil is a frilly delicate flower. Used to convey true love or friendship.
Primrose – These are a native British flower. They have yellow blooms and leaves that appear to be crinkled. Typically, the best time of year for these is March – May.
Snowdrops – This flower starts growing in January in some parts of the country. The plant generates unusual white drooping bell shaped flowers.
Crocus – Purple, yellow and white varieties are very bright and cheery.
Forget – me – Nots – Usually found as a boarder flower, they are a short blue flower. They can be used as an accent to pots, gardens and arrangements.
Grape hyacinth – Another of the great plants for a pot, these have small bright blue flowers. They do have a tendency to spread easily so occasional thinning may be needed.
Bearded iris – Defined by their ruffs and falls which are the outer and inner petals, the hair looking growth in the center gives them the nickname, bearded Iris.
Alliums – These make for fabulous cut flowers in flower bouquets and arrangements. They have fantastic globe shaped purple flowers. Some people also like to keep them for dried flower arrangements as well as fresh.
Mayfield's Sunset Splash Bouquet
Inspired by the warm peach skies and crystal blue waters of a tropical sunset, this fun-filled rose bouquet adds a splash of happiness to any occasion!
Mayfield Florist Easter and Spring Flowers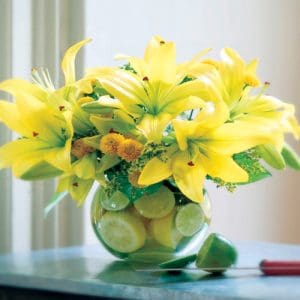 Mayfield Florist offers the best selection of beautiful Easter and Spring flowers in Tucson. We have all your favorite varieties of flowers, in-stock and available for immediate purchase. We encourage you to take a look at our gorgeous Tulips. They are a seasonal product, generally only available during the Spring. They are absolutely gorgeous.  In addition to gorgeous tulips, we also have beautiful full bloom hydrangea, fabulous gerbera daisies, alstroemeria, dahlia, daffodils and much more.
Our firm operates multiple floral design centers in the greater Tucson, Arizona area. Our Eastside Foothills flower shop is located at 7181 Tanque Verde, Tucson, Arizona 85715 and is beautiful. If you are in the area, we invite you to stop in. This store is open to the public for in-store shopping Monday through Saturday. We are closed on Sundays.
We offer the best selection of beautiful farm fresh flowers in Tucson. Our award-winning floral design staff is one of the very best in Arizona. If in browsing our website you don't find the exact floral arrangement you are looking for, please call us at (520) 886-4443 in Tucson or toll free at (800) 584-6081. We offer custom floral design and can create the design that meets your exact needs.
Our website is designed to offer you an easy way to shop, whether you are looking for a special gift or something for your new home. We have owned Mayfield Florist since 1982 and are constantly striving to meet our customers' expectations. We believe that you will find our sales staff helpful.
Just Make Lemonade
When life gives you lemons, sometimes you just have to make lemonade.  This gorgeous bouquet of yellow lilies and lemons in a bubble bowl vase is the perfect gift.  The aroma of lemons and beauty of flowers are quite the combination.
Mayfield Florist Easter and Spring Flowers
1610 North Tucson Blvd
Tucson, AZ 85716
Get Directions »