Mayfield Florist
Voted Best Florist In Tucson Arizona
Welcome to the new Mayfield Florist blog. Our firm has been in business, serving customers in Tucson and throughout the United States, since 1982. We offer the finest, freshest, highest quality floral products found anywhere in Arizona.
Mayfield Florist has been voted "Best Florist in Tucson" numerous times over the past 35 years. We are extremely proud of that fact. Every floral arrangement we create comes with our 100% customer satisfaction guarantee. If for any reason, you don't love the arrangement we create and deliver for you, just call one of our floral design centers. We will replace that arrangement, with one of equal or greater value, absolutely free of charge.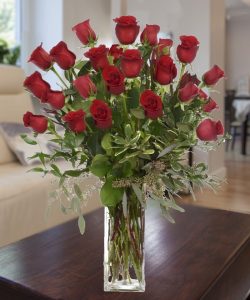 Our firm purchases many of the flowers we sell, direct from the flower farms. We buy flowers from both domestic and international flower growers. Buying direct, ensures that we can offer the most extensive flower selection in Tucson. It also ensures that we can reduce the time between when the flowers are cut at the farms and when we can design and deliver the arrangement to you. Fresher flowers ensures longer vase life, which means our clients get to enjoy their fresh cut flower arrangements longer.
We have all your favorite floral varieties, including beautiful Ecuadorian Roses, seasonal Holland Tulips, exotic Cymbidium and Dendrobium Orchids, Full Bloom Hydrangea, Fresh Gerbera Daisies and many more varieties.
Our Ecuadorian Roses are simply stunning. They have longer stems, beautiful large blooms and offer extended vase life. Our roses are grown high in the mountains of Ecuador. There the rose plants enjoy the perfect blend of sunlight, moisture and soil conditions. We offer many wonderful colors, including; red, pink, lavender, white and yellow.
In addition to gorgeous fresh cut flowers, we also offer live green, flowering, tropical and succulent plants. We have beautiful European Garden Baskets, fabulous Orchids, Traditional Dish Gardens and high desert succulents that are simply fabulous. Plants are an appropriate gift that fit many occasions. If properly cared for, the will stay beautiful for many months.
We hope that you will stop by one of our flower shops in Tucson to view all of the great flowers, plants and occasion themed gifts we offer. We look forward to your visit.