Mayfield Florist
The Best Florist in Tucson For Special Gifts
Think back to your childhood. Do you remember heading off to the first day of school. You were nervous about what your teacher was going to be like. Who your classmates were going to be. Would you be able to find your room and get seated before that first class started. Then that first bell of the year sounds and class begins. Bringing back any memories for you? One thing that always seemed to help was mom or dad sending us off with a gift for the teacher. Somehow, having that gift in our hand built positive energy that helped greatly to fend off those nervous feelings. This year, put your child more at ease. Give the a gift to take to their new teacher. What a great way for your child and the teacher to start the day.
Mayfield Florist has all kinds of great flowers, plants and gift options that would work great for that back to school gift. We encourage you to visit our website to see all of the wonderful gifts we offer. We are a family-owned and operated floral design firm. Our firm was voted "Best Florist in Tucson" on numerous occasions. Most recently, we received that honor for 2018. Mayfield Florist employs a super talented team of floral designers. They create luxurious, upscale floral designs. We operate 2 flower shops in the greater Tucson, Arizona area. Our Eastside/ Foothills design center is located at 7181 Tanque Verde Tucson, Arizona 85715. The Central Flower Shop is located at 1610 North Tucson Blvd., Tucson, Arizona 85716.  We have some of the best floral designs and occasion gifts in Tucson!
With August in full swing, it also means it's time to wrap up those vacations and think about the return to school. This is a good time to plan to send out those thank you gifts to those summer care and summer camp staff who helped with the kids this summer as well as plan some special welcome gifts to your children's new teachers for the school year.
Our Tucson flower shop and gift website have many gift ideas like these:
Opulent Orchids
This is an elegant gift that contains phalaenopsis orchids in a range of available colors. Pure elegance. That's what these gorgeous phalaenopsis orchids deliver. They're beautiful upon arrival, and what's even more beautiful is that these amazing plants are easy to take care of, and can blossom for a while. Color and container subject to availability. Please indicate a color preference if you have one. Since they are easy to care for, this makes a long-lasting gift.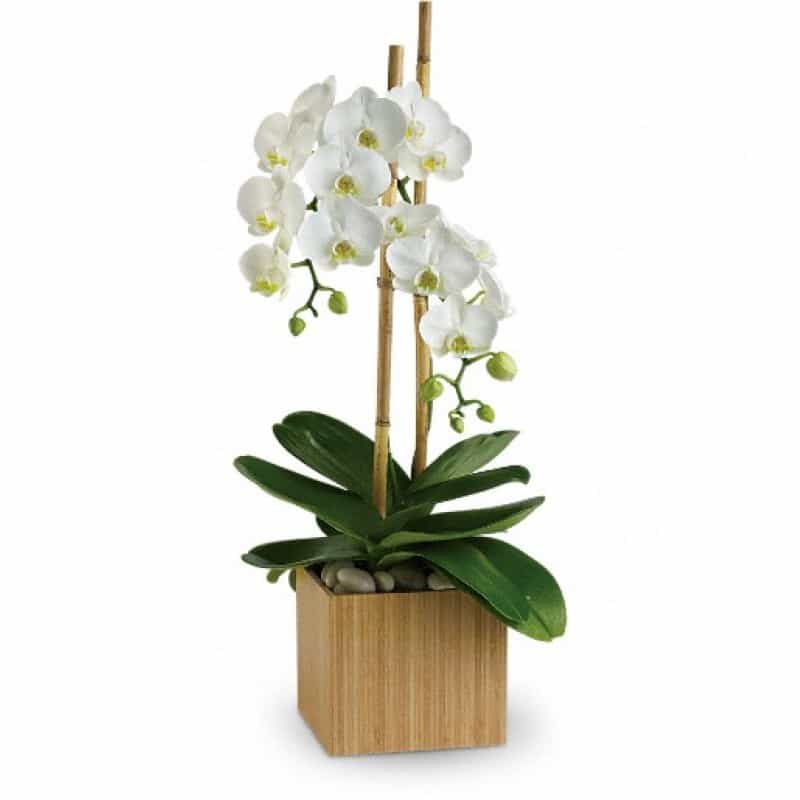 Plants Galore
This garden basket is another wonderful gift idea for teachers. It arrives in a beautiful wood chip basket. The design includes multiple plants based on what's available when you place your order. You don't need a green thumb to love plants galore! Plants, plants and more plants are delivered in a handsome woodchip basket. This item features multiple plants in a large basket. Blooming and flowering plants choices will vary with season and temperature. There are more options available in the cooler times of the year. Rest assured we always select the freshest and most beautiful choice for every order.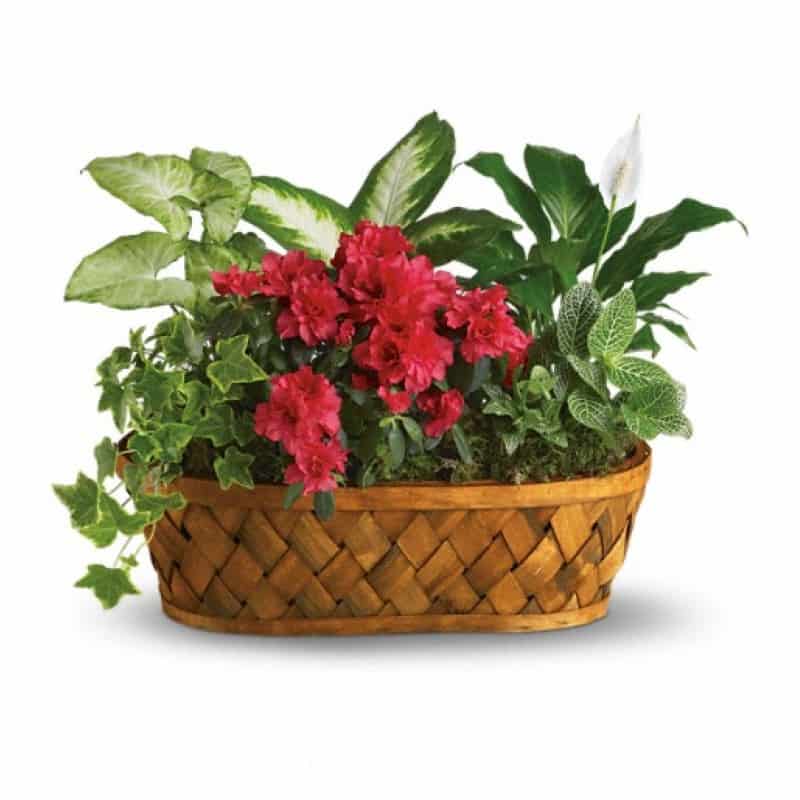 Scarlet Love
The floral design team at Mayfield Florist created this gorgeous new arrangement. We call it Scarlet Love. It is the perfect holiday gift. This floral design includes flowers and plants, such as red roses, pink tulips, succulents, and greenery in a clay vase.  We place all of these gorgeous blooms into a stylish clay vase. If you are looking for a Wow gift, you have found the perfect arrangement. When your delivery team rolls up at the home, knocks on the door and delivers this gorgeous design, we guarantee that your gift will generate a smile and leave a lasting impression.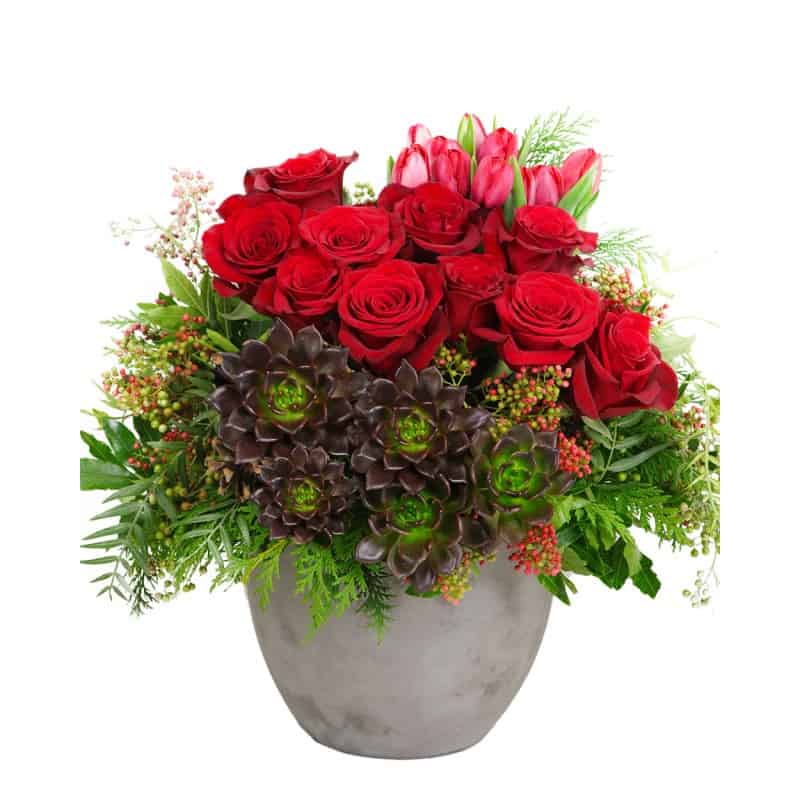 Vivid
Vivid colors make this one of Mayfield Florist's most popular arrangements. With an abundant array of bright red, yellow and purple flowers, this arrangement is the right remedy for a speedy recovery. The Vivid arrangement makes for a great back to school gift. The reach, bright and cheery colors create a beautiful way to show your appreciation this school season. This arrangement is available for local same day or express delivery anywhere in the Tucson area.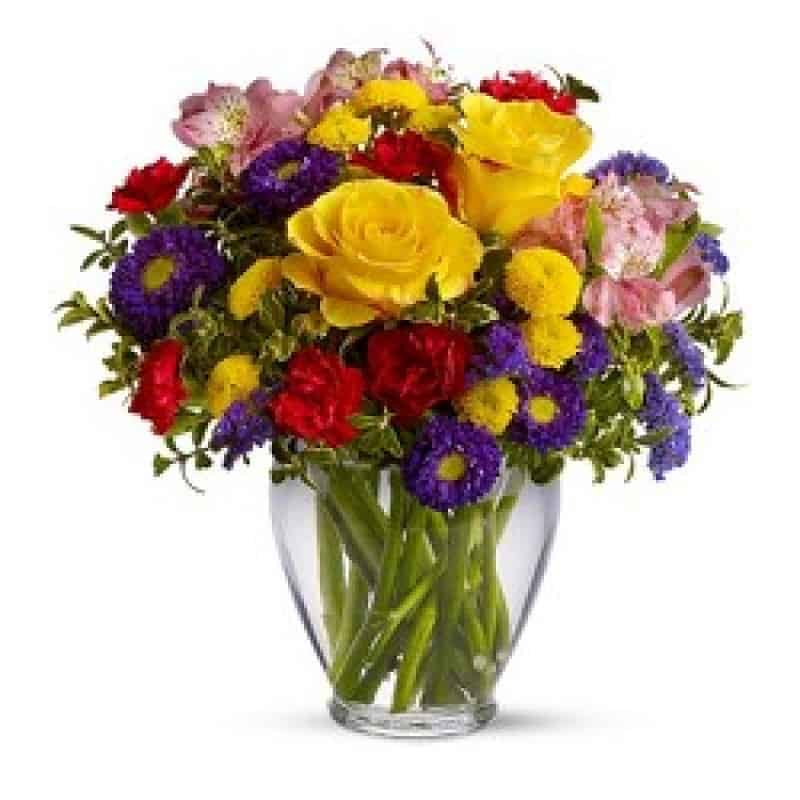 Uptown Bouquet
Lily Sunshine
This colorful floral display highlights yellow lilies and fresh seasonal greenery. It's a cheerful way to start the school year!
Order today!