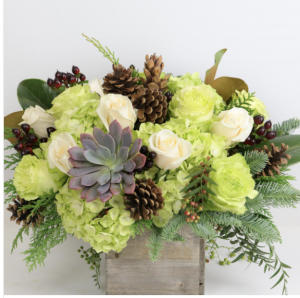 St. Patrick's Day arrives on March 17th, which is just a few days away. Although it's a holiday that originated in Ireland, the day has become important here because of the celebratory feel and positive message around family, health, and good fortune. Now, everyone is sure to celebrate this day if only as an excuse to enjoy some corned beef, cabbage, and green beer!
It's a time to wear green and decorate with green, including special gifts from nature that you can pick up at your favorite Tucson flower shop or floral website.
We have numerous green-themed floral bouquets, including modern, botanical, garden, and traditional styles, in different sizes, containers, and prices. There are many that feature our spring flower arrivals, including lilies, tulips, and roses. You can also enjoy some Deals of the Day arrangements that are St. Patrick's Day ready or make an appointment for our custom floral services.
Along with our floral selection, you can also pick up a green plant, succulent garden, cacti, dish or basket garden or flowering plant like an orchid. These long-lasting gifts and decor can be enjoyed for months or more to come. Our Tucson flower shop offers many seasonal varieties in various sizes and prices to also accommodate everyone's preferences and budget.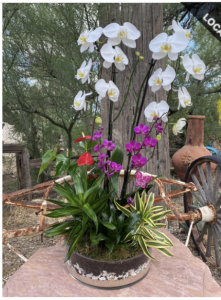 We also offer balloons, greeting cards, and gift baskets as well as local items from Tucson small business partners that can enhance your St. Patrick's Day celebration. We look forward to showing you everything that is available.
It's also time to start thinking about Easter. We've been planning new floral designs and gifts for this special spring holiday that is just weeks away. Be sure to check out our collection online and order early!
All orders are available for contactless delivery for the Tucson area as well as through our floral partner network. We look forward to helping you with all your spring flower and plant orders, including any other celebrations for birthdays, anniversaries, and more.