Mayfield Florist Voted Best Florist in Tucson plus we offer Same Day Delivery Local and Nationwide
We invite you to shop with Mayfield Florist and ensure that you are selecting beautiful Saint Patrick's Day Flowers to celebrate this enjoyable holiday.  Saint Patrick's Day on March 17th is the last major holiday we celebrate before the long-awaited Spring season commences. In addition, it will also be the first in two years where people will be gathering in larger crowds to celebrate Saint Patrick's Day.    Our staff is made up of a team of extremely talented and passionate floral designers. They create stunning, thoughtful, fresh and upscale flower arrangements and can have them available for local same day flower delivery service.
You may not know that the original theme color for Saint Patrick's Day was blue and not green. If you want to be original, try purchasing some of our blue flower arrangements and tell your guests they are for this special holiday. Some of the favorite flowers and plants to purchase for Saint Patrick's Day are: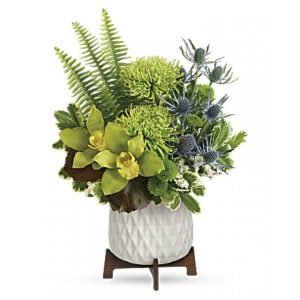 Shamrocks
These are the traditional plants symbolizing Spring's rebirth and were once considered a sacred plant in Ireland.
Bells of Ireland
This plant has tall green spires with bell shaped blooms. Encased in the bells are small delicate white flowers. Most of the time they are used as accents in flower arrangements. However, than can act as an arrangement all by themselves.
Daffodils
The scent of the Daffodil can make any home smell fresh and Spring like. These are a favorite Irish flower but also a favorite in the US. Some of the most adored varieties are the Acropolis, Obdam, Calgary, Thalia, Delnashaugh, Replete, Winston Churchill and Bridal Crown.
Yellow and white roses
Roses are always a favorite. Mixing these with green accents makes the arrangement a very Saint Patrick's Day themed gift.
Cymbidium orchid
The Cymbidium Orchid is lime-green and has a delicate appearance. Their five-pointed blooms have multiple colors. The green is great for Saint Patrick's Day. And the symbolism of beauty and love helps with the celebration as well. Some people like to pair these Orchids with Hydrangea.
Green Carnations
One great way to help someone celebrate Saint Patrick's Day is to send a Bouquet of Green Carnations.  These have been a favorite gift for this holiday. You can also send a Green Carnation Corsage to someone. They can then wear it all day and avoid the dreaded pinch that accompanies not wearing green on March 17th.
White, yellow or green-dyed daisies
A favorite Springtime flower is the Daisy. These are perfect when green-dyed. They symbolize innocence.
Emerald Statement
A gift as unique as the lucky recipient, this gorgeous green bouquet is presented in this mid-century ceramic planter with crisp white glaze and chic wooden base.
Mayfield Florist Saint Patrick's Day Flowers
Florist Catalina Foothills AZ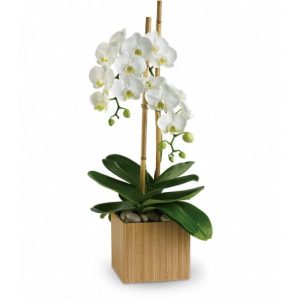 Mayfield Florist offers the best selection of gorgeous fresh cut flowers in Catalina Foothills. Our firm was established in 1982. We are a true, second generation, family owned and operated floral design firm. Products we sell include farm fresh flowers, plants and gifts for all occasions. We employ one of the most talented floral design staffs in Arizona. They are known for producing luxurious, upscale floral designs. The delivery staff at Mayfield Florist makes daily delivery runs to all Tucson area hospitals, churches, funeral homes and mortuaries.
Mayfield Florist and Flyline Search Marketing Partners Since 2017
News Release – June 18, 2017 (Mayfield Florist hires Flyline Search Marketing)
Don Coleman, owner of Mayfield Florist, announced today that his flower shop has signed a contract to bring in Flyline Search Marketing. He was quoted as saying, "We are extremely excited about the opportunity to work with Flyline Search Marketing. They have such a great reputation in the marketing arena. We know many of the flower shop owners that use Flyline and all are outpacing the rest of the floral industry in terms of financial results. We look forward to building a great, long-term relationship with Mark Lein and his talented team."
Mark Lein, CEO of Flyline Search Marketing was quoted as saying "We are excited about the opportunity to serve the Coleman family and their firm, Mayfield Flowers. We see Mayfield Florist as a great fit with the other flower shop owners already in our group. No doubt, they will all be excited to know that Mayfield Florist has chosen Flyline to serve. We will do everything possible to exceed Mayfield Florists expectations. Our goal will be to deliver tremendous success for the Coleman family and to earn their trust, respect and friendship during the process."
Opulent Orchids
Pure elegance. That's what these gorgeous phalaenopsis orchids deliver. They're beautiful upon arrival, and what's even more beautiful is that these amazing plants are easy to take care of and can blossom for a while. Color and container subject to availability.
Mayfield Florist
1610 North Tucson Blvd
Tucson, AZ 85716
Get Directions »