Mayfield Florist Voted Best Tucson Florist
March 20th commences the wonderful Spring season, and it lasts until June 21st. For many people, Spring is a very welcomed season. Our team invites you to "Step into Spring", by joining our world class floral designers who have created masterpieces for purchase. Our Spring Flower Collection Bouquet features a wide array of brightly colored and very fresh springtime floral products. If you would like to surprise someone special, send them a gorgeous Mayfield Florist bouquet. They will be so happy to receive your gift and lifted by the spirit of the Spring season.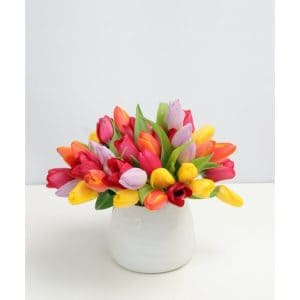 Some of the favorite Spring flowers for Arrangements, Bouquets and Flower Beds.
Lilacs – Found in several varieties, Lilacs are colorful and very fragrant. Despite the old wives' tale that if is bad luck to bring them indoors, their blooms of blue, pink, white and lilac will brighten up any home.
Tulips – These amazing springtime flowers are very low maintenance. You plant the bulbs in late fall or early winter.
Lilies – Trumpet shaped blooms coming in a multitude of colors, Lilies are fragrant and elegant.
Daffodils – Colors of peach, apricot, orange, coral, white and yellow the Daffodil is a frilly delicate flower.
Primrose – These are a native British flower. They have yellow blooms and leaves that appear to be crinkled. Typically, the best time of year for these is March – May.
Snowdrops – This flower starts growing in January in some parts of the country. The plant generates unusual white drooping bell shaped flowers.
Crocus – Purple, yellow and white varieties are very bright and cheery.
Hyacinth – These bloom in purple, pink and white. They are some of the favorites as a pot or vase decoration.
Forget – me – Nots – Usually found as a boarder flower, they are a short blue flower. They can be used as an accent to pots, gardens and arrangements.
Wallflowers – A very popular flower bed plant these dark red and yellow.
Reticulate iris – These are very fragrant and bloom early in the Spring season. They have purple flowers with yellow markings. Many people use them for flowerpots.
Heather – Outdoors these are a favorite for bumblebees. When planted in pots with other flowers, their sweet fragrance makes for a wonderful home decoration.
Grape hyacinth – Another of the great plants for a pot, these have small bright blue flowers. They do have a tendency to spread easily so occasional thinning may be needed.
Bearded iris – Defined by their ruffs and falls which are the outer and inner petals, the hair looking growth in the center gives them the nickname, bearded Iris.
Alliums – These make for fabulous cut flowers in flower bouquets and arrangements. They have fantastic globe shaped purple flowers. Some people also like to keep them for dried flower arrangements as well as fresh.
Amazing Tulips
Impress her in a grand fashion with 30 brightly colored Tulips arranged in a white glass vase. Perfect way to welcome in Spring and say I love you!
Mayfield Florist Spring Flower Collection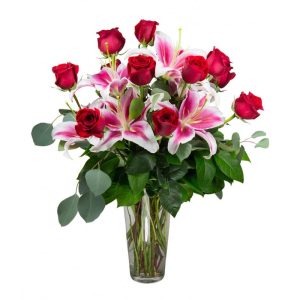 Mayfield Florist offers same day flower, plant and gift delivery to Banner University Medical Center. We also offer a special cupid's express, rush flower delivery service as well. Express delivery is really a popular option for customers wanting to get flowers, a plant or gift delivered to Banner University Medical Center.
The Banner University Medical Center Tucson is one of the premier medical facilities in Tucson. The hospital recently changed ownership. It was previously known as University of Arizona Medical Center. Tucson is fortunate to have a number of high-quality hospitals. Banner University Medical Center is one of them. The hospital offers a wide array of medical services and is one of the preferred hospitals for many folks living in and around the greater Tucson area.
Banner is nationally recognized and provides high quality patient care. They specialize in comprehensive heart and cancer care. They also have authored advanced neuroscience techniques and a multi-organ transplant program. Banner – University Medical Center Tucson is Southern Arizona's only Level I Trauma Center.
All hospital flower deliveries come with our 100% customer satisfaction guarantee. If for any reason you don't absolutely love the design we delivered, simply contact one of our floral design centers. We will replace that arrangement free of charge.
Roses and Lilies
The award-winning floral design team at Mayfield Florist created this stunning floral arrangement. The design features gorgeous red Ecuadorian roses and beautiful pink oriental lilies. To finish out the arrangement, our staff adds in seasonal greenery, then places all these stunning blooms into a stylish glass vase. This arrangement can be designed to include 1 dozen roses, 18 roses or 24 roses.
Mayfield Florist Spring Flower Collection
1610 North Tucson Blvd
Tucson, AZ 85716
Get Directions »