Mayfield Florist
Interestingly, Easter is referred to as the "moveable feast" meaning that it is one Religious Holiday that moves from year to year. This year Easter falls on April 17th.  The reason for this change is that Easter always falls on the first Sunday after the first full moon following the spring equinox.  Easter, as with other holidays, ushers in a changing of the seasons. That season of course being Spring. Mayfield Florist would be pleased to have you shop with us for Easter and Passover Flowers.
In the Jewish faith, this time of the year is referred to as Passover. The Hebrew Bible commemorates Passover as a festival which celebrates the liberation of the Jewish people from slavery in Egypt. This is referenced in the Book of Exodus. During the time of Jesus, Jewish pilgrims flocked to Jerusalem in hope that God would liberate them from the Romans. On one Passover, Jesus traveled to Jerusalem and the resulting disturbance in the Temple ultimately led to his crucifixion. Passover Flowers are an appropriate gift.  The best colors for this holiday are usually Blue and White.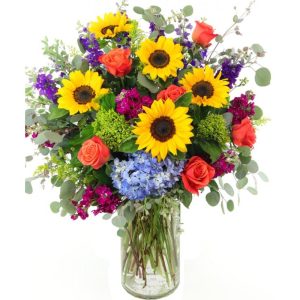 Early history reveals that the Easter festival was more celebrated by Catholics than Protestants. The Puritans of New England considered both Easter and Christmas as festivals for heavy drinking and merrymaking. However, by the 19th century this belief had changed, and the holidays became a time to spend joyous moments with family. Today customary traditions of Easter Egg Hunting, Parades and the Easter Bunny have become the norm.
Mayfield Florist offers a great nice selection of thoughtful Easter flowers, Easter lilies, Easter themed flower arrangements and Easter Centerpieces. Our flowers are grown by local farmers and come direct from the farm. This ensures that our flowers and plants are the highest quality and freshest available anywhere.
In addition to the two flower shops that we operate, we also operate a warehouse, design and distribution center. This design and distribution facility is located at 2200 North Wilmot Road and is not open to the public. Being one of the largest florists in the state of Arizona, we utilize the design and distribution center to help ensure that we produce this highest quality floral products and provide on-time delivery of every order we receive.
You cannot send Easter eggs – so send a fresh bouquet of Easter flowers instead! Mayfield Florist has the best and brightest flowers for Easter, including the traditional Easter Lily. Send Easter flowers to Tucson, AZ or nationwide for a joyful Easter celebration. Looking for the perfect Easter basket? We can help you with that.
Our Easter flower baskets are filled with gorgeous flowers, seasonal plants and lush green ferns. We also have a nice selection of Easter Lilies and those are available for purchase via online or in-store purchase. Do you need palm fronds for your church service? Give us a call and we can get those for you as well.
Vibrant Verde Valley
Home › Hydrangea › Vibrant Verde Valley
Sunflowers, Cayenne Roses, Blue Hydrangea, Stock, Larkspur, and loads more premium greens and textures fill out this beautiful and vibrant arrangement inspired by the lush greenery of the Tanque Verde Valley. Arrangement is approximately 30 inches tall and nearly 24 inches wide.
Mayfield Florist Easter and Passover Flowers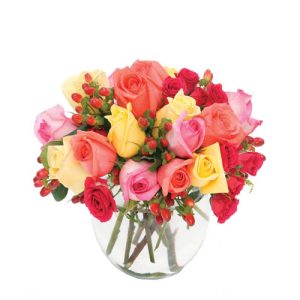 Mayfield Florist is a family owned and operate floral design firm. We provide local same day and express delivery service to Tucson Medical Center, and any other hospital or medical facility located in Pima County. Our 4-hour express delivery service is really a popular option for customers wanting to send a get-well gift to Tucson Medical Center. We guarantee on-time arrival of all express deliveries.
Mayfield Florist operates multiple flower shops in the greater Tucson area. Our main floral design center is located at 7181 Tanque Verde, Tucson, Arizona 85715. We have a second location at 1610 North Tucson Blvd., Tucson, Arizona 85716. Mayfield Florist offers the best selection of get-well flowers, plants and gift options in town.
The Tucson Medical Center is one of the larger hospitals in Tucson Arizona. For more than 70 years, Tucson Medical Center has been providing our area with exceptional care and access to top physicians.
Tucson Medical Center provide a wide array of medical services. They have a program for adults and also provide a provide specific to children. Over the years, they have become one of the preferred hospitals for many folks living in and around the greater Tucson area.
Rose Sorbet
Just like sorbet is to the tongue, this beautiful arrangement is a treat for the eyes. Multicolored standard and spray roses. Full of vibrant colors, this handmade design is sure to please.
Mayfield Florist
Voted Best Florist in Tucson
Mayfield Florist operates multiple floral design centers in Tucson. Our Central location is located at 1610 North Tucson Blvd. This flower shop is open to the public for in-store shopping. We have a beautiful showroom, and our walk-in cooler always has lots of great occasion themed flower arrangements for immediate purchase
1610 North Tucson Blvd
Tucson, AZ 85716
Get Directions »
Eastside-Foothills Flower Shop
(520) 202-9410