Mayfield Florist
Brides and Grooms across the country have elected to have a December wedding in lieu of a summer wedding for quite some time. Many have come to the conclusion that there are a variety of positive benefits that make December weddings very beneficial. The professional and highly talented wedding consultants at Mayfield Florist are tops in the industry. We have a stellar track record with helping our clients plan and execute their dream wedding. While winter weddings are not as popular as other seasons like summer (June and August very popular) for example, people do opt for a winter wedding for the various benefits.
It is easier to book vendors in the Winter.
You will have more control over the weather as Winter weddings are typically indoor. Whereas outdoor summer weddings can be rained on.
Winter weddings are usually less expensive thus saving you thousands.
Winter weddings can be more convenient for guests as it may relieve the stress of choosing between numerous summer wedding invitations.
Winter weddings are many times more memorable due to the holidays.
In addition, December is one of the best winter months to plan a wedding as you have the Christmas Holiday to help create an atmosphere of winter splendor and holiday spirit. The decorations around the alter can be Christmas Trees and Poinsettias plus the food and décor can be holiday festive. There is so much added excitement and winter splendor with a December wedding!
There are some considerations to keep in mind with a December wedding. In most parts of the country, it will most likely be very cold outside. You will need to think about how long outdoor pictures may take so that the wedding party and photographers and others are able to contend with the cold temperature.  Also, days are shorter than in the winter months in terms of available daylight so this is an important factor to keep in mind.
The professional wedding consultation team at Mayfield Florist are experts and have successfully coordinated numerous weddings for our clients.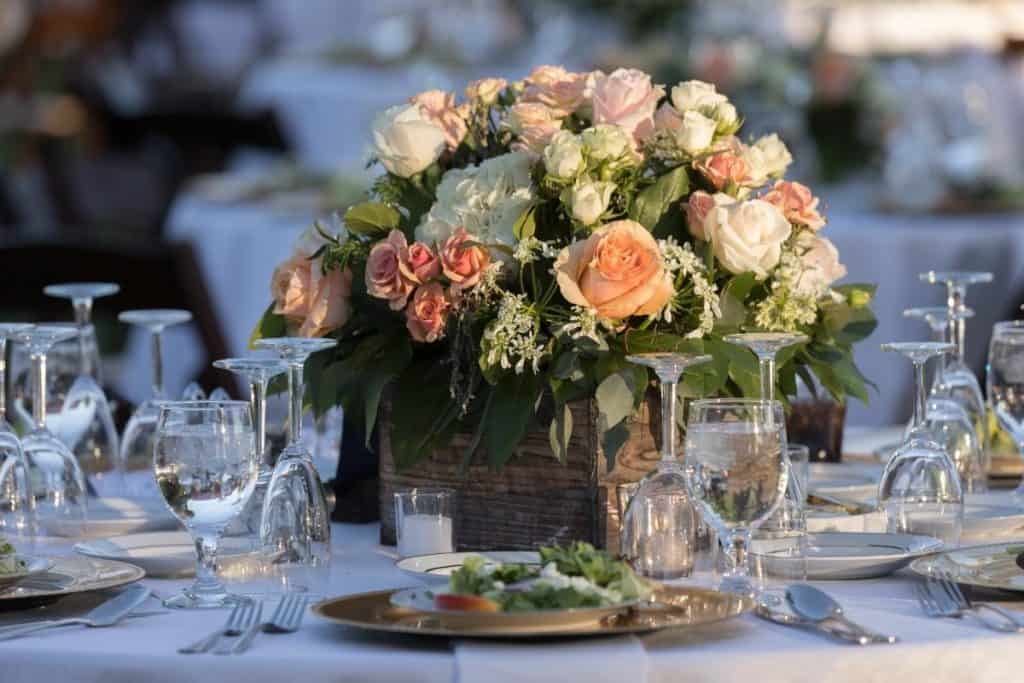 Mayfield Wedding Flowers
Mayfield Wedding Flowers
Florist Wedding & Event Flowers
Mayfield Florist is a second generation, family owned and operated floral design firm. We operate two floral design centers in Tucson. Our Tanque Verde flower shop is located at 7181 Tanque Verde, Tucson, AZ 85715. The Central Tucson flower shop is located at 1610 North Tucson Blvd., Tucson, AZ 85716. Mayfield Florist serves the greater Tucson, Arizona area, including; Catalina Foothills, Marana, Oro Valley, Sahuarita and Tanque Verde. We provide both same day and 4-hour express flower delivery service, anywhere in Pima County. Mayfield Florist was voted "Best Florist in Tucson" for 2018. We have also received that same honor on a number of other occasions in the past.
Mayfield Florist has been creating gorgeous wedding and event flowers since 1982. Our award-winning design team is one of the best in the state of Arizona. They are known for the unique, luxurious and upscale wedding and event flower designs they create. These floral designs have years of experience. They have provided floral design for some of Tucson's most prestigious events. Mayfield is one of the largest florists in the city. We are able to handle floral design for any size event or wedding.
We offer turn-key wedding flower packages. These packages include floral design, event set-up and post event take down services. The wedding planners at Mayfield Florist have years of experience. They have handled weddings and events at most of the top event venues in and around the city. No matter what size wedding you are planning, Mayfield can help. With more than 35 years of experience, our firm is truly one of the premier floral design firms operating in Tucson.
Many of the flowers we purchase are bought directly from flower farms. We purchase from both domestic and international floral growers. Purchasing direct offers many great advantages. We pass along as many of those to our wedding and event flower customers as possible. One obvious advantage is the fact we are able to reduce the price of the flowers we purchase. That price reduction is accomplished by eliminating wholesalers. Another great advantage is flower freshness. Buying direct reduces the time between when the flowers are cut at the farms and when they are available to our floral designers. This ensures that our wedding and event customers allows have the widest selection of beautiful, farm fresh flowers available.
Are you ready to begin planning your wedding? If so, we highly encourage you to contact our floral design center. We offer Free wedding consultations. Our wedding planners are some of the best you will meet. When you come in for your consultation, they will listen intently to the vision you have for your special day. These folks will help you choose the best floral varieties, designs and presentation styles for the wedding venue you have chosen. They can create the perfect wedding flower package for your needs and budget.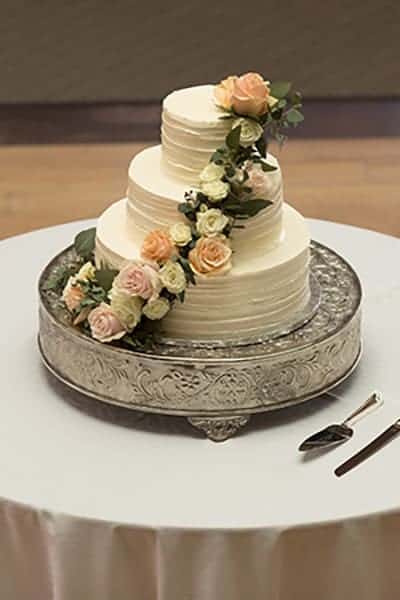 Mayfield Florist Cake Flowers
Mayfield Florist
1610 North Tucson Blvd
Tucson, AZ 85716
Get Directions »