Mayfield Florist
Christmas flowers and related décor offer so much elegance and holiday spirit to the season! Mayfield Florist sells only the very best in farm fresh and same day delivery Christmas Centerpieces, Wreaths and flowers. Interestingly, Christmas Centerpieces, Wreaths and decorations are not only festive but they also have a deep symbolism surrounding the Christmas season.
For example, the Christmas Wreath represents eternity. This is because of its circular shape which signifies it has no beginning and no end.  In addition, Christmas Wreaths are traditionally designed using evergreen leaves. The evergreen tree does not shed its leaves in the winter thus symbolizing eternal life.
The many colors of Christmas decorations have interesting meanings and are believed to date back to the 15th century. At that time in history in London, it was a custom that homes and parish churches display ivy, holly and other various natural decorations.  People felt that the heart-shaped leaves of ivy symbolized Jesus coming to earth and that holly provided protection against witches. Plus, its thorns and red berries represented the Crown of Thorns worn by Jesus at his crucifixion.
The purposeful selection of red, green and gold decorations is by design also. Gold is one of the first colors associated with Christmas. It symbolizes royalty as it was one of the three gifts of the Wise Men. Red symbolizes the blood of Jesus shed during crucifixion.
In 1839, a Lutheran priest came up with the idea to use a wagon wheel to symbolize the approach of Christmas. Using the wheel, he would use red and white candles to reflect the Advent season. In the Roman Catholic Church, the season of Advent is four Sundays in December each one taking on a different theme:
On the First Sunday, the church looks forward to the Second Coming of Christ.
On the Second Sunday, the church reviews the message that John the Baptist preached. His message was for Christians to "prepare the way of the Lord".
On the Third Sunday, which is referred to as Gaudete Sunday, the theme is again surrounding the joy Christians have by the coming of the Saviour.
On the Fourth Sunday, the theme is about Mary and Joseph and how the events led up to the birth of Jesus.
This holiday season, we invite you to shop in person or online and see the sensational holiday flowers and gifts at Mayfield Florist. See below where we have listed some examples of our wonderful selections:
Classic Holiday Wreath – The holidays are knocking at the door. Luckily, here's a gift that always gets a warm welcome! It's a classic holiday wreath with some very lovely extras.  24″ Wreath adorned with bow, berries, and pine cones is the traditional size.
Local Same Day & Express Delivery
Mayfield's Lovely and Luminous Centerpiece – Lovely and Luminous Centerpiece for your holiday table! The name says it all! Light up your table this Christmas with this gorgeous centerpiece made with Red Roses, Red Carnations, Holly, pinecones, gold accents, and red pillar candles.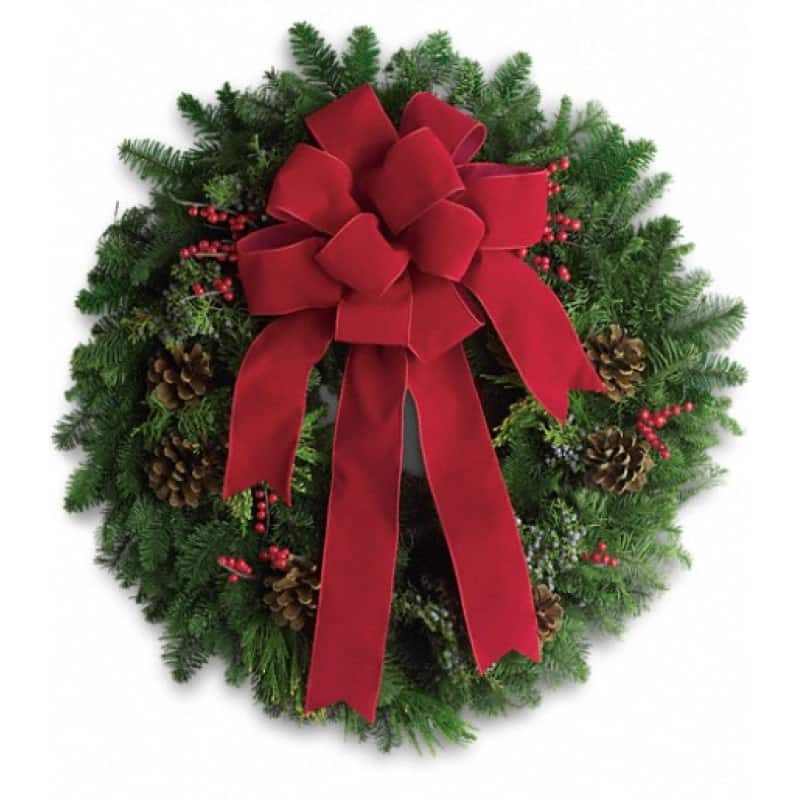 Classic Holiday Wreath
Christmas & Holiday Wreaths
Holiday Floral Wreaths, Christmas Floral Decorations
Mayfield Florist is a second generation, family owned and operated floral design firm. We operate two floral design centers in Tucson. Our Tanque Verde flower shop is located at 7181 Tanque Verde, Tucson, AZ 85715. The Central Tucson flower shop is located at 1610 North Tucson Blvd., Tucson, AZ 85716. Mayfield Florist serves the greater Tucson, Arizona area, including; Catalina Foothills, Marana, Oro Valley, Sahuarita and Tanque Verde.
We provide both same day and 4-hour express flower delivery service, anywhere in Pima County. Mayfield Florist was voted "Best Florist in Tucson" for 2018. We have also received that same honor on a number of other occasions in the past
We offer a great collection of Christmas and Holiday themed flower arrangements, table centerpieces, poinsettias and lots of wonderful Christmas and Holiday greenery and decorations. Let our team help you create the perfect holiday theme for your home this year. The aromatic qualities of the flowers and seasonal greenery we carry will absolutely fill your home with the wonderful fragrance of Christmas.
We have Wreathes, Garland, Holiday Ribbon, Miniature Christmas Trees, Poinsettias and much more. Looking for something truly unique? Custom Wreaths are available upon request. If you need a custom Christmas wreath or miniature Christmas tree, just contact our floral design center and we can take care of that for you.
Local Same Day & Express Delivery
Nationwide Same Day Flower Delivery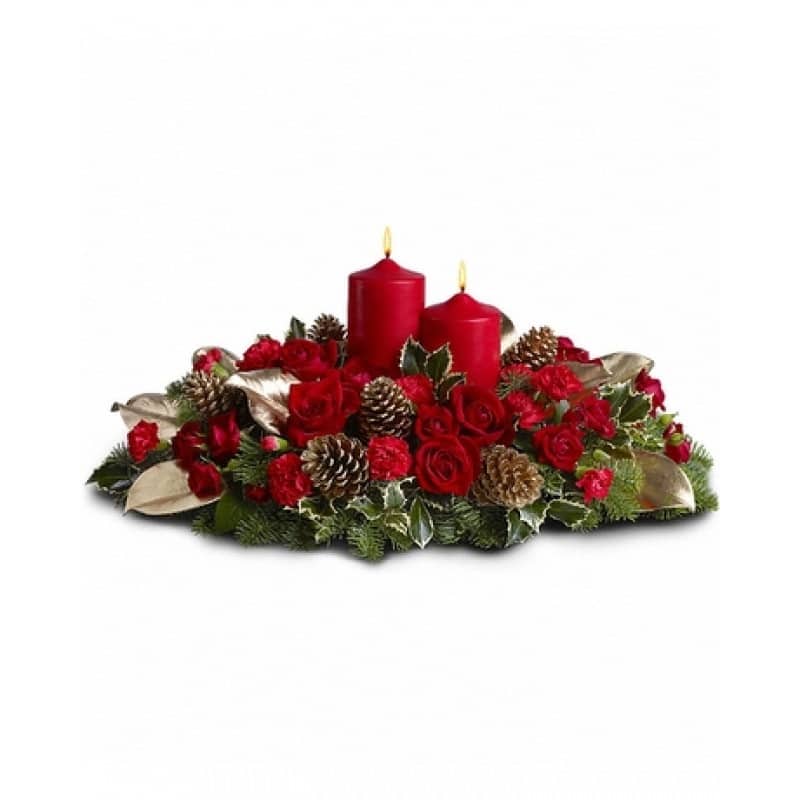 Mayfield's Lovely and Luminous Centerpiece
Mayfield Florist
1610 North Tucson Blvd
Tucson, AZ 85716
Get Directions »