Mayfield Florist offers beautiful Valentine's Flower Bouquets
Giving flowers for Valentine's Day has dated back for centuries. That is to say, this tradition actually began in the 1700s. Mayfield Florist offers beautiful Valentine's Flower Bouquets. There are numerous options for flower varieties. Certainly, Roses and Chocolate are not the only favorites. For instance, here are some additional choices of flowers that are popular for Valentine's Day.
Lilies
 These lovely flowers have a great fragrance that most people love. Subsequently, there are numerous varieties of Lilies.
Candidum or Madonna Lilie is pure white and one of the most popular. They are a difficult plant for growers as the soil has to be neutral to alkaline.
Martagon referred to as Turk's cap lilies, have purple to pink petals. The plant appears to be very delicate but is actually quite hardy.
Regale lilies have purple to pink petals with a slight amount of yellow on the inside of the flower. Similarly, they are one of the easiest lilies to grow.
Album is another of the white variety. In addition, this flower has some yellowish green on the petals.
Pink Perfection Group is a purple and pink trumpet lily. Similarly, to the Regale variety, it is easy to grow.
Lankon is one of the favorite varieties due to its unique coloring. In addition, the white petals are spattered with a deep purple.
Tulips
A great choice for a bouquet, Tulips are very fresh and continue to grow after they are cut. That is to say, this makes them perfect for a vase. You have to rotate the arrangement as the flowers tend to grow toward the light. Similarly, to other flower groups, there are several different types of Tulips.
Multiheaded has 2-5 flower heads per stem. Even though they are shorter than most other varieties, they still look great in bouquets. One of the favorite colors is the blood red "Estatic".
Parrot group Tulips have a feathery and ruffled appearance. Consequently, they inherited the name of Parrot group. Some of the colors are nicknamed "Black Parrot", "James Last" and "Negrita Parrot".
Lily Flowered Group has mauve colored petals that have a white edge. In addition, they have longer petals than other types of Tulips. Their petals often curve outwards.
Viridiflora, the "China Town" variety, is a soft pink with green streaks.
HEART AND SOUL
This best-selling arrangement features red roses, pink spray roses, white stock, unique Red Elephant orchids and loads of seasonal textures presented in a designer glass spin on the classic Mason Jar.
LOCAL-ONLY: If you are attempting to ship this product outside of the Greater Tucson area, please select a product that isn't identified as "Local Only".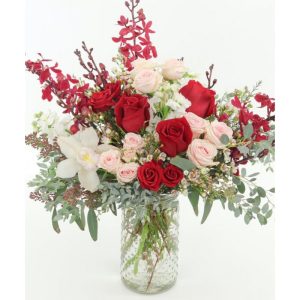 Heart and Soul Bouquet
Designer's Choice Valentine's Bouquets
Only Available in Local Tucson Area
Let our expert floral design team create a Valentine's Day themed floral bouquet for your special someone. The image shown on the website is an example of the style of arrangement you may receive. Our designers will pick out the freshest Valentine's themed flowers that we have available and create a gorgeous floral design for you. To be clear, we purchase flowers and vases based on seasonal availability.
Some of the flowers and the vase shown in the sample image may not be available to our designers at the time you place your order. If that occurs, we reserve the right to substitute some of the floral varieties, or the vase, for flowers and a vase of equal value and quality. Trust our Award-Winning Designers to create a stunning floral design for you. We guarantee you and the recipient are going to love it!
Valentine's Day Flowers, Plants and Gifts
Ecuadorian Roses, Full Bloom Hydrangea, Gourmet Chocolates
Valentine's Day is that time of year when you need to really let your special someone know just how much you care. Some of the most popular Valentine's Day flowers include Ecuadorian Red Roses, Holland Tulips, Exotic Orchids, Calla Lilies, Gerbera Daisies and red themed flower varieties. We buy our roses farm direct. That means our customers receive the finest, freshest, highest quality roses available. Ecuadorian Roses have longer stemmed, larger blooms and offer extended vase life.
Local Same Day & Express Flower Delivery
Nationwide Same Day Delivery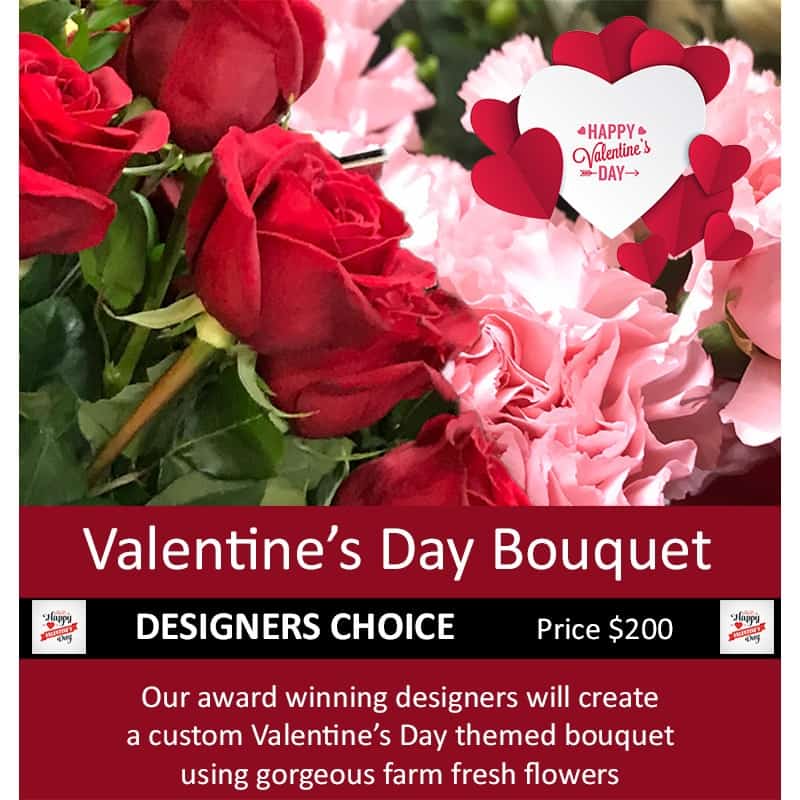 Mayfield Florist
1610 North Tucson Blvd
Tucson, AZ 85716
Get Directions »
Eastside-Foothills Flower Shop
(520) 202-9410