Mayfield Florist Early Ordering for Valentine's Day
The supply chain problem is far reaching. Not surprising, it has also impacted the Flower industry. Mayfield Florist works hard to always provide best in the industry service and products to customers.  We are working diligently to try and stay ahead of supply issues. Mayfield Florist makes Early Ordering for Valentine's Day very convenient and easy. As we are getting closer to Valentine's Day, please consider placing your order for flowers now.
Early Valentine's Flower Ordering
Due to the pandemic, there were fewer than normal plantings at flower farms. What is more, farm owners were forced to shut down because of the need to quarantine. Consequently, they were forced to lay off workers. In some cases, they had to shut down their farms completely.  An estimated 247,717 floral worker jobs were lost between 2019 and 2020.
South America is one of the top countries for flower production. The growing conditions have historically been very good on that continent. However, recent weather pattern changes have caused colder nights and more rain than is required. Therefore, the health of flower plants has been negatively affected. Similarly, U.S. Flower Farms have suffered as well. For example, California is a top flower producer. Drought, wildfire and the unpredicted flooding has caused much damage to flower crops.
Interestingly, Weddings are going through a boom period. According to reports there were 1.3 million weddings in 2020. Then in 2021 that grew to 1.93 million. It is predicted that there could be 2.47 million in 2022. Of course, this will most likely normalize once the back log of delayed weddings is addressed. For this reason, it is easy to see what a strain this has placed on flower shoppes.
 Adjustments to Flower Shortage
Mayfield Florist has a strong desire to delight customers with service and beautiful flowers. With this in mind, we have made adjustments to our practices and communications to our customers. Below are some areas we have focused on to make this supply chain issue as easy to embrace as we can.
In our communications to customers, we have conveyed to customers the current flower shortage we are dealing with. As a result, there are some cases where clients may need to be more flexible in their flower arrangement selection.
Earlier ordering is key to help us have the best chance of meeting our customer's specific product needs. Not only with selection but also meeting delivery deadlines.
Mayfield Florist has extremely talented floral designers. We are using those talents to create wonderful arrangements. Our mission is to create the most elegant and beautiful bouquets and arrangements working with what we have. Most people do know that talented designers can make a Rose look like a Peony or a Tulip to look like a Gardenia.
Naturally Yours
Spoil your Valentine with this Unique arrangement featuring ornamental kale, exotic protea, succulents of different shapes and sizes, and loads of seasonal textures!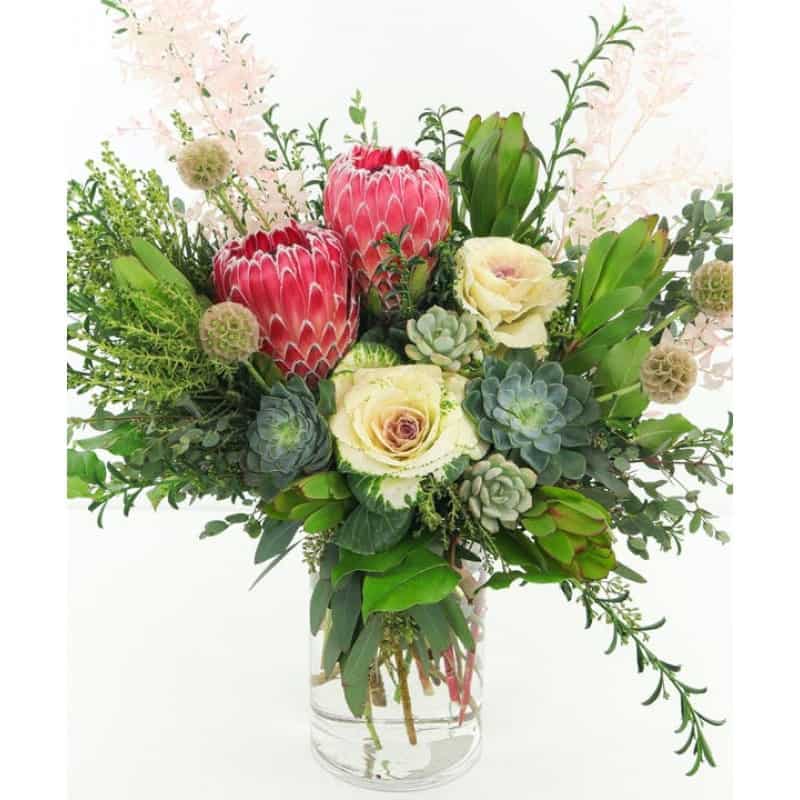 Naturally Yours
Rose Sorbet
Just like sorbet is to the tongue, this beautiful arrangement is a treat for the eyes.  Multicolored standard and spray roses.  Full of vibrant colors, this handmade design is sure to please.
Tanque Verde Florist – Same Day Flower Delivery to Tanque Verde
Florist Tanque Verde AZ
Voted Best Florist in Tucson
Mayfield Florist offers farm fresh, high quality floral products. We also sell beautiful green, flowering and succulent plants. We invite you to shop online or stop by either of our two floral design centers to see all the great flowers, plants and occasion themed gifts we have available. Our firm was established in 1982.
We are a second generation, family owned and operated floral design firm. Mayfield Florist is blessed to employ one of the most talented floral design staffs in all of Arizona. They create unique, artistic floral designs. Our luxurious, upscale designs are perfect for birthdays, anniversaries, weddings and many other occasions.
Local Same Day & Express Delivery | Nationwide Same Day Flower Delivery
Mayfield Florist was established more over 38 years ago. We are a true, second generation, family owned and operated floral design firm. Therefore, the products we sell include farm fresh flowers, plants and gifts for all occasions. We employ one of the most talented floral design staffs in Arizona. They are known for producing luxurious, upscale floral designs. The delivery staff at Mayfield Florist makes daily delivery runs to all Tucson and Casas Adobes area hospitals, churches, funeral homes and mortuaries.
1610 North Tucson Blvd
Tucson, AZ 85716
Get Directions »
Eastside-Foothills Flower Shop
(520) 202-9410