Mayfield Florist provides same day and express flower delivery to Abbey Funeral Chapel
Mayfield Florist was established in 1982 and is a true, second generation, family owned and operated floral design firm. Products we sell include farm fresh flowers, plants and gifts for all occasions including Memorial Service Flowers. We employ one of the most talented floral design staffs in Arizona. They are known for producing luxurious, upscale floral designs. The delivery staff at Mayfield Florist makes daily delivery runs to all Tucson area hospitals, churches, funeral homes and mortuaries.
Shoppers that visit the Mayfield Florist website will be treated to an amazing experience. We have an impressive volume of product selections available. We have flowers for all occasions including Memorial Service Flowers.  As you shop, our floral design team will be standing by to consult with you on the best flower to address your need. We are experts on Memorial Services, Celebrations of Life and sending Sympathy Flowers to friends or loved one's.
Types of services vary depending on the request of the deceased or family choices. Below are some of the well-known Funeral types.
Celebration of Life
Many families are opting for a celebration of life ceremony as an option to a more traditional funeral.  Often these ceremonies take place in alternative locations from the funeral home or church. They are sometimes held in restaurants, parks, pubs, sporting facilities or other venues that were a favorite destination of the deceased. While there is still the element of mourning, these celebrations are more festive and try to focus on the life and times of the departed.
All the positive aspects of the person's life are celebrated. Things like unique talents, generosity towards others, exciting destinations they traveled to, and other noteworthy accomplishments are themes for the celebration.  The caring and compassionate Mayfield Florist team will help you with that celebration of life. Our festive and tasteful flowers will add so much more happiness to your event.
Traditional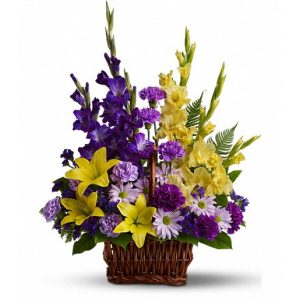 These services have been in existence for generations and are more of a solemn event. Typically, the service is held in a funeral home, church, crematorium or chapel. It can involve an open or closed casket. Open caskets are most common in the US and allows the attendees to say a final good-bye to the deceased. Often family or friends are asked to address others with a tribute to the life of the person.
Our professional floral designers at Mayfield Florist will prepare the most stunning flower arrangement to add dignity and beauty to this respectful and solemn ceremony. We know the business and have assembled a team of talented, caring and passionate professionals. We take pride in our work and leave our customers completely delighted with their floral product purchases.
Direct Burial
For personal financial or other reasons, families my elect for a direct burial.  In these situations, the deceased is buried shortly after death and there is not a funeral service or other formal ceremony. Direct burial is a more affordable funeral option. Reasons being there is no embalming of the body and less expensive caskets are used.
Cremation or Direct Cremation
In a Cremation there is most often a viewing as part of the funeral service prior to the actual cremation. Then with Direct Cremation, there is no viewing.
Below are some popular flower types for Funeral and Sympathy purposes.
Forget-Me-Nots – The meaning of this flower is obvious. It symbolizes the deceased loved one continues on in memories.
Roses – Red roses express love and respect. Pink roses are a sign of appreciation and grace.
Lilies – By far the most common funeral flower is the White Lily. These symbolize the spirit of a loved one and it offers hope and encouragement to a grieving family.
Carnations – Carnations are another popular choice. A white carnation represents purity and innocence while pink carnations convey remembrance.
Chrysanthemums – The white chrysanthemum is often used to symbolize grief.
Gladioli – Signifying strength and character in life, the gladioli flower is a wonderful choice
Orchids – This delicate flower references the message "I will always love you".
Hydrangeas – It is not always necessary to send flowers and sometimes a potted hydrangea plant is a good option.
Daffodils and Tulips – Daffodils and tulips represent renewal which is message of encouragement and hope to a grieving family.
Basket of Memories
Honor rich remembrances of one dearly missed with a vivid mix of blooms that offer strength and comfort alike during a time of sorrow.
Mayfield Florist Memorial Service Flowers
Mayfield Florist is the premier florist in the Tucson area. We have been voted "Best Florist in Tucson" on numerous occasions. We provide same day and express flower delivery to Abbey Funeral Chapel.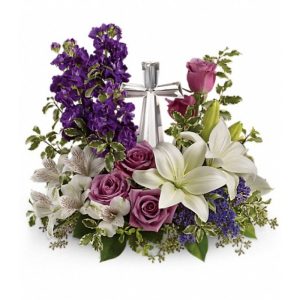 The funeral home is located at 3435 N 1st Ave, Tucson, AZ 85719. The main phone number for the mortuary is (520) 499-1035. Abbey Funeral Chapel offers cremation services, burial services, funeral services, life celebrations, services for veterans, and specialty transportation and shipping services. This funeral home is one of the finest in the Pima County area.
Mayfield Florist operates two floral design centers in Tucson. Our Eastside / Foothills flower shop is located at 7181 Tanque Verde, Tucson, AZ 85715. The Central flower shop is located at 1610 North Tucson Blvd., Tucson, AZ 85716. Our flower shops are located in short driving distance from the funeral home.
In fact, our N. Tucson Blvd. location is just 3.5 miles away. It generally takes our delivery staff less than 8 minutes to make the drive from the flower shop to the funeral home. Given the short driving distance, we are able to make multiple delivery runs to the funeral home each day.
Mayfield Florist offers the best selection of beautiful, farm fresh sympathy flowers in Tucson. Voted best florist in Tucson for 2019, our award winning floral design create can custom design the exact funeral or sympathy flower arrangement you are looking for. We offer standing sympathy sprays, casket flowers, funeral flower arrangements, URN flowers, green and flowering plants.
Our standing sympathy sprays can be created in the shape of a circular wreath, floral cross, heart shaped spray or custom designed to your exact requirements. Our delivery staff makes daily delivery runs to many Finger Lakes area churches, funeral homes, mortuaries and cemeteries. Same day funeral flower delivery is available Monday through Saturday.
Joyful Memory
Lavender and white sympathy flowers make a grand statement in this joyful bouquet. Cherish your memories with this lasting remembrance of lavender larkspur and roses, deep purple asters, pure white gladioli and the softest pink heather.
Mayfield Florist offers Thoughtful Memorial Service Flowers
1610 North Tucson Blvd
Tucson, AZ 85716
Get Directions »