Mayfield Florist
Mayfield Florist is the premier florist in the Tucson area. Our firm has been voted "Best Florist in Tucson." We offer nationwide same day flower delivery. Mayfield Florist employs a team of professional flower delivery drivers. These folks are experienced and talented. They have years of experience in delivering flowers, plants and gifts in the greater Tucson area. We provide same day flower delivery service to City High School. The City High School is located at 47 E Pennington St, Tucson, AZ 85701. The main phone number for the school is (520) 623-7223. City High School is a public high school of the City Center for Collaborative Learning School District. This school offers education opportunities for students in grades nine through twelve.
Mayfield Florist operates two floral design centers, and a warehouse facility in Tucson. Our Eastside / Foothills flower shop is located at 7181 Tanque Verde, Tucson, AZ 85715. The Central flower shop is located at 1610 North Tucson Blvd., Tucson, AZ 85716. Our Tucson Boulevard flower shop is only about 3.7 miles from the High School. It generally takes our delivery staff less than 10 minutes to make the drive from the flower shop to the high school. Given the short driving distance, we are able to make multiple delivery runs to City High School each day.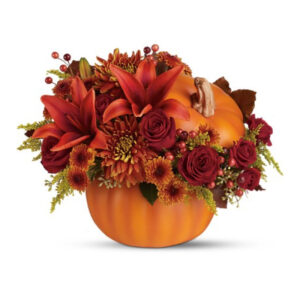 Mayfield Florist has been creating beautiful graduation themed floral bouquets for many years. Our firm provides local same day and express flower delivery service, anywhere in the greater Tucson, Arizona area. Mayfield also offers in-store pickup of your graduation bouquet, plant or gift purchase. If you are in the area, we invite you to stop by either of our two floral design centers. We always try to keep our walk-in coolers full of gorgeous, occasion themed floral bouquets. If you need something truly unique, we can custom design the exact graduation themed floral arrangement that you have in mind.
Mayfield Florist offers the best selection of beautiful, farm fresh flowers in town. The award-winning floral artisans at Mayfield love creating gorgeous corsages. We have created corsages for proms, homecoming, weddings and many other special occasions. Corsages come in a number of different styles, including the very popular wristlet corsages. If you are getting ready for prom, homecoming or graduation and need a corsage, we encourage you to call one of our floral design centers. We can custom design a corsage to your exact specifications.
Mayfield's Prize Pumpkin
Mayfield's Prize Pumpkin flower bouquet bursts with the exuberance of autumn. The radiant golden flowers, the gorgeous hand-painted ceramic pumpkin – truly a gift for now and forever.
Celebrate Halloween with Mayfield Florist Festival Fall Flowers and Plants
Fall is in the air in many parts of the country. One of the historically fun fall holidays is Halloween. It is kind of an ushering in of fall and a kickoff for the upcoming Thanksgiving, Christmas and Hannukah holidays. It is celebrated each year on October 31. This year Halloween occurs on Monday, October 31. The tradition of Halloween dates back to the ancient Celtic festival of Samhain. During this festival people would light bonfires and wear costumes in an effort to ward off ghosts. Today, Halloween has evolved into a day of activities like trick-or-treating, carving jack-o-lanterns, festive parties, wearing costumes and enjoying treats.
If you are hosting a Halloween party or attending one, a great addition is an arrangement of fresh and festive Fall Flowers or Plants from Mayfield Florist. We have the most beautiful and original floral arrangements to add a Fall atmosphere to any gathering. Our Floral Designers are extremely creative and are willing to make adjustments to arrangements to be sure you are receiving the exact arrangement you are looking for. We have some great Halloween themed floral arrangements in store and available for same day delivery or pickup. Stop by our floral design centers to see our entire Halloween Floral collection.
Local Same Day & Express Flower Delivery
Nationwide Same Day Flower Delivery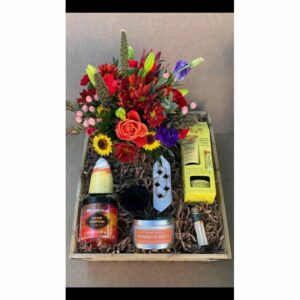 Mayfield Florist offers the best selection of fresh flowers in Tucson. We purchase many of the flowers we sell direct from the flower farms. Our award-winning floral design staff create some of the most incredible boutonnieres you will ever see. These floral artisans can mirror the design of your boutonniere to match the corsage for your date. We offer boutonnieres for graduations, proms, homecoming, weddings and many other special occasions. We offer custom design services for many different holidays and special occasions.
Festive Fall Crate
Send a Crate of Autumnal treats perfect for Birthday, Love, Get Well, or Just Because that includes:
A Luxurious hand crafted "Candy Corn" shaped bath bomb
A Jar of adorable fruit flavored pumpkin shaped gummies from Candy Club
A delightful small batch pumpkin spice scented candle from River Birch Candle Co.
An apothecary bottle of Halloween colored specialty matches
A 3-piece gift set of lush spa products from The Naked Bee
An always trending clover bracelet with adjustable clasp
A beautiful black preserved rose bloom
A stunning Fall bouquet of gorgeous Mayfield fresh flowers
Mayfield Florist