Mayfield Florist
Mayfield Florist provides same day flower and plant delivery to Catalina Foothills AZ. We were voted Best Florist in Tucson. Mayfield Florist offers the best selection of gorgeous fresh cut flowers in Catalina Foothills. Our firm was established in 1982. We are a true, second generation, family owned and operated floral design firm. Products we sell include farm fresh flowers, plants and gifts for all occasions. We employ one of the most talented floral design staffs in Arizona. They are known for producing luxurious, upscale floral designs. The delivery staff at Mayfield Florist makes daily delivery runs to all Tucson area hospitals, churches, funeral homes and mortuaries.
Mayfield Florist operates multiple floral design centers in the greater Tucson, Arizona area. Our Eastside / Foothills flower shop is located at 7181 Tanque Verde, Tucson, Arizona 85715. Our Eastside / Foothills flower shop is beautiful. If you are in the area, we invite you to stop in. This store is open to the public for in-store shopping Monday through Saturday. We are closed on Sundays.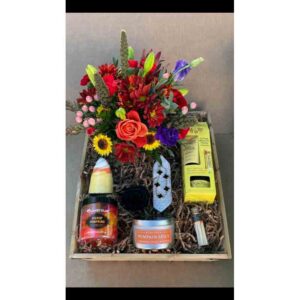 We offer the best selection of beautiful farm fresh flowers in Tucson. Our award winning floral design staff is one of the very best in Arizona. If in browsing our website you don't find the exact floral arrangement you are looking for, please call us at (520) 886-4443 in Tucson or toll free at (800) 584-6081. We offer custom floral design and can create the design that meets your exact needs.
Our website is designed to offer you an easy way to shop, whether you are looking for a special gift or something for your new home. We have owned Mayfield Florist since 1982 and are constantly striving to meet our customers' expectations. We believe that you will find our sales staff helpful.
Festive Fall Crate
Send a Crate of Autumnal treats perfect for Birthday, Love, Get Well, or Just Because that includes:
A Luxurious hand crafted "Candy Corn" shaped bath bomb
A Jar of adorable fruit flavored pumpkin shaped gummies from Candy Club
A delightful small batch pumpkin spice scented candle from River Birch Candle Co.
An apothecary bottle of Halloween colored specialty matches
A 3-piece gift set of lush spa products from The Naked Bee
An always trending clover bracelet with adjustable clasp
A beautiful black preserved rose bloom
A stunning Fall bouquet of gorgeous Mayfield fresh flowers
Mayfield Florist Offers Wonderful Flowers and Plants to Honor Veterans Day
On November 11th we celebrate Veterans Day. The reason for this date is that in 1918 on the 11th hour of the 11th day of the 11th month, all major hostilities of World War I were formally ended.  The day was originally termed Armistice Day and was created to celebrate the service of all U.S. military veterans. President Woodrow Wilson gave an eloquent speech in 1919 during which he commended the men and women of the United States military.
A brief excerpt from his speech goes as follows "To us in America the reflections of Armistice Day will be filled with solemn pride in the heroism of those who died in the country's service, and with gratitude for the victory, both because of the thing from which it has freed us and because of the opportunity it has given America to show her sympathy with peace and justice in the councils of nations".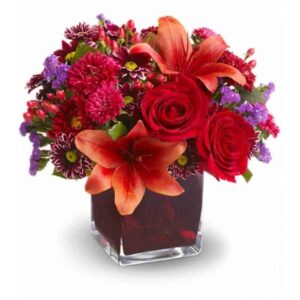 Armistice Day and Remembrance Day are celebrated in other countries as a remembrance to the end of World War I. However, in 1954, Veterans Day became the official name for our United States Day to honor our military men and women. Veterans Day differs from Memorial Day. While both days honor our military, Memorial Day is designated to honor those who died while fighting for our country. Veterans Day is designated to honor all of the military folks who have served our country.
In case you are looking for some other things you can do for a veteran, after a little research below are just a few ideas:
Donate Money – There are several organizations that support veterans, and they can always use private donations.
Volunteer your skills – If you have knowledge of a trade or financial planning etc., veterans can benefit from your volunteer teaching.
Veteran Speaker – Many veterans have wonderful and inspirational stories of overcoming adversity and never giving up. Find one that enjoys speaking to other veterans.
Hire a veteran – If you own a small business or are in a hiring position at a company, perhaps hire a veteran who is anxious to get out into the working world.
Hire a veteran's caregiver – Offering support to veteran's families is so valuable. Plus, many of these folks are incredible employees.
Do business with a veteran-owned company – Astonishingly there are an estimated 27 million veteran owned small businesses in the U.S. These companies are run by the fine men and women that defended our country. You will find some of the most trustworthy services and quality products.
Sedona Cube
As beautiful and vibrant as a sunset on the Red Rocks of Sedona, the Sedona Cube is a fantastic arrangement to send. Roses, lilies and asters in precious gemstone colors of garnet are nestled into a richly colored plum glass cube vase, creating a graceful presentation. Purple chrysanthemums and seafoam statice add a special touch. A beautiful bouquet for any occasion!
Mayfield Florist
Eastside-Foothills Flower Shop
(520) 202-9410