Mayfield Florist
Mayfield Florist is a second generation, family owned and operated floral design firm. We operate two floral design centers in Tucson. Our Tanque Verde flower shop is located at 7181 Tanque Verde, Tucson, AZ 85715. The Central Tucson flower shop is located at 1610 North Tucson Blvd., Tucson, AZ 85716. Mayfield Florist serves the greater Tucson, Arizona area, including Catalina Foothills, Marana, Oro Valley, Sahuarita and Tanque Verde. We provide both same day and 4-hour express flower delivery service, anywhere in Pima County. Mayfield Florist was voted "Best Florist in Tucson" for 2018. We have also received that same honor on a number of other occasions in the past.
Mayfield Florist has been creating gorgeous wedding and event flowers since 1982. Our award winning design team is one of the best in the state of Arizona. They are known for the unique, luxurious and upscale wedding and event flower designs they create. These floral designs have years of experience. They have provided floral design for some of Tucson's most prestigious events. Mayfield is one of the largest florists in the city. We are able to handle floral design for any size event or wedding.
We offer turn-key wedding flower packages. These packages include floral design, event set-up and post event take down services. The wedding planners at Mayfield Florist have years of experience. They have handled weddings and events at most of the top event venues in and around the city. No matter what size wedding you are planning, Mayfield can help. With more than 35 years of experience, our firm is truly one of the premier floral design firms operating in Tucson. Many of the flowers we purchase are bought directly from flower farms. We purchase from both domestic and international floral growers. Purchasing direct offers many great advantages. We pass along as many of those to our wedding and event flower customers as possible. One obvious advantage is the fact we are able to reduce the price of the flowers we purchase. That price reduction is accomplished by eliminating wholesalers. Another great advantage is flower freshness. Buying direct reduces the time between when the flowers are cut at the farms and when they are available to our floral designers. This ensures that our wedding and event customers allows have the widest selection of beautiful, farm fresh flowers available.
Are you ready to begin planning your wedding? If so, we highly encourage you to contact our floral design center. We offer Free wedding consultations. Our wedding planners are some of the best you will meet. When you come in for your consultation, they will listen intently to the vision you have for your special day. These folks will help you choose the best floral varieties, designs and presentation styles for the wedding venue you have chosen. They can create the perfect wedding flower package for your needs and budget.
Wedding Flowers
Mayfield Florist knows that your wedding day is one of the most important days of your life, which is why we offer a wide variety of services to make it as memorable as possible. Our experienced designers will work with you to create the perfect flower arrangements for your ceremony, reception and other events leading up to the big day. We will also help coordinate all other aspects of your floral needs including transportation and delivery. If you need help planning every last detail from start to finish, we can provide full wedding planning services from start to finish!
Wedding Consultation
Mayfield Florist offers wedding flowers and consultation services to help you realize the wedding day of your dreams. We offer a wide variety of services to make your wedding day as memorable as possible. You can schedule an appointment with us for a consultation by calling or emailing us.
When you schedule an appointment with us for a consultation and during this initial meeting, we will provide you with a variety of arrangements to choose from for things like your bridal bouquet, groom corsages, and ceremony decor in order to help bring your vision to reality. We have worked with many brides and grooms, and we love helping them create the perfect wedding. If you're interested in scheduling an appointment to talk about your big day, please fill out our contact form or give us a call. In the meantime, check out some of our recent work on our website!
We also offer custom-made designs and urns or pedestals for arrangements. We also offer custom-made designs and urns or pedestals for arrangements. An urn or pedestal is a decorative vessel used to hold flowers in a vase, casket, or other display. They can be made of metal or stone, but they are usually made of wood. You can purchase a ready-made pedestal or order one from us if you do not want to go through the trouble of making it yourself!
Conclusion
Mayfield Florist is here to help you realize your wedding plans. We have been recognized as a top florist in our market, and we know that first-hand what it takes to make your wedding day special. If you're looking for the best florist to handle your wedding, you should no further than Mayfield Florist. You can expect great customer service, fresh flower arrangements, beautiful floral designs, plants, gift baskets and much more.
SPECIAL DISCOUNT OFFERS – USE ON MAIN WEBSITE
About Mayfield Florist Wedding Flowers
Mayfield Florist creates gorgeous bridal bouquets. We offer four different styles, including; cascading, nosegay, contemporary and beautiful custom hand-tied bouquets. Our expert wedding flower designers create some of the most unique and artistic bouquets in Tucson. Take a look at some of the bouquet styles and floral varieties included in the bridal bouquets featured in our bouquet gallery.
Mayfield Florist is the go-to wedding florist for brides all over the Tuscon area. We handle weddings of all sizes and offer both wedding packages and custom wedding floral designs. The wedding floral design team at Mayfield Florist is truly one of the very best in Arizona. We have a great selection of wedding package options. If you don't see exactly what you are looking for, we also provide full custom wedding flower design services. Our team can create a wedding flower package for virtually any budget.
If you are a new prospective bride, we encourage you to contact one of our two floral design centers. We have a floral design center located at 7181 Tanque Verde, Tucson, Arizona 85715. There is another store located in another part of Tucson at 1610 North Tucson Boulevard, Tucson, Arizona 85716. We offer a FREE wedding consultation for all prospective brides. Our wedding planning staff can meet with you at either design center location. These folks are experts and can help you achieve the wedding of your dreams. Make your wedding one to be remembered. Contact Mayfield Florist today.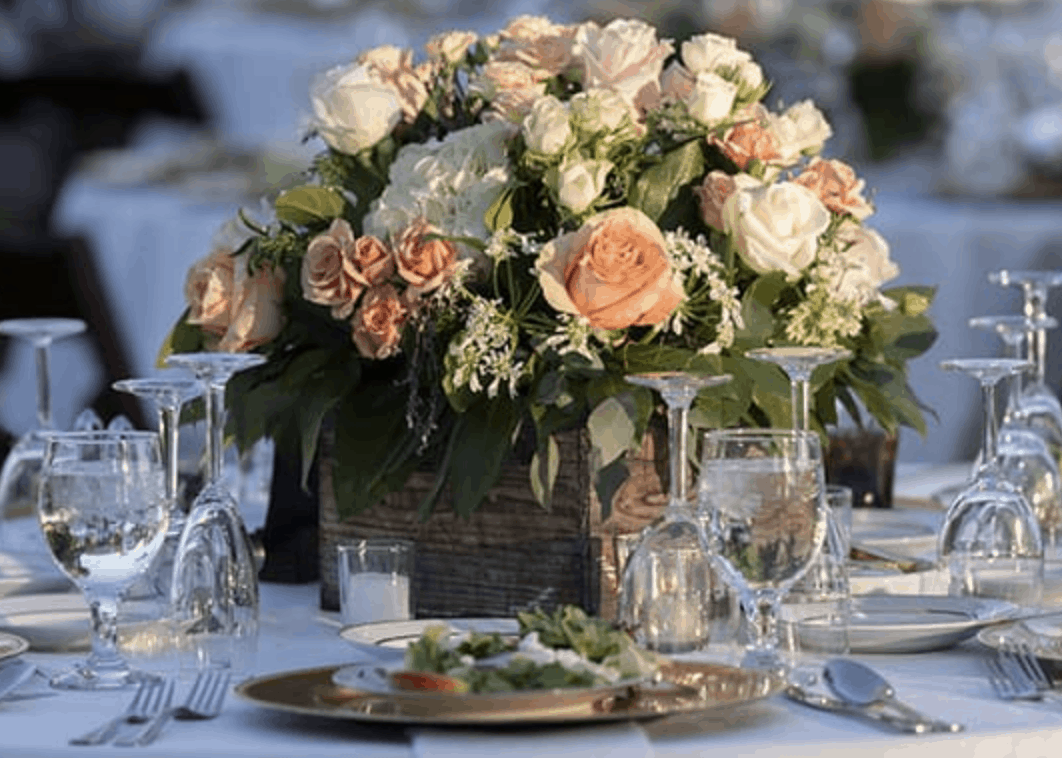 2200 N Wilmot Rd
Tucson, AZ 85712
(520) 886-4443