Mayfield Florist
Congratulations on your anniversary! Wherever you're celebrating, Mayfield Florist can help. We have a wide variety of fresh and beautiful Anniversary Flowers, Plants, and Gifts to choose from. We have been servicing our customers with dependable flower delivery for many years and we are committed to providing our customers with excellent service and high-quality products at competitive prices. Below are some great choices for Anniversary Flowers.
Roses
Roses are a great choice for any anniversary, but especially the milestone anniversaries like 25th and 50th. Roses come in many colors and types, so you can choose the right color to express your feelings. Roses are also popular choices for birthdays and Mother's Day as well as Valentine's Day. Rose bouquets come in a variety of sizes and shapes, from small posies to large arrangements with multiple stems in a vase or basket. You can even find roses that have been dipped in chocolate!
Orchids
Orchids are the most popular flowers for anniversaries. Orchids symbolize elegance and refinement, luxury and beauty, love and romance, respect and admiration. Orchids are available in a wide variety of colors including white, yellow or red, but they are most often found in shades of pink or purple with green leaves. They can be arranged in many different ways such as long-lasting cut flowers that can be kept fresh for up to two weeks if properly cared for; live potted plants that require little maintenance once established; orchids shipped directly from growers so you don't need to worry about how long they will last before they are delivered.
Lilies
Lilies are a symbol of purity and innocence; they also represent the Virgin Mary. The lily is the flower of choice for weddings, funerals, and anniversaries. Lilies come in many varieties including white oriental lilies or red spider lilies.
Carnations
Carnations are a symbol of love and admiration. They are also a symbol of friendship, which is why they are often used in arrangements to honor birthdays, anniversaries and other special occasions. Carnations come in many colors and varieties; you can choose pink or red carnations for your sweetheart if you want something simple that's sure to please. You can also get more exotic colors like purple or lavender if you want something more unique! Carnations come in different sizes too–they range from small single buds all the way up through large bouquets filled with dozens of flowers each! Carnation arrangements come in many styles as well: there are singles or small bunches; full bouquets; even wreaths made up entirely out of these beautiful blooms! Whether you're looking for something traditional (like red roses) or something more modern (a mix between yellow chrysanthemums), we've got exactly what it takes.
Tulips
Tulips are a traditional flower for anniversaries, and they're also one of the first to bloom in spring. They make an excellent way to celebrate your anniversary and can be delivered same day if you order early!
Alstroemeria
Alstroemeria is a genus of flowering plants in the family Alstroemerias. They are native to South America, especially in Peru, but are now grown worldwide as ornamental plants. The flowers are usually bi-colored and typically range from white to red or orange but can also be yellow or pink.
Gerberas
Gerberas are a bright and cheerful flower. They make a great choice for any occasion, especially one that calls for an anniversary or birthday gift. Gerberas are available in many colors, including red, orange, yellow and white – so there's something for everyone!
Mayfield Florist is your local florist for all your flower needs. We offer 100% satisfaction guarantee on all our products so if you're not happy with what we deliver, simply let us know within 24 hours of receiving them and we will replace them free of charge (excluding freight charges). Our wide range of flower types include roses, tulips and gerberas as well as many more exotic species from around the world – just ask our friendly staff for advice when placing an order over email or phone today!
Conclusion
Mayfield Florist is the florist for all your flower needs. We offer a wide range of flowers, plants and gifts and can help you find the perfect gift for any occasion. Our friendly staff will be happy to assist you with any questions or concerns so do not hesitate to contact us!
SPECIAL DISCOUNT OFFERS – USE ON MAIN WEBSITE
Mayfield Florist Anniversary Flowers & Gifts
Mayfield Florist offers the best selection of Anniversary Flowers in Tucson Arizona. We have all your favorites, including gorgeous Ecuadorian Roses, Full Bloom Hydrangea, Exotic Orchids and much more. Want to leave a lasting impression on your special someone? We suggest sending them two dozen gorgeous Ecuadorian Roses. You might also want to add a box of gourmet Godiva Chocolates as well. Each anniversary flower arrangement comes with our 100% customer satisfaction guarantee. If for any reason you don't absolutely love the arrangement, we have created for you, we will replace it with one of equal of greater value, free of charge.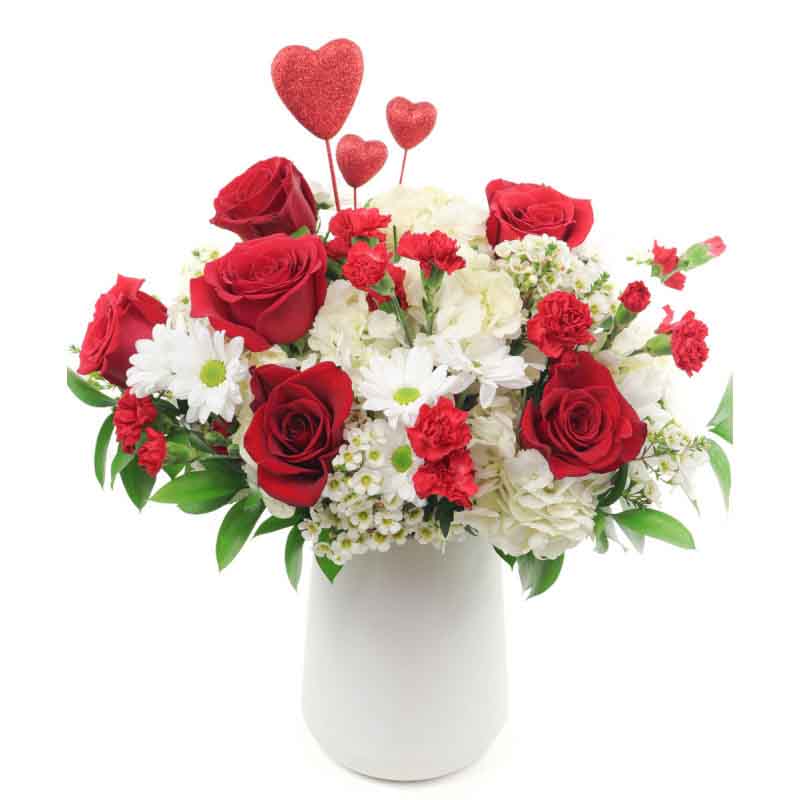 HEARTS ON FIRE
Red roses and carnations are exquisitely arranged with white hydrangea and chrysanthemums presented in designer white ceramic. Red hearts added for the perfect Anniversary gift. It's Lovely!
For the March Madness enthusiasts, check out our wonderful Plants and Gifts. 
Mayfield Florist
2200 N Wilmot Rd
Tucson, AZ 85712
(520) 886-4443