Mayfield Florist
The perfect way to cheer someone up who is ill, or recovering is by sending Get-Well Flower Bouquets. Get-well flowers have been used for centuries, and they are still just as popular today. Providing a gift of a get-well flower bouquet will let your friend or family member know that they are in your thoughts during this difficult time. It is also a great way to show them that you are thinking about their health as opposed to worrying about how much it costs or what kind of flowers might be available at their local florist shop. You will find below some examples of flowers that are traditionally given when someone is sick or recovering from surgery:
SPECIAL DISCOUNT OFFERS – USE ON MAIN WEBSITE
Get-Well Flower Bouquets
Gladiolus
Gladioli are a good choice for get well flowers. They make a statement, and they're easy to find if you do not have time to shop around. Gladioli are long lasting, so they will last throughout the day or longer if you keep them in water. That is why we recommend using them as part of your get-well gift basket or bouquet!
If you want to send a get-well gift, consider sending some fresh flowers. We have an excellent selection of flowers, including lilies and tulips that are great for get well baskets! If you are looking for something more exotic, try out our orchid collection! You can also find beautiful roses for sale at Floral Expressions.
Roses
If you want to send a get-well flower but are unsure of what color roses are the most popular, here is what you need to know.
White roses are the most commonly used color, and they make a great choice for men and women.
Red roses follow close behind in terms of popularity with many people choosing them for their loved ones who have been sick recently.
Pink roses are also a popular choice for get well flowers. Some people prefer to send yellow or orange roses as well, but these colors are not as common. If you are still unsure about what color rose to choose, it is best to ask the person who is sick what color they like most and then use that as your guide.
Carnations
Carnations are a classic flower, and for good reason. They come in a wide variety of colors and sizes, making them perfect for any occasion. Carnations are also often used in weddings because they're so versatile: you can use them as centerpieces, bouquets or boutonnieres!
Carnations are also a great choice for birthdays and anniversaries, because they're very affordable. Carnations are also often used in funerals because of their long-lasting beauty; this can also make them good wedding flowers if you're looking for something that will last long after the ceremony is over.
Marigolds
Marigolds are a great choice for cheering up a sick room. They are bright and cheerful, which will help lift your spirits as well as those of the person who is ill. Marigolds have also been known to help with the healing of wounds, so if you want to give them some extra attention, this would be an excellent choice! Marigolds are also great at repelling insects, so if you have someone in your life who likes having fresh air but has allergies or asthma (or just hates bugs), these flowers could be perfect for them!
Gerbera Daisies
Gerbera daisies are a great choice for a get-well flower. They are easy to grow, easy to care for and they can be used in all sorts of occasions. Gerbera daisies are also a very popular choice because they last so long! Flowers are the perfect way to say, "I'm thinking of you" or "thank you". Why not treat them with the same respect they show you every day?
Orchids
Orchids are a great choice for a get-well gift. Orchids are one of the most popular flowers for get well bouquets, and they come in many colors including pink, purple and red. If you want to send an orchid plant to someone who is ill, make sure it has been refrigerated so it will last longer than other flowers would in such conditions.
Orchids come in a variety of colors, including pink, purple and red. To send an orchid plant as a get-well gift, make sure it has been refrigerated so it will last longer than other flowers would in such conditions.
Get-Well Flowers
Hospitals, doctors and nurses make up a very large portion of the people who purchase flowers for get well gifts. Flowers are purchased by these people because they want to send someone flowers to show their support. If you know a loved one is currently receiving care at an institution, there are many ways to show your support for that person. For example, you can send a get-well gift bouquet or plants with a card explaining why you chose them as a way to let the recipient know that you hope they feel better soon.
Get-well flowers are a great way to tell someone you are thinking about them. If a friend or family member has recently been in the hospital, sending flowers can be an easy way to let them know that you care and want them to get better. Flowers are also a great gift for those who have just had surgery or another medical procedure that requires recovery time at home.
Get-well flowers are available in many different colors, sizes and shapes from florists all over the world! The first thing to consider when buying get-well flowers is the recipient's preferences.
Not all people like roses, so if you know they are not into red and pink, do not pick those colors!
You can also opt for flowers that represent different things—you may want to send a sunflower as well as roses if you know your friend is feeling down.
The next thing to consider is the recipient's personality and what they like. If you are buying a gift for someone who loves gardening, send them some flowers from their favorite kind of plant.
Conclusion
If you or someone you love is sick and needs a little pick-me-up, we have the perfect solution. Flowers have long been known as a way to bring joy into someone's life, and they are also very helpful in providing comfort during times of illness.
Mayfield Florist Same Day Get-Well Flower Delivery
Mayfield Florist has the best selection of get well themed flowers, plants and gifts in Tucson. Many of our top selling get well bouquets are featured on our website. Our site also features some incredible dish gardens, succulent gardens and live plant options as well. If you prefer a custom design, please contact one of our floral design centers and we can create the exact floral design you want.
We offer same-day and express flower delivery service to all Tucson area hospitals and medical centers. Our team of delivery professionals has years of experience delivering to all area hospitals. They know the best times to deliver, and the best options for ensuring the flowers make it to the patient. We guarantee all same-day deliveries for on-time arrival. If you need the get well flowers to arrive by a specific time of day, please utilize our express flower delivery service option when you check out.
There are many different types of flowers that can be sent as a get well gift. The type of flower you choose will depend on who you are sending the flower arrangement to, and what they like. A good rule of thumb is to send a bouquet you think they will enjoy receiving. Sunflowers are always a great choice as a get well gift. These gorgeous flowers have large, bright yellow blooms that brighten up any room. We find that gerbera daisies are also a really popular variety here in Arizona. Gerbera daisies come in many bright colors, and they smell amazing.
If you are not sure which flowers your friend or love done will like, try sending them something different than what they normally receive. If you know that the person loves roses and tulips, send them a bouquet with those flowers in it! In addition to choosing a variety of colors and types of flowers, also consider adding some greenery or filler plants into your bouquet. Some examples include ferns, calla lilies, orchids, hydrangeas and more!
Many people who are sick love receiving fresh flower bouquets because they are beautiful and make their hospital room or home feel more cheerful. Fresh flowers also have a way of brightening up a room and lifting spirits when it seems like nothing else can. Flower deliveries can generally be made directly to the patient's hospital room. We can also deliver get well flowers to the patient's family members or friends.
Certain types of flowers that can help with their recovery process by releasing chemicals into the air that make people feel better after inhaling them (such as lilies). Also keep in mind that some flowers are more pungent than others. The right fresh flower bouquet can fill the room with an amazing aroma.
Our firm is one of the premier floral design firms operating in Tucson, Arizona. If you are in the area, please stop in and visit our brand-new flower shop location at 2200 North Wilmot Road, Tucson, AZ 85712. The design center has a beautiful customer showroom, open to the public for in-store shopping. Our showroom is filled with occasion themed gifts. It has a large walk-in cooler. The award-winning floral design staff at Mayfield Florist keeps that cooler filled with beautiful, farm-fresh floral bouquets, themed for many different occasions.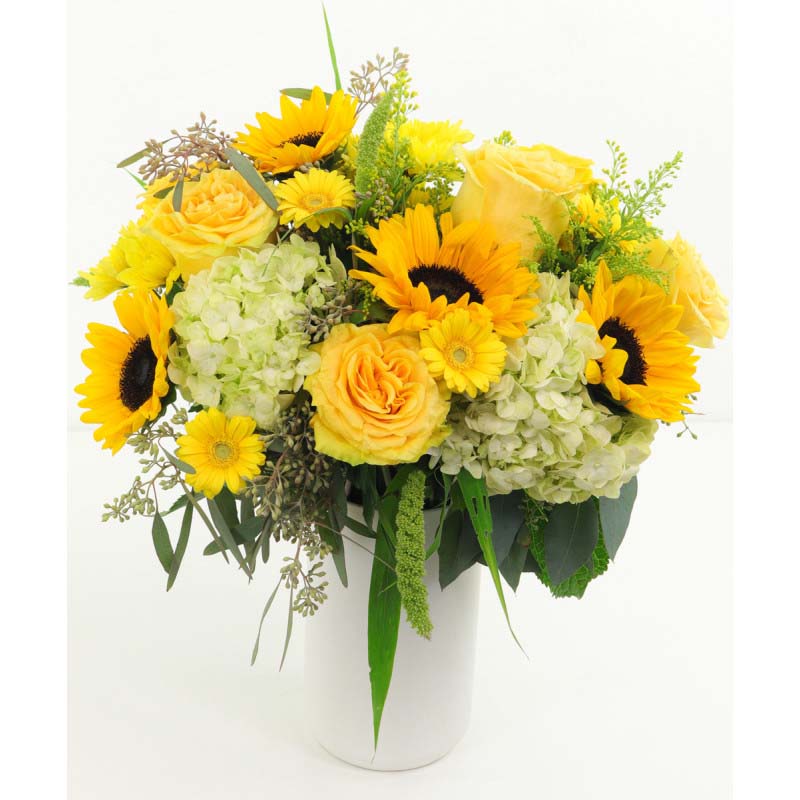 Sunny Delight
California grown sunflowers, Ecuadorian garden roses, stunning hydrangea and miniature gerbera daisies are arranged in a white ceramic vase.
Mayfield Florist
2200 N Wilmot Rd
Tucson, AZ 85712
(520) 886-4443