Mayfield Florist
ARIZONA DAILY READER'S CHOICE AWARDS VOTING IS NOW OPEN
Please Vote Mayfield Florist "Best Florist in Tucson Arizona"
Text the code 455 to phone number 520-214-8683 to vote for us
The meaning of the I'm Sorry Flowers is that you are sorry for something that you have done or said, or just to say that you are sorry in general. I'm Sorry flowers can be sent as gifts, left lying around on your balcony, or put into a vase on the table. There are many varieties of I'm Sorry Flowers such as roses, tulips and lilies – these flowers convey different levels of regret depending on how many petals they have. For example, if your partner breaks up with you then sending them 24 red roses would be more romantic than sending them one rose because they wouldn't think it was serious enough!
SPECIAL DISCOUNT OFFERS – USE ON MAIN WEBSITE
Reason for I'm Sorry Flowers
I'm Sorry flowers are a symbol of remorse and regret. They can be sent to a loved one, friend or family member. I'm Sorry flowers can also be sent to an enemy who has hurt you in some way. The message behind this type of flower arrangement is that you are sorry for whatever it was that you did. The flowers can help to convey the sincerity of your apology, and they make an excellent gift for anyone who has wronged you in some way.
The best time to send flowers is when you have done something wrong but are trying to make things right again. Sending I'm Sorry flowers can be a great way to tell someone that they are forgiven, or even just an effective way of apologizing for your actions.
It is important to remember that flowers should not be used as an excuse for making amends. Sending a bouquet of I'm Sorry flowers is not the same thing as saying, "I was wrong" or "Please forgive me." They are just a way of showing that you care about the person who has been hurt by your actions and want them to know that things will get better now.
Best Varieties of I'm Sorry Flowers
There are a number of different flowers that you can choose from when sending your apologies. Some of the most popular include roses, orchids, lilies and sunflowers. Carnations are also a great choice because they come in many colors and sizes; there is sure to be one that fits your needs! You can also consider sending a mix of flowers. A bouquet of carnations, roses and lilies are a great choice because they each have different meanings. The carnations mean "I'm sorry;" the roses represent love and passion, while the lilies symbolize purity and elegance.
When it comes to sending your apology, there is no better way than flowers. They are a beautiful way to show your remorse for a mistake you have made or an action that hurt someone. The perfect apology bouquet will help you convey exactly what you're feeling inside and show the other person that they are important enough for you to go out of your way in order to make amends.
Best Varieties I'm Sorry Plants
We have got some of the best I'm Sorry plants to make your apology unforgettable.
The "I'm Sorry" Cactus: This adorable cactus is the perfect way to say you are sorry and make it up with a loved one. It grows in a pot, so it is easy to take care of!
Bonsai Tree: A mini bonsai tree makes an excellent gift for anyone who loves plants but cannot have full-sized trees because of their apartment or condo size home. It's also great if you want something small enough that will not take over your house like some other indoor plants do!
Peace Lily (Spathiphyllum): This beautiful plant has pretty white flowers that bloom all year round when cared for properly–so even when things aren't looking so good between two people who are fighting with each other, this flower still has something positive going on inside those blooms! The peace lily is also a great plant to give to someone who has recently lost someone they cared about. It is a sign of respect and sympathy that almost anyone will love!
Same Day Delivery of I'm Sorry Flowers
When you are in a hurry, it is nice to know that you can count on your florist to deliver your order right away. Same day delivery is available for orders placed by our deadline. We will do everything we can to make sure your I'm Sorry plants arrive on time, but there are a few things you should know:
The recipient must be present at the address provided during checkout and accept delivery from our driver or courier service. If not, we will have no other options but to refund any payments made by credit card holders for their purchases without any further action taken by either party involved in this event so please ensure that someone who can accept these items is present at all times during processional delivery times as well as follow up calls made after delivery has been completed successfully!
If you have any questions or concerns about this process, please do not hesitate to contact us. We are here for you!
Conclusion
The I'm Sorry flowers can also be used as a sympathy gift when someone has lost someone close to them in their life, such as family members or friends. If there is something that happened between people where one person feels like they have done something wrong and wants forgiveness from the other person, then this would be an appropriate time to give these flowers as well! The I'm Sorry flowers are a great way to show that you are sorry and that you care about the other person. They can also be used as a way of making up from something that happened between two people who were fighting or arguing with one another. The best part about these flowers is that they come in many varieties so there's sure to be something for everyone!
Mayfield Florist Offers Beautiful and Heartfelt Same Day Deliver I'm Sorry Flowers and Plants
Mayfield Florist offers the best selection of gorgeous fresh cut flowers in Catalina Foothills. Our firm was established in 1982. We are a true, second generation, family owned and operated floral design firm. Products we sell include farm fresh flowers, plants and gifts for all occasions. We employ one of the most talented floral design staffs in Arizona. They are known for producing luxurious, upscale floral designs. The delivery staff at Mayfield Florist makes daily delivery runs to all Tucson area hospitals, churches, funeral homes and mortuaries.
The Catalina Foothills area of Arizona is a beautiful place to live. It's nestled in between the Catalina Mountains and the city of Tucson, and it's one of the most popular areas for people to settle down. As you might imagine, this means that there are plenty of fantastic things going on in Catalina Foothills, including: Lots of great restaurants and shops, Access to the florist voted best in Tucson the past 8 years in a row, A thriving community (there are over 1,500 businesses here!), Close proximity to some amazing nightlife, Lots of great outdoor activities (if you love hiking or biking), and A low crime rate (so you can feel safe when walking around at night).
There are several hospitals in the area, including Banner Estrella Medical Center, Banner Thunderbird Medical Center, and Estrella Mountain Regional Medical Center. We provide same-day and express flower delivery service for customers needing to send flowers, plants or gifts to the medical centers. There are also many schools in Catalina Foothills. Some of these include Pima Community College and Arizona State University-West Campus. We provide daily delivery service to them as well.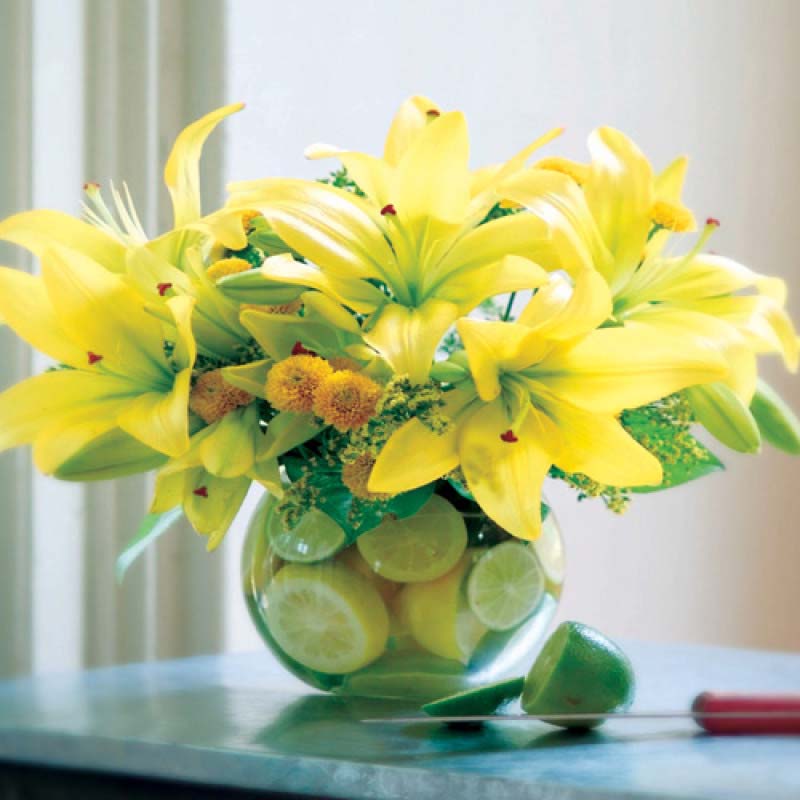 Just Make Lemonade
When life gives you lemons, sometimes you just have to make lemonade. This gorgeous bouquet of yellow lilies and lemons in bubble bowl vase is the perfect gift. The aroma of lemons and beauty of flowers are quite the combination.
Mayfield Florist
2200 N Wilmot Rd
Tucson, AZ 85712
(520) 886-4443