Mayfield Florist Az daily Star's Reader's Choice Best of Tucson… Voted Best Florist 2023 and every year since 2016, 8 years in a row!
Labor Day is a time when we can celebrate the hard work of Americans and our country's working class. To do that, there is nothing better than giving your loved one's fresh Labor Day Flowers and Plants. This Labor Day, give them something they will love:
SPECIAL DISCOUNT OFFERS – USE ON MAIN WEBSITE
Flowers and plants are always a great choice because they can brighten up any room. Plus, they will be able to enjoy them long after Labor Day passes by. Plan an outing where everyone brings their favorite plant or flower as part of the festivities — it will be fun for everyone involved! If you are feeling extra ambitious, you can even consider hosting a Labor Day party. Have everyone bring their favorite plant or flower and have it can be the theme of the day! There is nothing like fresh flowers to brighten up any room — and they will last for a long time after Labor Day passes by.
Here are a few flower and plant ideas for how you can celebrate this holiday with your favorite hardworking people:
Calla Lilies
Calla lilies are an excellent choice for Labor Day flowers and plants. They're a great gift for your loved ones, easy to grow and maintain, available in a variety of colors and they look stunning when you bring them indoors during the colder months. Calla lilies bloom from mid-summer until early fall so there's no need to worry about them dying out before you've had enough time with them!
They are also excellent for indoor arrangements and can be used to create beautiful centerpieces that will last all year long. The only downside is that they don't like to be moved around too much so if you want to move them from one room to another, make sure you do it while they're still in bloom.
Chrysanthemums
Chrysanthemums are a traditional flower for Labor Day. They are also the official flower of Hawaii, where they are traditionally used in leis and as part of a celebration called "Aloha Week." Chrysanthemums are easy to grow and maintain and can be purchased at most garden centers or home improvement stores. They are a hardy flower that can be planted in your garden or in pots on your patio.
Roses
Roses are a classic flower and make an excellent gift for any occasion. Roses come in a variety of colors, sizes, and even shapes. Depending on where you live and what time of year it is, roses may be available locally or shipped from elsewhere. Roses can be used as centerpieces or bouquets for parties or dinners with friends and family members. The rose can be used as a symbol of love and beauty, but it also has other meanings. The most common meaning is that roses represent romance or passion. In this sense, they are often given as tokens of affection to someone you are romantically interested in.
Carnations
Carnations are the most popular flower in the world, and for good reason. They come in a wide range of colors and sizes, ranging from petite to large blooms. Carnations are also easy to grow and maintain, making them a great choice for anyone who wants to have beautiful flowers without having to spend too much time caring for them. Carnations make excellent choices for weddings–especially if you want something simple but elegant that does not involve any complicated arrangements or designs (or if your budget is limited). They are also an excellent choice if you are looking for something inexpensive yet still memorable on birthdays or other special occasions like Mother's Day or Valentine's Day!
Carnations are also extremely long-lasting, making them great gifts for anyone who has to travel. You can find carnations in a wide range of colors and designs, making it easy to find something that will match any occasion or style. Carnations are also very easy to grow. In fact, they are often referred to as "the poor man's rose" because they are so low maintenance that even someone with a limited amount of gardening experience can easily take care of them without any problems. This makes them an excellent option for anyone who wants beautiful flowers but does not have a lot of time or money to spend on gardening!
Gerberas
Gerberas. are a popular flower for Labor Day, gerberas are easy to grow and available in a variety of colors. Plant them outdoors or indoors and enjoy their bright blooms for weeks on end.
Zinnias
Zinnias make excellent cut flowers, but they can also be planted as annuals if you live in a warm climate where they will thrive year-round! They come in a wide range of colors from red to yellow to orange–the perfect way to add some color to your home this fall!
Lavender
Lavender is a perennial plant with fragrant, purple flowers. It can be grown in pots and will bloom from summer to fall if you keep it well watered. Lavender grows best in full sun to partial shade but can tolerate some shade as long as there are at least six hours of direct sunlight each day. Lavender plants require regular watering and plenty of sunlight, but you should also be careful not to over-water them. If your plant starts wilting in the heat of summer, it's probably time to give it some relief from the heat by moving it into an area with less direct sunlight. Lavender plants are easy to maintain, but they do have some specific needs that should be considered before you plant them.
Succulents (Indoor & Outdoor)
Succulents are an easy and beautiful choice for your home this Labor Day. Succulents are drought tolerant plants that need little care, making them ideal for busy people who want to add greenery to their homes without having to spend a lot of time tending to it. If you are looking for something that requires less maintenance than other plants, succulents are the way to go! They are also easy to propagate through cuttings or division, so if one of your existing plants dies or fails after several years in your home (a common occurrence with many types of houseplants), there is no need to throw it out; simply take some cuttings from another healthy plant and start over again!
Succulents survive outdoors in many regions. You can plant them in containers and keep them on your porch or patio, or you can place them directly into the ground at home. If you live in a region with cold winters and freeze temperatures, you'll need to bring your succulents inside during the cold months (or simply replace them with other types of plants).
Sunflowers (Indoor & Outdoor)
Sunflowers are a great choice for Labor Day, and they can be used as a centerpiece or bedding plant. They are easy to grow, making them perfect for beginners. Sunflowers will grow in almost any environment, so you can plant them indoors or out! They are also easy to care for, making them perfect for busy gardeners. Sunflowers grow best in full sun and soil that is rich in nutrients. If you do not have a green thumb, don't worry! Sunflowers are easy. In addition, they are also a great choice for beginners, as they are easy to grow and care for. In fact, sunflowers are so easy to grow that many people say they are virtually foolproof plants! They will thrive in almost any environment, including indoors or out.
Conclusion
Labor Day Flowers and Plants are the perfect gift for anyone in your life who appreciates fresh, beautiful flowers. With so many options available, you will be sure to find something that fits their tastes and needs perfectly. Whether they are looking for something simple like sunflowers or something more exotic like succulents, these gifts will brighten up any room in their house!
Mayfield Florist was voted Az daily Star's Reader's Choice Best of Tucson… Voted Best Florist 2023 and every year since 2016, 8 years in a row!
Green Valley Florist – Same Day Flower Delivery to Green Valley
Mayfield Florist offers gorgeous farm fresh flowers, to customers in Green Valley, Arizona. Our firm was established in 1982. We are a true, second generation, family owned and operated floral design firm. Products we sell include farm fresh flowers, plants and gifts for all occasions. We employ one of the most talented floral design staffs in Arizona. They are known for producing luxurious, upscale floral designs. The delivery staff at Mayfield Florist makes daily delivery runs to all Tucson and Green Valley area hospitals, churches, funeral homes and mortuaries.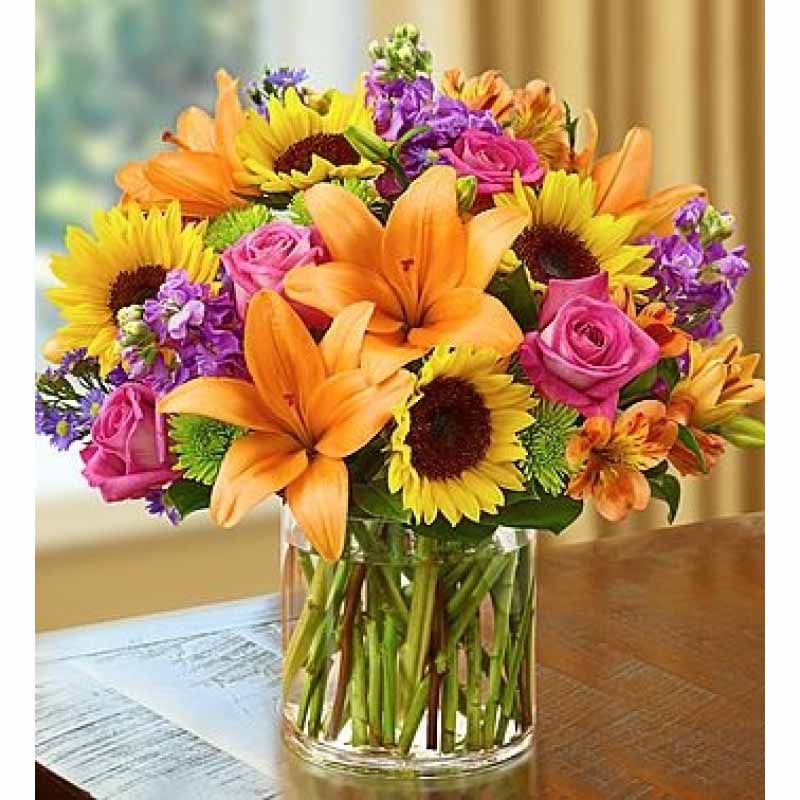 Epic Day in Tucson
Tucson's Favorite Floral Designs
Yellow Sunflowers, Orange Lilies, Pink Roses
Mayfield Florist is known for creating gorgeous fresh flower arrangements. We have been voted best florist in Tucson on numerous occasions. This fresh flower arrangement includes gorgeous yellow sunflowers, orange lilies, pink roses, green poms and orange alstroemeria. Our designers then nestle all these gorgeous flowers into a beautiful cylindrical, clear glass vase.
Mayfield Florist
2200 N Wilmot Rd
Tucson, AZ 85712
(520) 886-4443