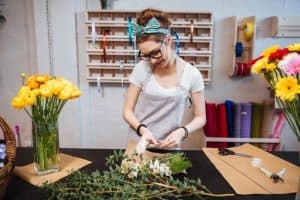 Each year, February 28th is recognized as Floral Design Day. This is an opportunity to recognize the talent and artistry that goes into floral design around the country. It's also a time to promote floral design education.
We take this time to also recognize our floral designers for the amazing work they do in our Tucson flower shop. we have the best floral designers in town.
Thanks to their creativity and hard work, we've been recognized many times as one of the favorite Tucson flower shops.
To illustrate incredible Floral Design on this special day and highlight the talents of our floral design team, check out these flower arrangements from our Signature Design collection:
Brighten Her Day
This is a stunning example of a garden style floral design with bright colors and many popular flower varieties.
Sedona Cube
Reflective of the sunset on the Red Rocks of Sedona, this cube flower design includes roses, lilies, and asters in a plum glass cube vase. There are also purple chrysanthemums and seafoam statice.
Purple Tapestry Bouquet
This is a incredibly elegant floral design with a range of purple and lavender flowers.
Sparkling Sunshine Bouquet
This flower arrangement features many shades of yellow. There are sunflowers, alstroemeria, solidago, and spray roses to brighten your day.
Pastel Parade
This is a way to welcome spring with a sweet and inspiring floral design with multiple colors and blooms.
Brighten Her Day Luxury
This is a larger style flower arrangement that is considered luxurious for its size and number of premium blooms.
Walk In The Garden
This is another example of a garden floral design. It contains gerbera daisies, carnations, and other pink and purple flowers.
Come meet our floral design team and thank them for their beautiful work. You can also schedule an appointment to work directly with them on a custom bouquet or custom flower arrangement for an upcoming special occasion or event.