Mayfield Florist
Mayfield Florist provides same day hospital flower, plant and gift delivery to Carondelet Saint Mary's Hospital. If you need your get-well gift to arrive at a specific time, we highly recommend that you use our guaranteed 4-hour express delivery service. Express delivery is really a popular option for customers sending gifts to Carondelet Saint Mary's Hospital. Our get-well floral collection is the best in Tucson. Looking for a plant? We have beautiful flowering baskets, traditional dish gardens, succulent plant gardens, cactus gardens and many different varieties of green plants.
The Carondelet St. Mary's Hospital is one of the premier medical facilities in Tucson Arizona. It is believed that Carondelet St. Mary's Hospital may be the longest operating hospital in Tucson. They were formed around 1880. Impressive that they are still providing great service for Tucson residents 137 years later.
The incredible folks at Carondelet St. Mary's provide a wide array of medical services and are one of the preferred hospitals for many folks living in and around the greater Tucson area. They have one of the best cardiac departments in the city and also provide excellent treatment options for people suffering from cancer and other diseases.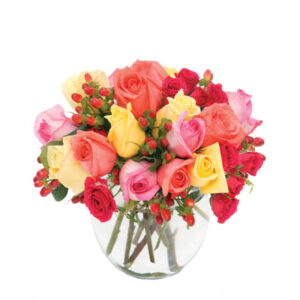 Mayfield Florist offers same day and express flower delivery service to Carondelet St. Mary's Hospital. Our delivery staff generally make several runs per day, to the medical center. We have years of experience in delivering to the hospital and known all the special requirements necessary to successfully accomplish our mission to deliver your get-well flowers, plant or gift. One of the most popular delivery options for folks using our get-well flower delivery service is our express delivery feature. We can normally get your flowers, plant or gift delivered in 4 hours of less. Express service works well when you have a specific date and time requirement, for the delivery.
Mayfield Florist offers the best selection of Get-Well Flowers in town. We have beautiful sunflowers, gerbera daisies, roses and more. There are lots of great options, in all price ranges. The most popular arrangements for hospital and get-well flower delivery tend to be bright and cheery style designs.
Mayfield Florist offers a great get-well plant collection. We offer live green and blooming plants. Choose from Dieffenbachia, Crotons, Spathipyllum and more. We have gorgeous cactus and dish gardens. They are extremely popular here in the Tucson area. Another really popular plant variety is our high desert succulent collection. These succulents, if properly cared for, retain the beauty for a long period of time. All of our plants are available for same day or express delivery to Tucson area hospitals.
Rose Sorbet
Just like sorbet is to the tongue, this beautiful arrangement is a treat for the eyes. Multicolored standard and spray roses. Full of vibrant colors, this handmade design is sure to please.
Mayfield Florist offers Flowers and Plants perfect for the International Day of Peace
In 1981, the International Day of Peace was created by the United Nations General Assembly.  Twenty years later, the General Assembly voted to designate this day as a time of worldwide peace. Their mission was to have a time of cease – fire. All nations are invited to participate in this day of observance. Then in 2013 the Secretary – General of the United Nations dedicated International Day of Peace as a day to focus on world peace. The awareness this day creates for peace is solely devoted to the hope that the occurrence of war can be reduced. It is observed annually on September 21.
Annually the Peace Bell of the United Nations is rung in New York City which is the UN official headquarters. The bell is made from coins that were donated from children across the globe in numerous continents. An inscription on the bell reads "Long live absolute world peace". The United Nations Association of Japan dedicated the bell as a gift and as symbol of the cost of human life caused by war.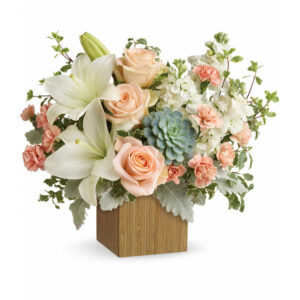 In addition to sending beautiful and thoughtful Mayfield Florist Plants and Flowers, there are several ways to recognize International Day of Peace.
Competition – A friendly sporting event creates goodwill. When teams compete against each other in a friendly game of some type, a good deal of fair play, camaraderie and peace can be created.
Team-Building Activities – Many companies host sales and team building sessions on a routine basis. Why not create one that has a theme of global peace or at least peace in the office.  This is great way to bring people together and have them let down their defense mechanisms for some friendly non-threatening enjoyment.
Poster for Peace – The United Nations publishes the International Day of Peace Poster. If you are a schoolteacher or Sunday school teacher, you can print the poster and use it as a discussion topic. What a great way to increase awareness.
Talk with Children – Teaching children the meaning of peace is critical to the future. As adult role models, parents, teachers, coaches and other older people have an obligation to help children grasp the meaning of a peaceful society and an appreciation for International Day of Peace. Since children are our future, educating them about peaceful relations can bring about positive change in the world.
Moment of Silence – As with many solemn occasions, International Day of Peace offers the opportunity for everyone around the globe to stop at noon for their region and be silent for one full minute. How you choose to spend that moment of silence is up to each individual. Some meditate, others pray for those that have given their lives in war and still others simply find joy in sharing the honor of such a day.
Desert Sweetness Bouquet
Peaceful yet energizing, this unforgettable arrangement of desert-hued blooms and succulents in a sleek bamboo cube is a chic gift on any special occasion.
Mayfield Florist
Eastside-Foothills Flower Shop
(520) 202-9410