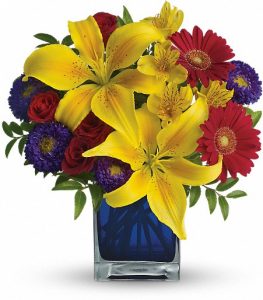 Labor Day weekend starts September 1st and ends on Monday, September 3rd.
It's a time to celebrate the American work ethic but also to close out what is the unofficial end to summer.
Also, it's also a great opportunity for a barbecue or get-together with family, friends, and even neighbors.
Here are some ways to incorporate the last of the summer flowers from our Tucson flower shop plus introduce some fall favorites like sunflowers:
Madera Canyon Magic
This summer and fall flower combination offers sunflowers and many bold colors across a seasonal color palette.
You're Golden Sunflower Bouquet
This sunflower bouquet is simple, yet bold.
Indian Summer
Red, orange, and burgundy flowers are combined with autumn-hued oak leaves and feathery millet in a plum-colored glass cube vase.
Sunny Siesta
This compact floral display is perfect for patios and balconies as well as for event centerpieces.
Picnic in the Park
This basket arrangement offers a rustic decoration for your Labor Day barbecue.
Sunshine Surprise
A yellow gift box container holds a range of yellow seasonal flowers adding to the sunshine already planned for Labor Day.
Summer Nights
A blue cube vase holds one of our most affordable summer bouquets, providing value and beauty for your special end-of-summer event.
Contact us today to place your Labor Day order!