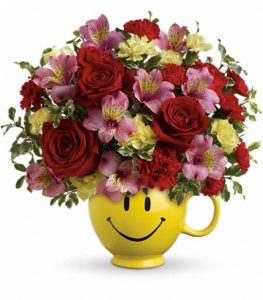 Now that August is halfway done, it's time to plan for upcoming special events for the second half of the month.
During this third week of August, there is plenty to celebrate, including Friendship Week, Senior Citizen's Day on August 21st, and Kiss and Make Up Day on August 25th.
Each special occasion during this week in August is a moment to be thoughtful and do something nice for someone else. This generates more positivity for everyone. It can even turn someone's day around.
To help you plan to give some thoughtful gifts, our collection of flowers, plants, and seasonal items offers something for everyone, including budget expectations. Here are some great gift examples that you can order from our Tucson flower shop:
You're Golden Sunflower Bouquet
This cheerful bouquet offers sunflowers and greenery that is sure to brighten anyone's day.
Epic Day In Tucson
A bright floral display comes in a clear glass cylinder vase that has been filled with yellow sunflowers, orange lilies, pink roses, green poms and orange alstroemeria.
Garden Parade
Primary colors make up this floral bouquet along with numerous types of seasonal flowers and greenery.
Glorious Day
This thoughtful bouquet offers two special symbolic colors. There is pink, which represents affection, and yellow, which symbolizes friendship. Seasonal flowers in both colors are arranged with greenery in a couture vase.
Exquisite Beauty
A lavender vase holds premium flowers in a mix of purple hues with red accents. It's simply stunning.
Fragrant Stargazers
This vase is filled with exquisite stargazers. lilies. The traditional size comes with eight stems and greenery accents in a glass vase.
Emerald Garden Basket
This garden basket overflows with a variety of indoor green plants that are easy to maintain and last for a long time, offering a special gift that keeps on giving for months to come.
Bromeliad Combo
Bromeliads are some of the most unique plants. They have long-lasting colorful blooms and beautiful green leaves. This combo provides a way to select different colors for an even more beautiful display.
Wildcat Snack Basket
Besides flowers and plants, we also have some great and generous gift baskets full of yummy items. Feed a hungry wildcat with this basket that offers all types of goodies, including chocolate, candies, chips, popcorn and even soda.
It's time to place your order today!