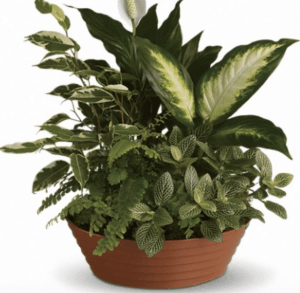 Today is January 10th and it's also Houseplant Appreciation Day.
Celebrated here in Tucson and around the country, this special day brings awareness to the health benefits of plants.
Having them in our homes and offices means purer air that is easier to breathe. The plants also bring nature indoors for a comfortable and relaxing environment.
At our Tucson flower shop and through our website, we have a plant collection that you can send to special people or add to your own decor:
Serene Retreat
This container holds a mix of green plants that are sure to add a sublime feel to your environment. As they grow, you can separate them into different containers for further enjoyment.
Emerald Garden Basket
This is another basket option that holds numerous types of green and indoor houseplants that require minimal care and water but will last for years to come.
Plants Galore
A large basket holds a combination of green and blooming plants. There are many colors and textures here to enjoy or to give to someone else who enjoys nature just as much as you do. No green thumb is required because these are all low-maintenance plants.
Mayfield's Cactus Garden
Assorted cactus is arranged in a terracotta pot or ceramic container based on what is in season and available. Enjoy these low-maintenance plants for years to come.
Succulent Garden
A terracotta container holds a mix of succulent plants that require little water and care but that keep on giving their beauty wherever you display them.
Terrarium Succulent Garden Large
We have many sizes of terrariums to enjoy but this is our largest version. It is packed with all types of succulents with many textures, sizes, and shapes to enjoy in one green plant display.
Today is the day to order by phone, in our Tucson flower shop, or through our website so you are sure to celebrate National Houseplant Appreciation Day with us!