Mayfield Florist Voted Best Florist in Tucson Arizona
You would be well served, on this Romance Awareness Month, to visit a Floral Designer at Mayfield Florist. Our team specializes in creating the most thoughtful, romantic and sweet Flower and Plant arrangements in Tuscon AZ. There truly is no better option for Romance Awareness Month than to purchase a beautiful Green Plant or Flower arrangement from Mayfield Florist. Interesting, while Valentine's Day is often the only the primary day we think of as a day of romance, Romance Awareness Month each August provides a middle year reminder that romance should always be top of mind. Mayfield Florist and our creative Floral Designers are standing by to help you select Romance Awareness Month Flowers and Plants.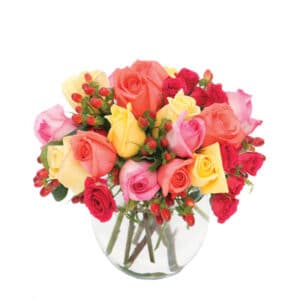 August is typically associated with extremely warm temperatures, summer vacations and starting to get ready for back to school. But did you know that it is considering by some sources to be the most romantic month of the year? Therefore, it is aptly referred to as Romance Awareness Month. This concept was actually conceived because August is six months after February which as we all know touts Valentine's Day. Arguably the most romantic day of the year. So again, this helps to keep Romance awareness high for the entire year.
If you want to do additional romantic activities to add to giving beautiful Mayfield Florist flowers and plants, below are a few unique ideas. Remember many times it is the simple things that mean the most.
Sweets for the sweet. Surprise your special someone with their very favorite desert.
Take time to talk to one another and share perhaps their favorite trait that you just love. Most importantly, while you are talking be sure to use what some call the language of love. In other words, use language that refers to quality time, affirmation, physical touch, acts of service and receiving gifts.
How romantic an evening stroll can be? Of course, it is August so perhaps wait until sunset and bring water or some other healthy cold beverage.
Almost everyone enjoys a good movie. Pick the style you and your special one enjoys and then go to the theatre or rent a movie at home.
If you are a good writer, create a love letter or poem and leave it where they will find it.
Are you a pretty good cook? If so, delight your sweetie with their favorite home cooked meal.
You do not have to go to a loud concert or night club. Quiet time together can be very peaceful and renewing.
Rose Sorbet
Just like sorbet is to the tongue, this beautiful arrangement is a treat for the eyes. Multicolored standard and spray roses. Full of vibrant colors, this handmade design is sure to please.
Mayfield Florist Romance Awareness Month Flowers and Plants
Mayfield Florist offers the best selection of Romance Awareness Month Flowers and Plants in Tucson Arizona. We have all your favorites, including gorgeous Ecuadorian Roses, Full Bloom Hydrangea, Exotic Orchids, Green Plants, Flowering Plants and much more.  If you want to leave a lasting impression on your special someone, our Floral Designers suggest sending them two dozen gorgeous Ecuadorian Roses. You might also want to add a box of gourmet Godiva Chocolates as well. Each anniversary flower arrangement comes with our 100% customer satisfaction guarantee. If for any reason you don't absolutely love the arrangement, we have created for you, we will replace it with one of equal of greater value, free of charge.
Our Mayfield Florist shops are open to the public. We operate multiple floral design centers in the greater Tucson, Arizona area. Our Eastside / Foothills flower shop is located at 7181 Tanque Verde, Tucson, Arizona 85715. Our Eastside / Foothills flower shop is beautiful. If you are in the area, we invite you to stop in. This store is open to the public for in-store shopping Monday through Saturday. We are closed on Sundays.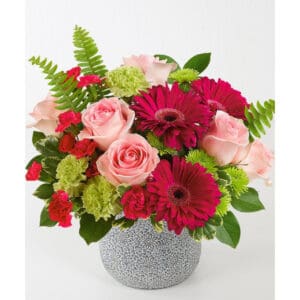 We offer the best selection of beautiful farm fresh flowers and plants in Tucson. Our award-winning floral design staff is one of the very best in Arizona. If in browsing our website you do not find the exact floral arrangement you are looking for, please call us at (520) 886-4443 in Tucson or toll free at (800) 584-6081. We offer Designers Choice Luxury in our local Tuscon store. Let our expert floral design team create a luxurious floral arrangement for your special someone. The image shown on the website is an example of the style of arrangement you may receive. Our designers will pick out the freshest, most luxurious flowers that we have available and create a gorgeous floral design for you.
To be clear, we purchase flowers based on seasonal availability. Some of the flowers shown in the sample image may not be available to our designers at the time you place your order. If that occurs, we reserve the right to substitute some of the varieties for flowers of equal value and quality. Trust our Award Winning Designers to create a stunning floral design for you. We guarantee you and the recipient are going to love it! We offer custom floral design and can create the design that meets your exact needs.
Our website is designed to offer you an easy way to shop, whether you are looking for a special gift or something for your new home. We have owned Mayfield Florist since 1982 and are constantly striving to meet our customers' expectations. We believe that you will find our sales staff helpful.
Tucson Pretty & Petite
Premium roses, gerbera daisies, Carnations and more are presented in a designer ceramic container. Makes a charming gift for many different occasions.
Mayfield Florist
Eastside-Foothills Flower Shop
(520) 202-9410