Mayfield Florist provides same day flower delivery service to Sahuaro High School.
The International Day of Friendship is July 30th this year.  This is a perfect time to purchase International Day of Friendship Flowers. What a great time to pick out a thoughtful and beautiful flower arrangement professionally prepared by a Mayfield Florist award-winning floral designer. Our flower arrangements are spectacular and guaranteed to make your friends feel loved. This day was designated to be a meaningful day of recognition and it has become a popular worldwide event.  Most would agree that there is a sizable amount of diversity in this world regarding cultures and beliefs. Having an Internationally recognized day for people to stop, celebrate and promote understanding in human differences is valuable. The main purpose of this day is to help all of us appreciate the differences in our cultures and try to unite.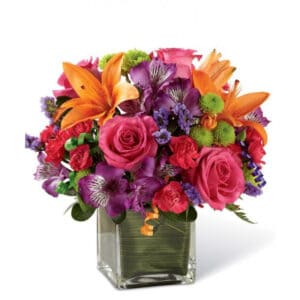 In addition to sending beautiful flowers, there are other International Day of Friendship activities that can be enjoyable.  Several governments, individuals, and community interest groups work to schedule events that are designed to create or renew friendships within their communities and extending outside of their communities.  Parades displaying multiple country flags followed by music festivals hosted by multi-cultural bands are commonplace. If you are looking for some fun things to do on International Day of Friendship, below are a few ideas you can encourage children to do.
Create a book filled with photos and stories about your special friendships.
Create a big poster symbolizing all of the values of friendship.
Make goodie baskets filled with special treats and give them to friends.
Make homemade friendship bracelets
The kids can create a friendship class book.
Have kids write about what a friend means.
Ask the kids to share stories about friends and try to find common things.
Teaching children early learning about the value of friendship and embracing differences is important. However, adults can get to together with friends and create strong friendship bonds as well. Let's face it, the world we live in today possesses an elevated level of miscommunications, mistreatment, lack of trust, discrimination, and cultural discord. The value of a day like International Day of Friendship can go a long way to minimizing those issues. Peace in our global society, while difficult to obtain is still a worthy pursuit.  The United Nations can be thanked for introducing International Day of Friendship in 2011. They experience every day the value of building bridges among cultures, countries, and even ideologies.
As far as simple things adults can do to foster better friendships, below are a few ideas:
Share a meal – If you have not seen friends in a while and want to reconnect, planning a lunch, dinner or happy hour can be a great start. Do it in the name of International Day of Friendship to add meaning to the occasion.
Attend a community cultural celebration – Nothing says I want to make new friends and experience different cultures than attending an event that is out of your norm.
Send a greeting card – A common and simple gesture is to purchase or make a nice greeting card. Let friends know on International Friendship Day that you truly value your relationship.
Friendship and connections will break down barriers and differences. That is main purpose of International Day of Friendship. Once others realize how open you are to new learning and respecting new cultures, deeper bonds will be established. The elimination of negative biases and feelings towards the views of others can go a great distance in unification and an attempt to create peace and harmony in the world.
Make sure you are ready to celebrate this special and important day. We invite you to please stop into a Mayfield Florist show room and speak with one of our super talented floral designers. They will be delighted to help you select that perfect flower arrangement to make your friends feel the love. You can also browse online at mayfieldflorist.com.
Mayfield's Celebrate
Celebrate Life's Special Moments with Fresh Flowers from Mayfield Florist. We offer Pink Roses, Orange Lilies, Lavender Alstroemeria and many more varieties of flowers that are wonderful as International Day of Friendship gifts. Our design team at Mayfield Flowers created this gorgeous design. We call it "Mayfield Celebration." This arrangement features gorgeous hot pink roses, then adds orange lilies, purple alstroemeria and green button pops, with a ribbon accent. They drop all these beautiful flowers into a cubed glass vase, lined with a leaf wrap.
Mayfield Florist International Day of Friendship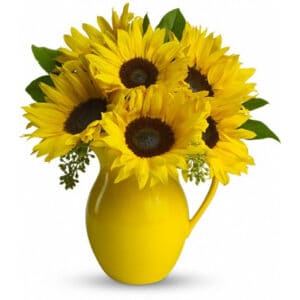 Sahuaro High School is a public high school. The facility is located at 545 N Camino Seco, Tucson, AZ 85710. The main phone number for the school is (520) 731-7100. Sahuaro High School is part of the Tucson Unified School District. The school serves about 1,700 students in grades 9 to 12. The school was named after the iconic Cholla Cactus that grows in this region. The school normally accepts flower deliveries Monday through Friday, from 8:30 am to approximately 4:30 pm.
Mayfield Florist is the premier florist in the Tucson area. Our firm has been voted "Best Florist in Tucson." We offer nationwide same day flower delivery. Mayfield Florist employs a team of professional flower delivery drivers. These folks are experienced and talented. They have years of experience in delivering flowers, plants and gifts in the greater Tucson area. We provide same day flower delivery service to Sahuaro High School.
Mayfield Florist operates two floral design centers, and a warehouse facility in Tucson. Our Eastside / Foothills flower shop is located at 7181 Tanque Verde, Tucson, AZ 85715. The Central flower shop is located at 1610 North Tucson Blvd., Tucson, AZ 85716. Our Tucson Boulevard flower shop is only about 3.9 miles from the High School. It generally takes our delivery staff less than 11 minutes to make the drive from the flower shop to the high school. Given the short driving distance, we are able to make multiple delivery runs to Sahuaro High School each day.
Sunny Day Pitcher of Sunflowers
Pour on the fun by sending this dazzling bouquet of summer's brightest blooms! Great if you're invited to a pool party, BBQ or just want to brighten up someone's day.
Mayfield Florist
Eastside-Foothills Flower Shop
(520) 202-9410