Mayfield Florist is one of the largest florists in the state of Arizona
Make sure you are prepared to honor mom and dad this National Parent's Day with fresh flowers from Mayfield Florist. Parents are honored annually on the fourth Sunday in July, with the special day of National Parents Day. This year, in 2022, the meaningful holiday is July 24th. A loving time when we can all pay a tribute to our parents for their sacrifices in raising us and preparing us for success in the world. We honor parents as stable force we can lean on and know they deserve to be recognized with National Parents' Day Flowers. Of course, the best florist in Tuscon to shop for flowers is Mayfield Florist. Our Floral Designers have prepared caring bouquets and arrangements that will delight any mom or dad.
On this day each year, numerous civic minded organizers gather nationwide to prepare celebrations to commemorate parents everywhere. This has been a tradition since 1994 when President Bill Clinton signed a Congressional Resolution that effectively created National Parents' Day. President Clinton felt it was important to publicly recognize the supporting role all parents play in the rearing of their children.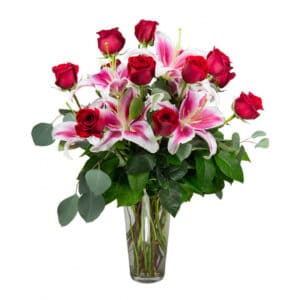 In addition to beautiful and heartfelt flowers from Mayfield Florist, you can also do other things. For example, you can set up a backyard picnic for the family, have fun spending time researching family genealogy, do some baking with mom and then most importantly simply say thank you to mom and dad for all of the wonderful memories and sacrifices. All of these will go a long way to making National Parents' Day very special.
At some point in many adolescent lives, teenagers may feel like their parents are out of touch.  As we look back on lessons learned and sacrifices given from parents, it is easy to see that they really did understand and were very wise.
What a perfect way to celebrate a holiday. Perhaps you could arrange a small gathering for a Parents' Day party. Bring out some of your favorite photos and cook their favorite foods. They will have a good time and so will you. Not to mention you will make a new lasting memory.
We do not remember the loving care of long nights where our parents stayed up rocking us back to sleep. If you have kids or grand kids, you no doubt grasp the full personal sacrifice of sleep deprivation. And how many times when you needed a friend and unconditional love did you seek advice from a parent regarding problems at school or just in general?
So, on this upcoming National Parent's Day, find a special way to reach out to your mom and dad. Our wonderful and talented floral designers are eager to assist with the most caring flowers you will find.
We invite you to browse in store our online at Mayfield Florist and find the perfect Flower Bouquet for National Parent's Day. If you do not see the exact arrangement, you are looking for, let a Floral Designer know and we will do our best to create your desired arrangement.
Roses & Lilies
Mayfield Florist offers stunning Red Ecuadorian Roses, Stunning Oriental Lilies and in general the "Best Flowers in Tucson Arizona". The award-winning floral design team at Mayfield Florist created this stunning floral arrangement. The design features gorgeous red Ecuadorian roses and beautiful pink oriental lilies. To finish out the arrangement, our staff adds in seasonal greenery, then places all these stunning blooms into a stylish glass vase. This arrangement can be designed to include 1 dozen roses, 18 roses or 24 roses.
Mayfield Florist National Parents' Day Flowers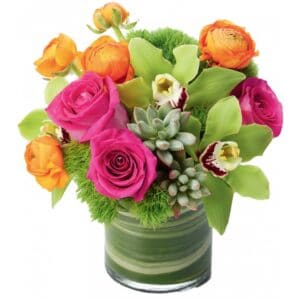 Mayfield Florist has been voted the Best Florist in Tucson Arizona and for good reason. Our attention to detail and our talented staff produces some of the most amazing floral products to be found. We have been proudly dedicated to serving customers in Tucson since 1982. We are a second generation, family owned and operated floral design firm. Our company was started by our mom, Patsy. Our floral design staff is one of the very best in Arizona. They are known for their unique, artistic floral designs. We love to create luxurious, upscale flower arrangements. Custom flower design is available. Naturally our services extend to Local Same Day and Rush Flower Delivery plus Nationwide Same Day Flower Delivery.
In addition to the two flower shops that we operate, we also operate a warehouse, design and distribution center. This design and distribution facility is located at 2200 North Wilmot Road and is not open to the public. Being one of the largest florists in the state of Arizona, we utilize the design and distribution center to help ensure that we produce this highest quality floral products and provide on-time delivery of every order we receive. You may have noticed on our site that we display a Google Reviews Program badge in the lower right-hand corner of the site. Google conducts customer satisfaction surveys with people who order from us. We are proud to say that we have a 4.9-star rating, out of a possible 5-star maximum score.
Freaky Fourth Avenue
The floral designers at Mayfield Florist created this gorgeous arrangement. We call it "Freaky Fourth Avenue." This stunning floral arrangement features gorgeous hot pink roses, mixed with green cymbidium orchid blooms, orange mini roses and long-lasting succulent cuts. All these beautiful blooms are expertly nestled into a leaf lined glass cylinder vase. This is one of those really flexible arrangements that is appropriate to send for many different occasions.
Mayfield Florist
Eastside-Foothills Flower Shop
(520) 202-9410