Mayfield Florist
Mayfield Florist offers same day flower, plant and gift delivery to Oro Valley Hospital. The medical facility is located at 1551 East Tangerine Road, Oro Valley, Arizona 85755. This hospital is in our local delivery zone. That means we can also provide 4-hour express flower delivery service. Our cupid's express service is perfect for those who need their get-well flowers to arrive at a specific time.
Oro Valley Hospital is one of the newer medical facilities in Tucson Arizona. The hospital is part of the larger Northwestern Healthcare integrated group of healthcare facilities. It offers approximately 146 private beds for acute-care services.
The Hospital offers the best in modern healthcare technology and employs hundreds of skilled healthcare professionals. In addition to emergency room services, the medical center offers orthopedics, inpatient rehabilitation, cardiology, minimally invasive surgery, gastroenterology, cardiopulmonary testing, imaging and diagnostic services.
All hospital flower deliveries come with our 100% customer satisfaction guarantee. If for any reason you don't absolutely love the design we delivered, simply contact one of our floral design centers. We will replace that arrangement free of charge.
Mayfield Florist offers same day and 4-hour express flower delivery service to Oro Valley Hospital. Our delivery staff generally make several runs per day, to the medical center. We have years of experience in delivering to the hospital and known all the special requirements necessary to successfully accomplish our mission to deliver your get-well flowers, plant or gift. One of the most popular delivery options is our Cupid's Express delivery service. You get guaranteed 4-hour delivery service. Express service works well when you have a specific date and time requirement, for the delivery.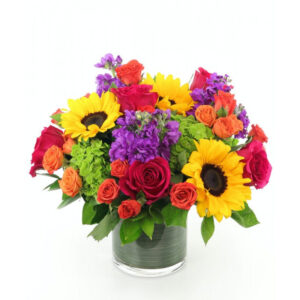 Mayfield Florist offers the best selection of Get-Well Flowers in town. We have beautiful sunflowers, gerbera daisies, roses and more. There are lots of great options, in all price ranges. The most popular arrangements for hospital and get-well flower delivery tend to be bright and cheery style designs.
Mayfield Florist offers a great get-well plant collection. We offer live green and blooming plants. Choose from Dieffenbachia, Crotons, Spathipyllum and more. We have gorgeous cactus and dish gardens. They are extremely popular here in the Tucson area. Another really popular plant variety is our high desert succulent collection. These succulents, if properly cared for, retain the beauty for a long period of time. All of our plants are available for same day or express delivery to Tucson area hospitals.
In addition to all the gorgeous flower and plant options we offer, we also carry get well gifts. These gifts are themed for the occasion. They are available for delivery to the home or to the hospital room. We sell delicious gourmet gift baskets, teddy bears, get well balloons and more.
Bright As Day
Bright & Cheerful Bouquet
Same Day Flower Delivery
This gorgeous fresh flower arrangement is bright and cheery. It features stunning sunflowers, beautiful red roses, full bloom hydrangea and many more accent blooms.
Mayfield Florist Offers Fresh and Caring Flowers and Plants to Honor Breast Cancer Awareness Month
October is designated as Breast Cancer Awareness Month. It is recognized across the world as a special time for the need to raise awareness of the disease and the importance of early detection. Every year some studies reflect an estimated 458,000 women die from Breast Cancer and 1.38 million new cases occur. Truly staggering numbers and an illness that strikes women in all countries whether developed or not. Mayfield Florist honors this special time, and our professional floral designers are committed to our mission.
In the United States there are more than 245,000 women that are diagnosed with breast cancer each year. Over 40,000 women actually die from the disease each year. While Breast Cancer is largely a female illness, men also can be diagnosed with breast cancer but at a much lower rate of 1% of the male population. The majority of breast cancer cases in women occur at the age of 50 or older. Although an estimated 10% of all new cases in the United States occur with women that are under the age of 45.  Suffice it to say that breast cancer is relentless in its pursuit of stealing the health of many women across the globe.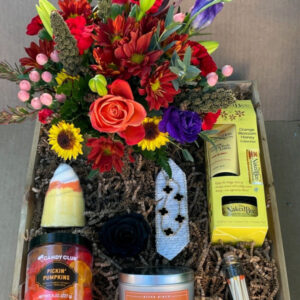 The good news is while breast cancer death rates increased from 1975 to 1989 by 4%, rates have dropped rapidly since that time by 39%. Statistics reflect that nearly 322,600 breast cancer deaths have been prevented through 2015.  This was a positive trend in both older and younger women. Hopefully someday this merciless illness can be eradicated. Our professional floral designers are always eager to help you with a beautiful flower arrangement or gift guaranteed to lift the spirits of anyone close to you that may be suffering with breast cancer.
Festive Fall Crate
Send a Crate of Autumnal treats perfect for Birthday, Love, Get Well, or Just Because that includes:
A Luxurious hand crafted "Candy Corn" shaped bath bomb
A Jar of adorable fruit flavored pumpkin shaped gummies from Candy Club
A delightful small batch pumpkin spice scented candle from River Birch Candle Co.
An apothecary bottle of Halloween colored specialty matches
A 3-piece gift set of lush spa products from The Naked Bee
An always trending clover bracelet with adjustable clasp
A beautiful black preserved rose bloom
A stunning Fall bouquet of gorgeous Mayfield fresh flowers
Mayfield Florist