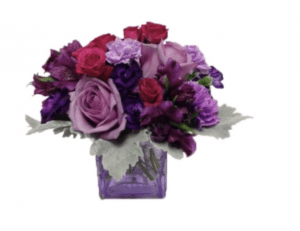 February 28th is known as Floral Design Day.
It's a special occasion day where we recognize the artistry of floral design and recognize those floral designers like our own team here in our Tucson flower shop who are so creative and have the ability to use flowers to express emotions and enhance any occasion or event like a wedding.
One way we want to celebrate this upcoming special day is to showcase some of our floral design team's signature floral designs like these beauties:
Brighten Her Day
Our floral design team offers this signature floral design with bright colors that make it perfect for special celebrations like birthdays and job promotions. There are sunflowers, roses, carnations, light purple asters or mums, and seasonal greenery. We also offer a luxury edition of this floral design that is much larger and is sure to please.
Sedona Cube
This stunning floral design offers bold and deep colors. There are roses, lilies, and asters in gemstone colors of garnet as well as purple chrysanthemums and seafoam static arranged in a plum glass cube vase, creating a graceful presentation.
Purple Tapestry Bouquet
This gorgeous floral display illustrates the varied shades of purple and lavender with numerous varieties of flowers, depending on the season.
Walk In The Garden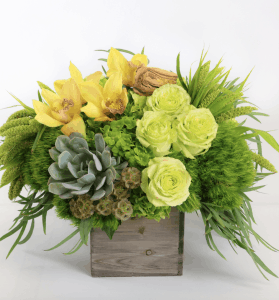 This is a garden style floral design that contains gerbera daisies, carnations, and more in various shades of pink and purple, offering a wide range of textures, colors, and heights.
Pastel Parade
Pastels are the feature of this floral design for this spring bouquet that is a delight for a special gift or for a festive spring party.
Be sure to visit our Tucson flower shop or website to see all of our floral designs. Or, you can work directly with our floral design team on a custom flower arrangement.