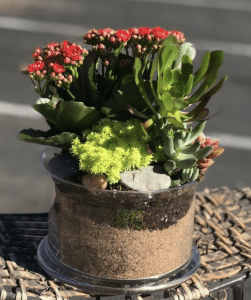 June 8th offers two special things to celebrate: Best Friend Day and National Gardening Exercise Day.
And, our Tucson flower shop and garden center are here to help! Check out these ideas to enhance your own garden or give to your favorite gardener or best friend.
Plants Galore
Serene Retreat
This is a combination of green plants based on the season and what we have stock when you place your order. Enjoy them in a basket or separate and plant them in other containers or in your garden.
Bromeliad Beauty
This member of the pineapple plant family bears a striking resemblance in its shape. It is sure to brighten up any home or office with its bold, tropical colors. This plant arrives in a ceramic container.
Sensational
Go for a bold blooming plant display with a blooming plant that features hot pink flowers and a mix of green plants.
Dish Garden Ceramic Planter – Small
A colorful ceramic planter holds a mix of green plants to enjoy throughout the year.
Terrarium Succulent Garden Medium
This is our medium-sized succulent garden, but we do have other sizes available. This one offers a nice mix of textures, sizes, and colors, making it a visually appealing display for your home or office or to send as a gift.
Place your order today at our Tucson flower shop and garden center or through our website.