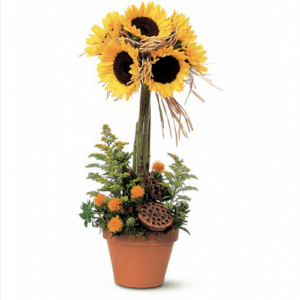 Thanksgiving is a time of celebration. We focus on gratitude for what we have, especially friends and family. Although it's been a challenging year for many, it's also helped us appreciate what we have.
Now that it gets closer to Thanksgiving, it's time to plan your decor. You can add to the special memories and traditions you create for your family with gorgeous flowers and accents. Here are some ideas for Thanksgiving decor many of which are inspired by our own Thanksgiving collection this year.
Pumpkin Vases
Let's start with a traditional look that you can update. After all, pumpkins don't have to be orange. Take a ceramic pumpkin and paint it white or even go with black if you want an elegant look. Add some gold or brass finishes to it and then fill it with floral hues that match your table. This could be creams or darker shades.
Go Rustic
From baskets to galvanized tins to wooden boxes, you can go rustic with your look. Even a sunflower topiary adds height while creating a casual, down-home family feel to the Thanksgiving table.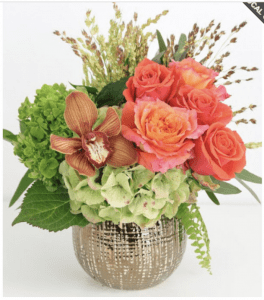 Fruit and Flowers
Add symbolic touches that represent Thanksgiving's focus on generosity, bountiful harvests, and gratitude by combining flowers and fruit. You can use a cornucopia basket for a traditional look or use a footed dish or large basket to combine florals and fruit.
Surprising Colors
Don't think you have to stick with orange and yellow to be a true Thanksgiving. Make your decor about you and what feels right for your family. That may mean using shades of purple, pink, and red. That's okay because if those colors are what make you happy, then you've set your table with the best floral display for you!
Individual Thanksgiving Arrangements
If you plan on using place cards for your Thanksgiving table, why not incorporate a bud vase with a small floral display to accompany each place card? This is a nice memento for your guests to take home plus you can get more flowers on your table!
Candles and Lights
From traditional taper candles to pillar candles and fairy lights, add something special that illuminates your floral display and sets the right mood. You can color coordinate these or use the lighting effects to add depth to your Thanksgiving hues.
Leaves and Berries
Don't forget that you can use other materials besides just flowers to highlight your Thanksgiving table. On your buffet table, consider spreading out leaves, branches, wheat, and berries the add to the overall Thanksgiving look.
Order Today!
We are here to take your orders at our Tucson flower shop. Call us, stop by, or use our website to place your Thanksgiving orders now! We offer curbside or store pickup as well as contactless delivery throughout the Tucson area.