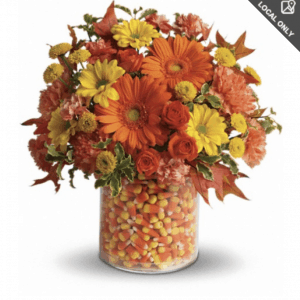 We have fun floral ideas that include using pumpkins in new ways to decorate for Halloween, which arrives on Saturday, October 31st. That's just days away but there is still time to get in on all the festivities.
While the kids are making their Jack o'lanterns, you can get in on the pumpkin fun by using pumpkins and other gourds as a great front porch decor along with hay bales and a scarecrow. These also look great stacked in a foyer or nearby to the fireplace, if you have one.
You can also carve out the insides of pumpkins and fill them with flowers and fall accents. Of course, we'd also suggest using one of our ceramic pumpkin containers. These keepsake containers are a permanent way to decorate with pumpkins and transition from Halloween to Thanksgiving without too much redecorating. You can order one filled with a mix of fall flowers in bright colors along with greenery and fall accent pieces.
Beyond pumpkins, there are other ways to decorate for Halloween. Candy is one option that serves as decor and even as a goody. to dip into throughout the season. Our floral designers came up with a sweet idea to fill a clear glass canister vase with candy corn and then add flowers on top!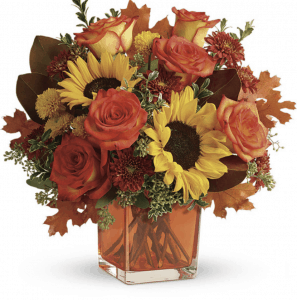 Other options include creating fall floral bouquets throughout the home that match your decor. You can go with a sophisticated burgundy and cream-hued bouquet for the dining room and something fun and bright for the family room and kitchen.
We also offer cube vases in different fall colors, including orange, of course! Ask us about our other color choices.
If you want to do something unique, call our Tucson flower shop and make an appointment to work with our floral design team on custom Halloween displays for your home. We can create both indoor and outdoor floral displays that reflect the fall season and your own design and budget preferences.
It's not too late to order for Halloween from our Tucson florist location. Stop by, call us, or use our convenient website ordering form. Drop by and pick up your order or request contactless, same-day or priority delivery for the Tucson area.
From all of us at Mayfield Florist, we wish you a safe and happy Halloween!