Mayfield Florist Voted Best Florist in Tucson
March is a great month to celebrate a birthday. People with a March Birthday are fortunate. March Birthday Flowers from Mayfield Florist will convey a special celebration message. March has some unique things to offer. For example, it is the month when we make the wonderful change from Winter to Spring. Well at least in our hemisphere. Spring is a magnificent time of year. That is of course assuming you prefer warmer weather and the beginning of new growth for plants and flowers.
We purchase many of the flowers we sell direct from flower farms. Our staff buys from both domestic and international growers. Buying direct offers many great advantages. It ensures that our customers always have access to the widest selection of floral varieties. We by premium flowers which also ensures that our customers have access to the finest, freshest, highest quality floral products available. Our product mix includes all of the local favorites, such as gorgeous long stem, spray and garden Roses.
Some of the other unique things about March are:
People born before March 20th are considered to be Pisces on the zodiac chart. Those born after that date are considered to be Aries. Followers of the zodiac signs feel that Pisces people are compassionate and creative. Conversely, Aries people are thought to be passionate, motivated and energetic.
There are two birthstones in March. One is the Aquamarine. This stone is blue-green and creates beautiful jewelry and the name comes from the Latin word for seawater. It is thought to have healing powers. The second birthstone is the Bloodstone. It is a quartz type of stone that is also thought to have healing powers. In addition, Centuries ago the Egyptians believed the Bloodstone gave them additional strength as they battled their enemies.
The March Birth Flower is the Daffodil. A wonderful Springtime flower, there are 13 different divisions of the Daffodil or Narcissi. Mayfield Florist has a nice selection of these for customers to purchase.
One study in Europe revealed that March born people tend to be much more positive.
Of course, there are always studies that reflect interesting things. For example, one study has shown that March babies have high likelihood of becoming CEOs. While yet another shows they have a high potential of becoming pilots.
Mayfield Florist offers the most elegant Flowers to celebrate a March Birthday!
Mayfield's Marvelous Mosaic
When only marvelous will do! Make a stylish statement with this unique bouquet of jewel toned blooms and succulents, artfully arranged in a stained glass inspired mosaic glass cylinder.
March Birthday Flowers & Gifts offered at Mayfield Florist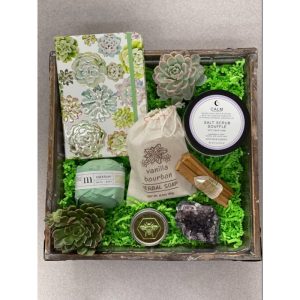 Mayfield Florist has been designing and delivering gorgeous birthday flowers in Tucson Arizona since 1982. We offer all your favorite floral varieties. Many of the flowers we sell come direct from flower farms. Buying direct ensures that our customers receive the finest, freshest, highest quality floral products available.
Our company seeks to hire the best highly skilled Floral Designers.  These talented designers have taken meticulous steps in creating thoughtful and meaningful flower arrangements to honor birthdays and many other occasions. If you have a loved one or friend that is having a March Birthday, choose March Birthday Flowers from Mayfield Florist. The receiver of our elegant and fresh flower arrangements or gifts will certainly feel the love you are wanting to convey.
When you send high quality Mayfield Florist bouquets or arrangements it is always a very special thing to do. Below are some additional ways to help promote Breast Cancer Awareness Month:
Local Same Day & Rush Flower Delivery
Nationwide Same Day Flower Delivery
EARTH'S HEALING CRATE
The perfect self-care crate for anyone and any occasion: Valentine's Day, Birthday, Get Well, Thinking of You and Just Because!
A calming salt scrub souffle infused with Lavender essential oil
A handcrafted Vanilla Bourbon herbal soap
A Bee Bar Lotion Tin from Honey House Naturals
A Luxurious small-batch handcrafted bath bomb
A mindfulness journal with beautiful succulent cover
An exquisite amethyst crystal to promote serenity and calm
Palo Santo wood, a "holy wood" from South America used for centuries for its spiritual and energy cleansing and clearing abilities
A dazzling white quartz crystal known in the gem world as the "master healer"
Two fresh mood-lifting gorgeous succulents
(Selected products from our featured partners may vary slightly.)
Mayfield Florist
1610 North Tucson Blvd
Tucson, AZ 85716
Get Directions »