Mayfield Florist
National Floral Design Day on February 28th is a perfect day to honor the skill of Floral Design. People who have a real appreciation for art know that designing a beautiful arrangement of fresh flowers takes skill, patience and artistry. For the most part, it is only these Floral Design artists that are able to create masterpieces that customers want to purchase.
Mayfield Florist employs people that have these unique talents. They know that flowers demonstrate a sense of caring which is the foundation for a great product. Floral Design Day actually began in 1995 when the Governor of Massachusetts proclaimed this National Floral Design Day.
Possessing a talent for artistry, the Floral Designers in the several billion-dollar floral industry space, are simply creative people. To become a Floral Designer, a person typically needs to be a high school graduate. Then there are numerous classes these individuals may take to further their knowledge and skill.  There is even a designation offered by The American Institute of Floral Designers for Certified Floral Designer.
Mayfield Florist Arrangements to Celebrate National Floral Design Day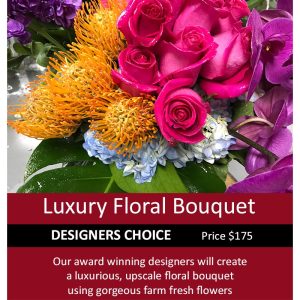 The Floral Design team at Mayfield Florist is one of the most talented you will find in the Floral Industry. The fundamental job description for these folks, and others in the industry, would require that the Floral Designer possess:
Sufficient knowledge of flowers and plants to educate customers on proper care. Such detail as proper watering, sunlight and room temperatures are important for customers to be educated on. In addition, being capable to set customer expectations for the expected life cycle of their flower or plant purchase is critical.
Some knowledge of the wholesale acquisition of product. Mayfield Florist buys products from different farms. The Floral Designers have to understand that process.
Above all, the Floral Designer must possess a strong passion for caring and pride in artistry when creating flower arrangements for customers.
Designers Choice Luxury
Premium Luxury Floral Designs
Only Available in Local Tucson Area
Let our expert floral design team create a luxurious floral arrangement for your special someone. The image shown on the website is an example of the style of arrangement you may receive. Our designers will pick out the freshest, most luxurious flowers that we have available and create a gorgeous floral design for you. To be clear, we purchase flowers based on seasonal availability.
Some of the flowers shown in the sample image may not be available to our designers at the time you place your order. If that occurs, we reserve the right to substitute some of the varieties for flowers of equal value and quality. Trust our designers to create a stunning floral design for you. We guarantee you and the recipient are going to love it!
Florist Tucson Arizona
Mayfield Florist has been serving the Tucson Arizona area since 1982. We offer the best selection of beautiful farm fresh flowers, plants and gifts in the city. Our professional floral design staff is a talented group that produces gorgeous upscale floral designs. The delivery staff at Mayfield Florist is second to none. They make daily delivery runs to all Tucson area hospitals, churches, funeral homes and mortuaries.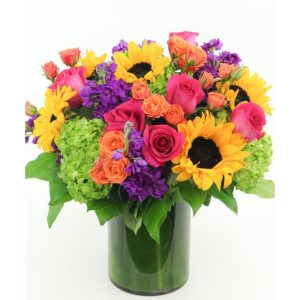 We operate two flower shops in the greater Tucson area. These flower shops are open to the public for in-store shopping. Each is equipped with a beautiful walk-in cooler. The floral artisans at Mayfield create luxurious, upscale fresh flower bouquets. The design staff keeps our walk-in coolers full of occasion themed flower arrangements.
Tucson Florist – Same Day Flower Delivery to Tucson
In addition to the two flower shops that we operate, we also operate a warehouse, design and distribution center. This design and distribution facility is located at 2200 North Wilmot Road and is not open to the public. Being one of the largest florists in the state of Arizona, we utilize the design and distribution center to help ensure that we produce this highest quality floral products and provide on-time delivery of every order we receive.
Bright As Day
Bright & Cheerful Bouquet
Same Day Flower Delivery
This gorgeous fresh flower arrangement is bright and cheery. It features stunning sunflowers, beautiful red roses, full bloom hydrangea and many more accent blooms.
Mayfield Florist
1610 North Tucson Blvd
Tucson, AZ 85716
Get Directions »