Mayfield Florist Random Acts of Kindness Day Flowers
We all love when someone shows kindness towards us. Hence, Random Acts of Kindness Day Flowers are a wonderful way to show someone you care. Mayfield Florist has amazing flowers that anyone would be pleased to receive.
The Random Acts of Kindness Foundation was founded in 1995. Starting in the US, it is headquartered in Denver, Colorado. Accordingly, the founder is actually the Chairman of World Kindness, USA. Then in 2004, a day was created in New Zealand designed to encourage Random Acts of Kindness.
There are numerous suggestions promoted. For instance, buying food at the grocery store and donating it to a food pantry, buying flowers for someone, bringing baked goods to the office, taking a gift to new neighbors and the list goes on. Consequently, this wonderful tradition continues to grow in popularity.
Many people have expressed that doing a simple act of kindness makes them feel as positive as the receiver of that action. One of the best quotes regarding kindness came from Mark Twain. He commented, "kindness is a language which the deaf can hear and the blind can see."
Random Acts of Kindness Day Flowers is a great way to celebrate someone.
Mayfield Florist has the best flowers in town. We would be honored to help you find the perfect flower arrangement. 
In addition, below are some additional actions to consider:
When you are at your favorite coffee shoppe or restaurant, consider randomly paying for the coffee or meal of the person in front of you in line.
Write a note expressing words of kindness and leave it secretly.
Whenever you have the opportunity, pass along words of encouragement. People always need positive words.
If you are a good writer, perhaps use that skill to help someone. People often can use assistance with a resume of other documents.
Certainly, people sometimes need assistance with life. One nice act of kindness is to drop a load of groceries at a local nonprofit. For example, a food pantry.
How wonderful it can be to receive a "thinking of you" card. And so, this is something you might want to consider.
There are many folks that keep us safe and protect our communities. They do not always receive the acknowledgement they deserve. With this in mind, sending a thank you note to the local fire department, police department, military personnel or any other public servant can be a wonderful and much needed surprise.
As a final point, we sometimes forget that our expression can be an act of kindness. For example, a smile will go a long way.
Payson Sensation
Long Stem Roses, Succulent Plants, Full Bloom Hydrangea
Local Same Day & Express Flower Delivery
The floral design staff created this gorgeous floral arrangement. It features beautiful orange Ecuadorian long stem roses, mixed with green full bloom hydrangea and succulent plants. They use the perfect blend of seeded eucalyptus and greenery to finish out the design. All of the beautiful flowers and greens are then expertly placed into a contemporary leaf lined cylinder vase. This one simply stunning!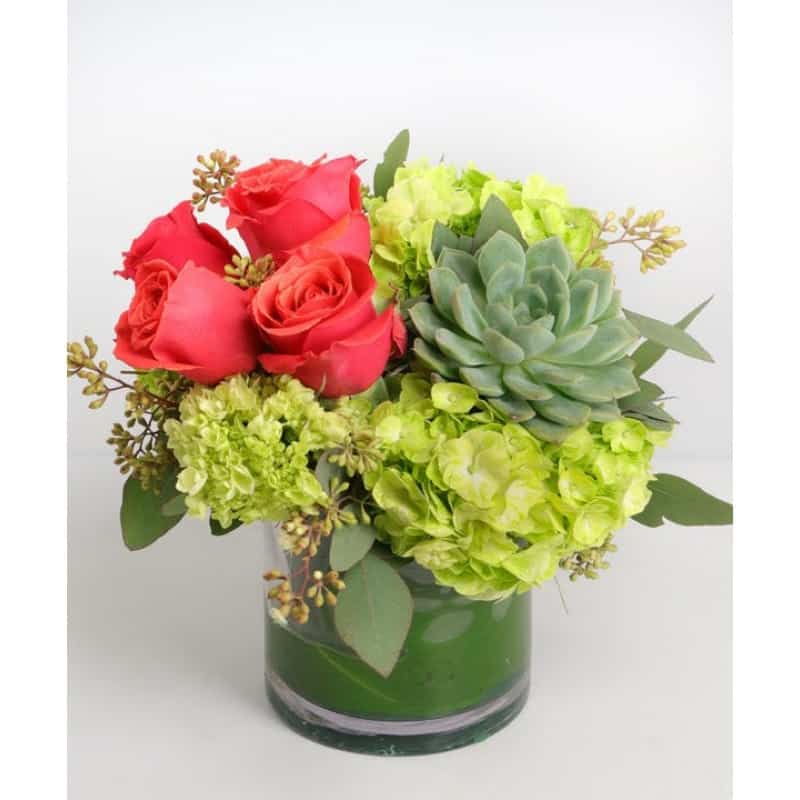 Send Flowers Just Because
Voted Best Florist in Tucson Arizona
Mayfield Florist has been serving customers in Tucson since 1982. We are a second generation, family owned and operated floral design firm. Our company was started by our mom, Patsy. Our floral design staff is one of the very best in Arizona. They are known for their unique, artistic floral designs. We love to create luxurious, upscale flower arrangements. Custom flower design is available.
Local Same Day & Rush Flower Delivery
Nationwide Same Day Flower Delivery
EARTH'S HEALING CRATE
The perfect self-care crate for anyone and any occasion: Valentine's Day, Birthday, Get Well, Thinking of You and Just Because!
A calming salt scrub souffle infused with Lavender essential oil
A handcrafted Vanilla Bourbon herbal soap
A Bee Bar Lotion Tin from Honey House Naturals
A Luxurious small-batch handcrafted bath bomb
A mindfulness journal with beautiful succulent cover
An exquisite amethyst crystal to promote serenity and calm
Palo Santo wood, a "holy wood" from South America used for centuries for it's spiritual and energy cleansing and clearing abilities
A dazzling white quartz crystal known in the gem world as the "master healer"
Two fresh mood-lifting gorgeous succulents

Mayfield Florist
1610 North Tucson Blvd
Tucson, AZ 85716
Get Directions »