Mayfield Florist offers same day flower, plant and gift delivery to Oro Valley Hospital
This year, Mother's Day is observed on May 8th! This festive and loving day has been a wonderful occasion for mothers and families since its inception many years ago. With supply chain issues remaining disrupted, please do not wait too long to start shopping for Mother's Day Floral Products. Our professional and award -winning Floral Designers at Mayfield Florist have crafted the most heartfelt fresh flowers and plants. Each of our floral products were carefully created by our Floral Designers to put a big smile on mom's face.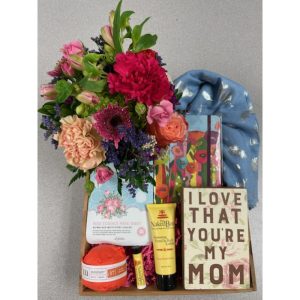 Contemplating the many things one can do for mom is a natural and respectful thing. However, if you are a mom also, you need to take a moment to consider what you might do for yourself. Often, a mother may neglect thinking about themselves and wind up missing out on well-deserved rewards.
For all moms, you deserve to reflect on your accomplishments and sacrifices to raise a family and keep the home functioning. It takes a lot of devotion to be a great mom. Below are some valuable tips to consider on your special day.
Reflect on you – Mother's Day is not just another day. It is easy to slip into the daily routine of being "super mom". Instead, take time to reflect on your accomplishments and all that you do for your immediate and extended family. Try to not spend the day critiquing your abilities and accomplishments.
Reach out to other Moms – You have a circle of friends some of whom are moms like you. Some of these ladies are probably people you admire for their mothering skills. Take a few moments to reach out to them and let them know about your admiration for them.
Take time for yourself – It is quite normal to get up early and immediately switch to "mother mode". Maybe there are clothes on the floor, unmade beds, dishes in the sink and other things needing attention.
Instead of feeling the need to jump into completing that you normally do, maybe sleep in later. Those tasks will be there tomorrow or better perhaps someone in your family may decide it is your special day and complete them for you.
Expect Flowers and Gifts – Perhaps throw some not – so – subtle hints out there to your husband and children that a beautiful bouquet of flowers would be a welcomed gift. Then make sure you let them know that Mayfield Florist is where you would like the flowers to come from!
Mother's Really Are Angels Pamper Create
Reward the angel in your life this Mother's Day with a little "me time." This fun crate includes:
A beautiful light weight organic cotton summer scarf printed with an angel feather motif
A gorgeous journal with bright, wildflowers art
A precious wood Mother's Day themed décor sign from Primitives by Kathy
A luscious purse sized hand crème and fantastic lip balm from The Naked Bee
A handcrafted blood orange scented bath bomb from Mixture
A luxurious rose essence Korean facial sheet floral mask
And, of course, a stunning handcrafted fresh floral arrangement
(Selected products from our featured partners may vary slightly.)
Mayfield Florist Mother's Day Floral Products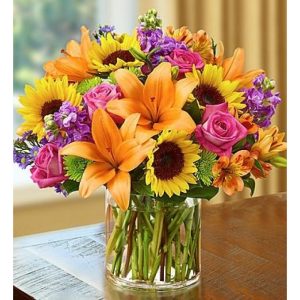 Mayfield Florist offers the best selection of Mother's Day flowers in Tucson. We have all your favorite floral varieties. Our Ecuadorian roses are absolutely stunning. We also have a number of arrangements that include gorgeous full bloom hydrangea, gladiolus and exotic orchids. Shop our Mother's Day collection online or stop by either of our two floral design centers to see all of the great options we have available.
Mayfield Florist offers same day flower, plant and gift delivery to Oro Valley Hospital. The medical facility is located at 1551 East Tangerine Road, Oro Valley, Arizona 85755. This hospital is in our local delivery zone. That means we can also provide 4-hour express flower delivery service. Our cupid's express service is perfect for those who need their get-well flowers to arrive at a specific time.
Oro Valley Hospital is one of the newer medical facilities in Tucson Arizona. The hospital is part of the larger Northwestern Healthcare integrated group of healthcare facilities. It offers approximately 146 private beds for acute-care services.
The Hospital offers the best in modern healthcare technology and employs hundreds of skilled healthcare professionals. In addition to emergency room services, the medical center offers orthopedics, inpatient rehabilitation, cardiology, minimally invasive surgery, gastroenterology, cardiopulmonary testing, imaging and diagnostic services.
All hospital flower deliveries come with our 100% customer satisfaction guarantee. If for any reason you don't absolutely love the design we delivered, simply contact one of our floral design centers. We will replace that arrangement free of charge.
Epic Day in Tucson
Mayfield Florist is known for creating gorgeous fresh flower arrangements. We have been voted best florist in Tucson on numerous occasions. This fresh flower arrangement includes gorgeous yellow sunflowers, orange lilies, pink roses, green poms and orange alstroemeria. Our designers then nestle all these gorgeous flowers into a beautiful cylindrical, clear glass vase.
Mayfield Florist offers exquisite Mother's Day Floral Products
1610 North Tucson Blvd
Tucson, AZ 85716
Get Directions »