Mayfield Florist provides same day flower delivery service to Cholla High School.
Hooray that wonderful season of Summer arrives on June 21st! Get ready and celebrate the season by purchasing Summer Flowers and Plants from Mayfield Florist.  Our arrangements are great for inside your home and outside on your patio. Flowers and Plants are a great way to get into the spirit of the season and to make your home beautiful.
Our very skilled and passionate floral designers at Mayfield Florist have been busy creating festive and dazzling arrangements to help you celebrate Summer!  Flowers make every summertime celebration better.  Whether you are taking your party to the lake, lounging by your backyard pool or serving dinner on the patio with your favorite music, visit us at Mayfield Florist to purchase your flowers. They will surely add that special elegance to your home.
Even though summer is the hottest of the four seasons, for many people it is their favorite time of year. A time for summer breaks from school, vacations with family and many outside activities.  In the Northern Hemisphere, summer is defined as the months of June, July and August. However, in the Southern Hemisphere summer occurs during the months of December, January and February.
The summer solstice is the moment the Sun travels its greatest distance through the sky. This day of course has the most daylight of any other day in the year and therefore referred to by many as the longest day of the year. This actually marks the beginning of the astronomical summer, but we have already felt the warmer temperatures of summer for several weeks. July is typically the hottest day of the year because there is about a one-month lag between the solstice and the hottest temperatures.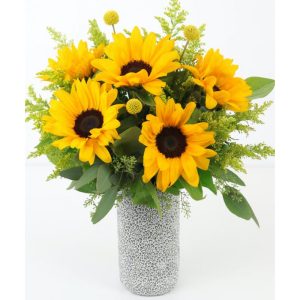 As you shop for summer flowers and plants, below are some popular varieties to consider:
Sunflowers – These are beautiful in a vase. Our Sunflowers are shipping directly from growers and are picked before insects or other conditions have caused any damage.
Daisies – The Daisy Flower is long lasting and a family member of the Chrysanthemum. There are many varieties and colors. Daisies make great bouquets and look nice in a garden.
Roses – There are countless varieties of roses. Our roses are fresh and beautiful. Nothing smells better than a fresh rose bouquet inside or on the patio.
Daylily – Flowers of the Daylily come in several colors and have ruffled petals. They require full sun.
Cuphea – Frequently referred to as the firecracker plant, the Cuphea is a hummingbird magnet. It has bright red and orange flowers and does best in full sun.
Marigold – Needing full sun, the Marigold is a longtime favorite flower. It is very durable and resists insects.
Fan Flower – A wonderful spillover plant, the Fan Flower needs full sun. It produces lovely flowers in colors of pink, purple and white.
Ranunculus – Resembling roses and peonies, the Ranunculus requires full sun. In extreme cold the bulbs can be stored indoors and replanted in the spring.
Portulaca – Very heat and drought resistant, the Portulaca is a low-growing succulent. It is best used in rock gardens and in full sun.
Lantana – The Lantana flower comes in yellow, purple and pink. It is extremely heat and drought resistant.  The sweet-smelling blooms attract butterflies and hummingbirds.
Lavender – A perennial plant the Lavender does best in a garden setting. It requires mostly sun.
Canna – The Canna is a tropical flower that blooms all summer. They cannot survive the cold of winter, so they have to be stored inside and replanted in the spring.
Salvia – The Salvia is a fragrant flower that pollinators love. It has flowers that are pink, purple and white.
Mayfield's Sunny Daze
5 Cheerful Sunflowers and whimsical Billy Balls are presented in a designer ceramic vase that makes the gift that much better!
Mayfield Florist Offers a Wonderful Summer Flowers and Plants Collection
Mayfield Florist offers the best selection of beautiful fresh flowers in Tucson, Arizona. We purchase many of the flowers we sell, direct from both domestic and international flower farms. Buying direct means our customers always have access to the finest, freshest, highest quality floral products available. We invite you to shop our website or stop by either of our two floral design centers to see our all of our gorgeous floral collections. These are available for Local Same Day, Express Delivery and Nationwide Same Day Flower Delivery.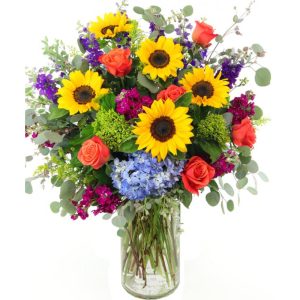 Cholla High School is located at 2001 W Starr Pass Blvd, Tucson, AZ 85713. The main phone number for the school is (520) 225-4000. Cholla is a public high school. It is part of the public school district of Tucson. The school serves about 1,700 students in grades 9 to 12. The school was named after the iconic Cholla Cactus that grows in this region. The school normally accepts flower deliveries Monday through Friday, from 8:30 am to approximately 4:30 pm.
Mayfield Florist is the premier florist in the Tucson area. Our firm has been voted "Best Florist in Tucson." We offer nationwide same day flower delivery. Mayfield Florist employs a team of professional flower delivery drivers. These folks are experienced and talented. They have years of experience in delivering flowers, plants and gifts in the greater Tucson area. We provide same day flower delivery service to Cholla High School.
Mayfield Florist operates two floral design centers, and a warehouse facility in Tucson. Our Eastside / Foothills flower shop is located at 7181 Tanque Verde, Tucson, AZ 85715. The Central flower shop is located at 1610 North Tucson Blvd., Tucson, AZ 85716. Our Tucson Boulevard flower shop is only about 6.6 miles from the High School. It generally takes our delivery staff less than 17 minutes to make the drive from the flower shop to the high school. Given the short driving distance, we are able to make multiple delivery runs to Cholla High School each day.
Vibrant Verde Valley
Sunflowers, Cayenne Roses, Blue Hydrangea, Stock, Larkspur, and loads more premium greens and textures fill out this beautiful and vibrant arrangement inspired by the lush greenery of the Tanque Verde Valley.
Arrangement is approximately 30 inches tall and nearly 24 inches wide.
Mayfield Florist
Eastside-Foothills Flower Shop
(520) 202-9410