Mayfield Florist
No doubt you are anticipating and want to be ready for Father's Day on June 19th! The best action is to shop with Mayfield Florist for fresh and festive Father's Day Floral Gifts.  We have multiple varieties of flowers and plants that are popular for Father's Day. Flowers are a wonderful gift for dad. However, if you would prefer a Green or Flowering Plant, we offer an excellent selection designed just for Father's Day.
Father's Day Brief History
In 1915, a member of the Lions Club introduced the concept of Father's Day. The preference was for the day to occur on the third Sunday in June. The Lions Club International elected to give him the official designation as the "Originator of Father's Day" and he continued the quest to promote Father's Day as an official holiday.
After receiving numerous requests for a special day to honor fathers, in 1916, President Wilson proclaimed a day should be recognized as a federal holiday. This was during a speech he gave in Spokane at a Father's Day celebration. However, when the concept reached Congress, it was denied. The majority of the members in Congress were concerned that it would become too commercialized, and the true meaning would be all about companies profiting.
President Coolidge suggested a recognition for Father's Day in 1924. Then in 1957, Senator Margaret Chase Smith spoke out that Congress had been ignoring fathers for over 40 years and had only been honoring mothers. Then in 1966 the first proclamation of Father's Day was issued by President Lyndon B. Johnson. It was declared that the day to honor all fathers would be the third Sunday in June. This became a permanent holiday in 1972 when President Richard Nixon signed it into law.
Popular Father's Day Floral Gifts
Orange Lilies – These nice flowers are used to symbolize Peace, Harmony, Wealth and Joy.
White Roses – Show dad that you honor him for his honor, reverence and spirituality by giving him White Roses.
Yellow Roses – If you want dad to have joy and cheer, the Yellow Roses are perfect. This is because the yellow rose's bright color symbolizes the warmth of a sunny day and friendship.
Peperomia – These are sometimes called radiator plants and are very hardy. They do not grow taller than one foot and have sturdy waxy leaves.
Spider Plant – Sprouting delicate white flowers this plant from Africa makes a great hanging plant.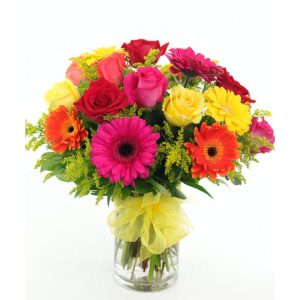 Moth Orchid – These Orchids have a long life and are native to Southeastern Asia. They display butterfly – shaped flowers. Its relative is the Moon Orchid which is also very hardy.
Lucky Bamboo – Very easy to grow, these plants are said to bring prosperity to the home.
Zebra Plant – For a small space in the home, The Zebra Plant is often chosen. It is from Brazil and has a spiky appearance with white bands on the leaves.
Aloe Vera – Most people know this plant has healing properties. They make beautiful additions to any home. The plant requires very little water as they originate from the arid regions of the Arabian Peninsula.
Jade Plant – Another low maintenance plant for those that are not wanting to spend lots of time caring for it, the Jade Plant needs very care. They also have an unusual look that dresses up the home.
Sunflowers – These flowers are thought to resemble the yellow Sun. Therefore, they bring Happiness and Good Fortune. And they represent life, love, loyalty. They are symbolic if you want to honor dad as someone who is always working towards his goal.
Braided Money Tree – This is a traditional and ancient symbol of good luck and prosperity. Such a great message for Dad on his special day.
Snake Plant -The Snake plant has very fresh vines that are thought to reduce stress. They represent nature, environment and positive energy. A perfect gift for Father's Day.
Asters -The most common meanings of the aster flower are, Patience, Love of Variety and Elegance.
Roses and Gerberas
The Roses and Daisy Bouquet is a beautifully bright and colorful way to spread sunshine and cheer. Assorted roses and gerbera daisies in their most brilliant hues create a stunning one-sided bouquet accented with yellow solidago and assorted greens.
Traditional size comes with 6 roses and 3 gerberas.
Mayfield Florist Father's Day Floral Gifts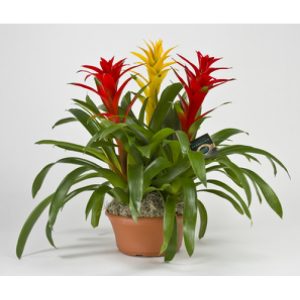 Mayfield Florist carries top quality Father's Day Flowers & Gifts. These include Flowers, Succulent Plants and Gourmet Baskets. As Father's Day is almost here, surely you have been thinking about what to get your dad. We have a wonderful collection of fresh cut flowers, plants and gifts.
All would make perfect Father's Day gifts and were created with care and thoughtfulness. Some of the most popular floral gifts for men tend to be tropical & exotic flowers.
Men also usually like our Emerald Garden Baskets and one of our most popular male themed gifts is our Health Nut Basket. This year, let us help you take care of your Father. We can get your gift there same day!
Bromeliad Combo
Bromeliads are some of the most unique plants available. This spectacular plant varies from 1 plant, or a combo of bright plants will add a special touch to any room in your house or office. They are so easy to maintain and just a little bit of care, their long-lasting blooms will be around for quite a while. Decorative containers may vary depending on availability.
Mayfield Florist offers Fresh and Festive Father's Day Floral Gifts
1610 North Tucson Blvd
Tucson, AZ 85716
Get Directions »