Mayfield Florist
The Mayfield Florist award winning design team has worked hard to make sure you are prepared to celebrate the Independence Day holiday with your family and friends. When you purchase fresh, colorful and patriotic 4th of July Flowers from Mayfield Florist, the party will be assured of starting off with a bang. Our flowers are fresh, beautiful and created with a sense of celebration for every occasion. They will make your home festive both inside and outside by creating a patriotic and proud atmosphere. There are many varieties of the patriotic Red, White and Blue Flowers to choose from.
Below are some varieties of flowers that each year seem to be among the favorites. These go well with outdoor 4th of July barbeques or inside the home to add color and freshness. The flowers can also be placed on the front porch to make for a wonderful curb appeal to display your patriotism. As you browse in store on the Mayfield Florist state of the art website, we welcome any questions or assistance that you may need.
Bright and Bold White Flower Varieties
Shasta Daisy – Much like the Gerbera these are not always easy to maintain but they do add a beautiful shade of white perfect for any 4th of July display. If the yellow center does not bother you, these make plentiful blooms and are considered to be somewhat of a trendy flower.
Annabelle hydrangea – These flowers are not difficult to grow.  The Annabelle hydrangeas are very beautiful and offer very large clusters of small flowers. This creates the perfect volume of white color for a 4th of July flowerpot or container decoration.
Queen Anne's Lace – Place these with other flowers that thrive best in full sun. Their delicate lacy white color is the perfect accent filler and compliment to a container decoration.
Cup Flower – Another of the filler varieties of flower, the Cup Flowers are quite dainty and soft. Their blooms and plentiful and can actually spill over a container grow down to the ground.
Lilies – These are a popular and longtime favorite flower variety. With their large trumpet shaped blooms and amazing scent, they make for a regal 4th of July decoration.
Beautiful Blue or Voilet Flower Varieties
Victoria Blue Salvia – A great addition to a 4th of July patriotic container, this plant displays gorgeous tall flowers. Their bluish hue makes for the perfect complement to the red and white. Also, they add height to the flower container.
Gentian Sage – This flower is the most accurate blue of most flowers. You will not find violet accents. They also are flexible in that they do well in both full sun and partial shade.
Browallia – Place these in partial shade. They have a classic five-petal appearance the makes any container of mixed flowers look amazing. Many people combine them with wax begonias and cup flowers.
Floss Flower – Very similar to the Queen Anne's Lace. The Floss Flower also known as the blue ageratum, has a clustered appearance and does well in full sun or partial shade.
Blue Hydrangea – In order to make a Hydrangea turn blue, they must be places or grown in acidic soil with a pH 5.5 and lower.
Bright and Bold Red Flower Varieties
Red Roses – With their fresh perfume scent and brilliant red color, these always make for a great flower arrangement inside the home or on a patio table.
Zinnias – These flowers offer the perfect shade of red to accent the 4th of July. They do come in other colors as well.
Impatiens – If you have an area of your porch or patio that stays in full shade much of the time, Impatiens are the right flower for that spot. They also have a brilliant red color that is perfect for the 4th of July.
Geraniums – This variety of flower really shows up for summer with large and hearty blooms. They absolutely love sun so are great as outdoor poolside or patio decorations. They do require frequent watering and must be allowed to drain. They come in a vivid red shade but also come in white.
Gerbera Daisy – Daisies have one of the best shades of bright red to compliment the 4th of July. They make any flowerpot standout with a cheery red hue, but they are also not easy to maintain.
Tucson Petite Blush
The award-winning floral design team at Mayfield Florist created this stunning floral arrangement. We call it Tucson Petite Blush. This arrangement is part of our new petite floral collections. This week, surprise your loved one with this one-of-a-kind arrangement! Orange and pink roses, two different kinds of hydrangea, a cymbidium orchid and more are featured in this beautiful arrangement presented in a designer ceramic container.
Mayfield Florist 4th of July Flowers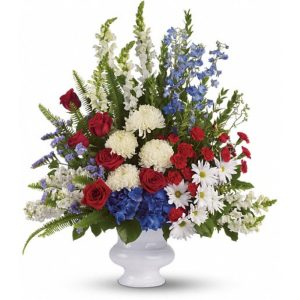 Mayfield Florist offers Beautiful Farm Fresh Flowers for all occasions including Patriotic colors for The 4th of July! Our flowers are the finest, freshest and overall highest quality flowers available. This is why Mayfield Florist is considered to offer the best selection of beautiful fresh flowers in Tucson, Arizona.
Our practice is to purchase many of the flowers we sell, direct from both domestic and international flower farms. Buying direct means our customers always have access to the finest, freshest, highest quality floral products available. We invite you to shop our website or stop by either of our two floral design centers to see our all of our gorgeous floral collections. Of course, our fine flowers are available for Local Same Day, Express Delivery and Nationwide Same Day Flower Delivery.
With Distinction
The expert floral designers at Mayfield Florist can create this gorgeous, patriotic themed sympathy flower arrangement for you. This arrangement includes gorgeous white carnations, red roses, gladiolus and more. A dazzling display of patriotic red, white and blue flowers is perfect for a pool side or patio 4th of July celebration.
Of course, it also sends a silent yet poignant statement about hope, freedom and the strength to endure. This proud bouquet is a testament to life that is sure to be appreciated.
Mayfield Florist