Mayfield Florist
Mayfield Florist is a family owned and operate floral design firm. We provide local same day and express delivery service to Tucson Medical Center, and any other hospital or medical facility located in Pima County. Our 4-hour express delivery service is really a popular option for customers wanting to send a get-well gift to Tucson Medical Center. We guarantee on-time arrival of all express deliveries.
Mayfield Florist operates multiple flower shops in the greater Tucson area. Our main floral design center is located at 7181 Tanque Verde, Tucson, Arizona 85715. We have a second location at 1610 North Tucson Blvd., Tucson, Arizona 85716. Mayfield Florist offers the best selection of get-well flowers, plants and gift options in town.
The Tucson Medical Center is one of the larger hospitals in Tucson Arizona. For more than 70 years, Tucson Medical Center has been providing our area with exceptional care and access to top physicians. Tucson Medical Center provide a wide array of medical services. They have a program for adults and also provide a provide specific to children. Over the years, they have become one of the preferred hospitals for many folks living in and around the greater Tucson area. They offer cardiac services and provide care for people suffering from many other ailments.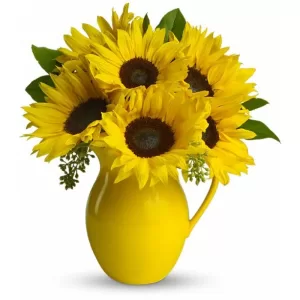 Mayfield Florist offers same day and express flower delivery service to Tucson Medical Center. Our delivery staff generally make several runs per day, to the medical center. We have years of experience in delivering to the hospital and known all the special requirements necessary to successfully accomplish our mission to deliver your get-well flowers, plant or gift. One of the most popular delivery options for folks using our get-well flower delivery service is our express delivery feature. We can normally get your flowers, plant or gift delivered in 4 hours of less. Express service works well when you have a specific date and time requirement, for the delivery.
All hospital flower deliveries come with our 100% customer satisfaction guarantee. If for any reason you don't absolutely love the design we delivered, simply contact one of our floral design centers. We will replace that arrangement free of charge.
Mayfield Florist offers the best selection of Get-Well Flowers in town. We have beautiful sunflowers, gerbera daisies, roses and more. There are lots of great options, in all price ranges. The most popular arrangements for hospital and get-well flower delivery tend to be bright and cheery style designs.
Mayfield Florist offers a great get-well plant collection. We offer live green and blooming plants. Choose from Dieffenbachia, Crotons, Spathipyllum and more. We have gorgeous cactus and dish gardens. They are extremely popular here in the Tucson area. Another really popular plant variety is our high desert succulent collection. These succulents, if properly cared for, retain the beauty for a long period of time. All of our plants are available for same day or express delivery to Tucson area hospitals.
In addition to all the gorgeous flower and plant options we offer, we also carry get well gifts. These gifts are themed for the occasion. They are available for delivery to the home or to the hospital room. We sell delicious gourmet gift baskets, teddy bears, get well balloons and more.
Sunny Day Pitcher of Sunflowers
Pour on the fun by sending this dazzling bouquet of summer's brightest blooms! Great if you're invited to a pool party, BBQ or just want to brighten up someone's day.
Send Mayfield Florist Plants and Flowers for Labor Day Celebrations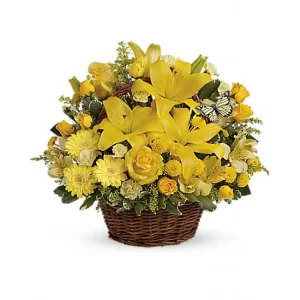 We have an excellent variety of fresh Plants and Flowers to help celebrate Labor Day. According to some historical accounts, Labor Day was first observed September 5, 1882, in New York. At that time, it was a thought to have observed at that time to pay tribute to all working men and women. The concept continued to gain interest and support and then by 1894 it was officially celebrated in the United States and Canada.
In addition to being a well-deserved day off for most people it is also a day to think about hard working individual and their contribution to society. One nice quotation from former president of the American Federation of Labor summed it up appropriately. "Labor Day differs in every essential way from the other holidays of the year in any country. All other holidays are in a more or less degree connected with conflicts and battles of man's prowess over man, of strife and discord for greed and power, of glories achieved by one nation over another. Labor Day…is devoted to no man, living or dead, to no sect, race, or nation."
Basket Full of Wishes
Wishes do come true, by the basketful, actually. This delightful arrangement is so full of sunny blossoms, it even includes a pretty yellow butterfly who obviously feels right at home, basking in the warmth.
Mayfield Florist