Mayfield Florist
Mayfield Florist offers gorgeous farm fresh flowers, to customers in Catalina Arizona. Our firm was established in 1982. We are a true, second generation, family owned and operated floral design firm. Products we sell include farm fresh flowers, plants and gifts for all occasions. We employ one of the most talented floral design staffs in Arizona. They are known for producing luxurious, upscale floral designs. The delivery staff at Mayfield Florist makes daily delivery runs to all Tucson and Catalina area hospitals, churches, funeral homes and mortuaries.
Mayfield Florist operates a state-of-the-art floral design center in the greater Tucson, Arizona area. The center is conveniently located at 2200 N. Wilmot Road, Tucson, Arizona 85712. We offer the best selection of beautiful farm fresh flowers in Tucson. Our award-winning floral design staff is one of the very best in Arizona. When browsing our website if you do not find the exact floral arrangement you are looking for, please call us at (520) 886-4443 in Tucson or toll free at (800) 584-6081. We offer custom floral design and can create the design that meets your exact needs.
Our website is designed to offer you an easy way to shop, whether you are looking for a special gift or something for your new home. We have owned Mayfield Florist since 1982 and are constantly striving to meet our customers' expectations. We believe that you will find our sales staff helpful and extremely knowledgeable.
Christmas Table Centerpiece
Only Available in Local Tucson Area
Let our expert floral design team create a Christmas themed floral table centerpiece for your special someone. The image shown on the website is an example of the style of arrangement you may receive. Our designers will pick out the freshest Holiday themed flowers that we have available and create a gorgeous floral design for you. To be clear, we purchase flowers and vases based on seasonal availability. Some of the flowers and the vase shown in the sample image may not be available to our designers at the time you place your order. If that occurs, we reserve the right to substitute some of the floral varieties, or the vase, for flowers and a vase of equal value and quality. Trust our Award Winning Designers to create a stunning floral design for you. We guarantee you and the recipient are going to love it!
SPECIAL DISCOUNT OFFERS – USE ON MAIN WEBSITE
Mayfield Florist offers Elegant Holiday Centerpieces
Holiday centerpieces are a vital part of holiday celebrations. A beautiful table centerpiece will add warmth and a festive ambiance to any dinner table or home. The professional and "best of the best" floral designers at Mayfield Florist have created thoughtful and dazzling Christmas and Hannukah centerpieces to make your holiday dinner table and home very charming. We invite you to visit us conveniently online or in person and see our fabulous Holiday centerpieces.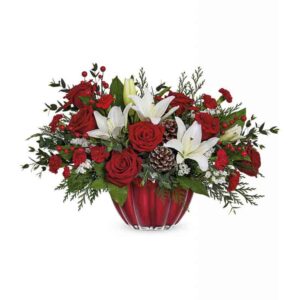 Decorating Christmas dinner tables with a centerpiece is a tradition dating back for many generations. Our professional staff will help you find the right centerpiece to fit your table. There are many age-old reasons people use centerpieces ranging from displaying wealth, power, prosperity and to ensure good fortune for those we love. Whatever your reason may be, our floral design team is eager to assist. Components of the centerpiece have symbolic meaning also. For example, the evergreen, which is so common as a decoration, represents eternal life for those of the Christian faith. Evergreens are hardy and grow year-round even in the dead of winter. This representation is associated with the strength of Jesus and all that he endured.
Often Christmas centerpieces are adorned with colorful decorations as well as evergreen and candles. The traditional selection of red, green and gold decorations is purposeful also. Gold is one of the first colors associated with Christmas. It symbolizes royalty as it was one of the three gifts of the Wise Men. Red symbolizes the blood of Jesus shed during crucifixion. When you shop for that perfect Christmas centerpiece to add holiday spirit and beauty to your holiday dinner table, please be sure to visit us conveniently online or in person to see the best centerpieces in town. Your family and friends will be in awe as they gather at your table for that wonderful holiday meal.
Mayfield's Vibrant Christmas Centerpiece
Dress up your holiday celebrations with this elegant Christmas rose bouquet. Filled with red roses, white Asiatic lilies, and miniature red carnations, this vibrant Christmas flower centerpiece is delivered in a beautifully arranged scalloped glass keepsake bowl with shimmering metallic finish.
2200 N Wilmot Rd
Tucson, AZ 85712
(520) 886-4443