Mayfield Florist
Mayfield Florist has been voted Best Florist in Tucson and offers the best selection of beautiful farm fresh flowers in Rita Ranch, Arizona. Established in 1982, Mayfield Florist is a second generation, family owned and operated floral design firm. Products we sell include farm fresh flowers, plants and gifts for all occasions. We employ one of the most talented floral design staffs in Arizona. They are known for producing luxurious, upscale floral designs. The delivery staff at Mayfield Florist makes daily delivery runs to all Tucson and Rita Ranch area hospitals, churches, funeral homes and mortuaries.
Mayfield Florist offers the best selection of Christmas themed floral arrangements, table centerpieces and holiday themed gifts in Tucson. We invite you to shop online or stop by either of our two floral design centers in Tucson to see our entire Christmas and Holiday collection. The showroom is absolutely beautiful this time of year. We think you will love it. Remember, if you don't see the exact arrangement, you are looking for, we can custom design any holiday flower arrangement you want. Our professional floral design team loves this time of year, because this is the time of year, they really get to show their creativity. We offer custom designed wreaths, gorgeous floral table centerpieces and beautiful Christmas themed flower arrangements.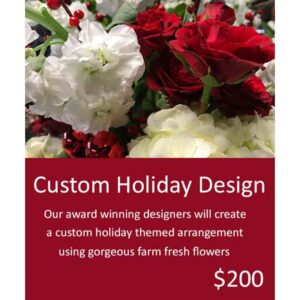 Local Same Day & Express Delivery/Nationwide Same Day Flower Delivery
Designers Choice Christmas Flowers DC200
Only Available in Local Tucson Area
Let our expert floral design team create a Christmas themed floral design for your special someone. The image shown on the website is an example of the style of arrangement you may receive. Our designers will pick out the freshest birthday themed flowers that we have available and create a gorgeous floral design for you. To be clear, we purchase flowers and vases based on seasonal availability. Some of the flowers and the vase shown in the sample image may not be available to our designers at the time you place your order. If that occurs, we reserve the right to substitute some of the floral varieties, or the vase, for flowers and a vase of equal value and quality. Trust our Award Winning Designers to create a stunning floral design for you. We guarantee you and the recipient are going to love it!
SPECIAL DISCOUNT OFFERS – USE ON MAIN WEBSITE
Mayfield Florist offers fresh and elegant Poinsettias to celebrate this Holiday Season
Each year, December 12th is designated as Poinsettia Day. This beautiful plant has been displayed in homes and businesses for generations and is recognized as the traditional Christmas plant.  An American botanist, physician and Minister to Mexico sent cuttings of the plant he had discovered in Southern Mexico to his home in Charleston, South Carolina. Botanically, the plant is known as Euphorbia Pulchritude and the common name is Poinsettia.
Poinsettias are the bestselling potted plants in the U.S. and Canada. It is estimated each year the sale of Poinsettias accountant for approximately $250,000,000. In July of 2002, the House of Representatives created Poinsettia Day.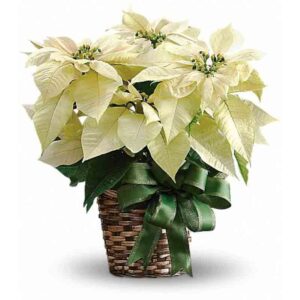 In Mexico, the plant is called the Flower of the Holy Night. The Spanish translation is La Flor de la Nochebuena. As the legend goes, a young girl was very upset because she had no gift to honor the Baby Jesus in a Christmas Procession. An angel spoke to her with the message that any gift given with love is the best gift. The young girl then gathered weeds by the roadside to place around the manger. Miraculously these weeds sprouted into the beautiful red star flower we think of as Poinsettia.
Some people want to keep their Poinsettia after the Christmas season is over. It is actually a plant that with proper care you can use over and over again as a holiday decoration. The plant has to be kept in a spot where it can receive at least six hours of indirect sunlight each day. With normal watering until the first of April, the Poinsettia Plant can then have the stems cut down to about four inches. Then it can be repotted in fresh potting mix. Continue to water so that soil feels moist to the touch. Once the nighttime temperature stays above 50 degrees, the plant can be moved outdoors. You can research additional Poinsettia care instructions so that by the time Christmas rolls around, your Poinsettia will be ready for holiday display.
White Poinsettia
A brilliant departure from tradition, this white poinsettia is a winter wonderland of elegance. If you want to send a gift that will really stand out, this is a dazzling choice! Traditional is an 8-inch Holiday Bouquet Poinsettia from Acosta Farms. These plants are 22-24 inches tall
Mayfield Florist
2200 N Wilmot Rd
Tucson, AZ 85712