Mayfield Florist
Voted Best Florist in Tucson, Mayfield Florist has been proudly serving Marana, Arizona and the Tucson area since 1982. We sell gorgeous, farm direct flowers, beautiful live green and flowering plants. Including a wonderful selection of succulents. Similar to so many flower shops, Mayfield Florist is a second generation, family owned and operated floral design firm. We are honored to have been voted Best Florist in Tucson on numerous occasions. We offer fabulous farm direct roses, orchids and many other fresh flower varieties. Our shops are also filled with gorgeous live green plants, flowering and succulent plants. We also offer gifts, themed for all occasions. We employ one of the most talented floral design staffs in Arizona. They are known for producing luxurious, upscale floral designs.
The delivery staff at Mayfield Florist makes daily delivery runs to all Tucson and Marana area hospitals, churches, funeral homes and mortuaries.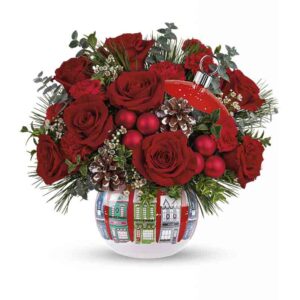 Mayfield Florist offers the best selection of Christmas themed floral arrangements, table centerpieces and holiday themed gifts in Tucson. We invite you to shop online or stop by either of our two floral design centers in Tucson to see our entire Christmas and Holiday collection. The showroom is absolutely beautiful this time of year. We think you will love it. Remember, if you do not see the exact arrangement, you are looking for, we can custom design any holiday flower arrangement you want. Our professional floral design team loves this time of year, because this is the time of year, they really get to show their creativity. We offer custom designed wreaths, gorgeous floral table centerpieces and beautiful Christmas themed flower arrangements.
Snowy Village Ornament Bouquet
Spread holiday cheer near and far with this charming ceramic ornament jar, adorned with a snowy Christmas village and bursting with holiday blooms.
Mayfield Florist offers beautiful and fresh holiday and all occasion flowers
Christmas Holiday Decorations
There is an interesting history of displaying special Christmas decorations.  One of the first accounts of this dates back to the 15th century. In London there was a custom that every house and all the parish churches were to be decorated with various greenery.  It was said that the heart-shaped leaves of ivy symbolized Jesus coming to earth. Holly provided protection against witches and its thorns and red berries represented the Crown of Thorns worn by Jesus at the crucifixion.
Nativity scenes date back as far as the 10th-century in Rome. Saint Francis of Assisi brought more attention to them, and the tradition quickly spread. There are multiple variations of nativity scenes. Ranging from simple representations of the crib to more elaborate scenes designed to feature the manger and historical buildings in Poland. Some feature hand painted terracotta figurines called Santons. These are from southern France.
Christmas decorations are traditionally red, green and gold. Each color has a symbolic meaning. For example, red symbolizes the blood of Jesus that was shed by him during crucifixion. Green symbolizes eternal life. The evergreen tree does not lose its leaves in the winter. The first color associated with Christmas is gold. One of the three gifts of the Magi was gold and symbolizes royalty.
Hanukkah
This year the eight -day festival of Hanukkah begins at sunset on Sunday, December 18th when the first candle is lit on the Chanukiah (menorah).  The Hebrew calendar is based on the lunar cycle therefore the dates of Jewish holidays, according to the Gregorian calendar, change from year to year. Due to the changing dates, Hanukkah ranges from early November to late December.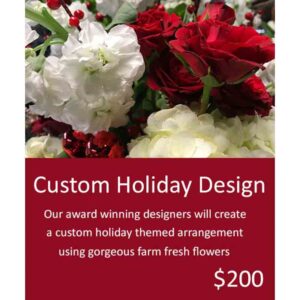 There are volumes of data regarding the history and traditions associated with Hanukkah. In short, Hanukkah commemorates the re-dedication of the Temple in Jerusalem. This re-dedication was possible due to a group of Jewish warriors that defeated the Greek armies that were occupying the Temple. The festival of Hanukkah celebrates the triumph of light over darkness and of spirituality over materiality.
Our floral design team has created a great selection of Christmas Flowers and Hanukkah Flowers!
Designers Choice Christmas Flowers DC200
Only Available in Local Tucson Area
Let our expert floral design team create a Christmas themed floral design for your special someone. The image shown on the website is an example of the style of arrangement you may receive. Our designers will pick out the freshest birthday themed flowers that we have available and create a gorgeous floral design for you. To be clear, we purchase flowers and vases based on seasonal availability. Some of the flowers and the vase shown in the sample image may not be available to our designers at the time you place your order. If that occurs, we reserve the right to substitute some of the floral varieties, or the vase, for flowers and a vase of equal value and quality. Trust our Award Winning Designers to create a stunning floral design for you. We guarantee you and the recipient are going to love it!
Mayfield Florist