Mayfield Florist
Mayfield Florist is a proud family owned and operated florist in Tuscon, Arizona. Our team provides same day flower and plant delivery to Green Valley, Arizona.  We have been Voted Best Florist in Tucson. Mayfield Florist offers gorgeous farm fresh flowers, to customers in Green Valley, Arizona. Our firm was established in 1982. We are a true, second generation, family owned and operated floral design firm. Products we sell include farm fresh flowers, plants and gifts for all occasions. We employ one of the most talented floral design staffs in Arizona. They are known for producing luxurious, upscale floral designs. The delivery staff at Mayfield Florist makes daily delivery runs to all Tucson and Green Valley area hospitals, churches, funeral homes and mortuaries.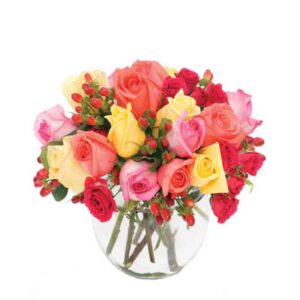 Mayfield Florist offers the best selection of beautiful fresh flowers in Tucson Arizona. Our best seller collection includes the most popular floral designs that we sell. If you are looking to send an arrangement that will leave a lasting impression, we encourage you to consider sending some of our gorgeous Ecuadorian Roses. They are absolutely incredible. You might also want to take a look at our Arizona sunflowers. They have beautiful large yellow petals, with a dense seed pack in the center. Our sunflowers are truly spectacular.
Rose Sorbet
Just like sorbet is to the tongue, this beautiful arrangement is a treat for the eyes. Multicolored standard and spray roses. Full of vibrant colors, this handmade design is sure to please.
Mayfield Florist Welcomes Black Friday, Small Business Saturday and Cyber Monday with Great Prices on Floral Products
Black Friday
Beginning in 1952, the day after Thanksgiving started to be recognized as the beginning of the Christmas shopping season. "Black Friday", as it is referred to today, has the result of retail stores turning big profits. These profits, in accounting terminology, put the retailers "in the black" instead of losing profits or being "in the red". This day is also closely watched by economists to measure the stimulus it has to the United States economy.
Since 2005, Black Friday has arguably been the busiest shopping day of the year. Many big-name retailers for example, Target, Kohl's and Best Buy to name a few, open their doors at midnight.  Retailers now try to spread the shopping out by offering promotions throughout November and December. Total dollars spent on Black Friday shopping fell in 2014 to a mere $50.9 billion. This was the first drop since the recession in 2008 and was attributed to this extension of holiday promotions.
Small Business Saturday
Small Business Saturday takes place between November 24th and November 30th. This day is one of the busiest shopping periods of the year as consumers flock to their favorite local small business vendors.  First observed in the United States on November 27, 2010, Small Business Saturday is within the same theme as Black Friday and Cyber Monday. These are days when shopping at retailers and e-commerce stores is at its height of the season. Small Business Saturday encourages shoppers to visit local businesses to make purchases. Obviously, a great financial focus for communities and the entrepreneurs that live and work there.
One major credit card company, American Express is a major supporter of Small Business Saturday. They actually promoted the holiday in 2010 on radio, television and Facebook. Mayfield Florist is a one of your local and longtime community neighbors. We take extreme pleasure in supporting our community and would be honored to have you visit us online or at our convenient location. Our products are highest quality, and our talented floral designers are among the best in the industry.
Cyber Monday
Cyber Monday sometimes referred to as "Blue Monday" was created as a special day to encourage consumers to do online shopping. There is no more perfect time now to shop online in 2022 when many people would much prefer to stay in their home and shop from their computer where they are away from crowds.
This day always follows Thanksgiving and as you might guess is the Monday following.  The term Cyber Monday originated in 2005 by a member of the National Retail Federation. It was advertised in a publication as the up and coming biggest online shopping day of the year. During that year 77% of online retailers reported increased sales. By 2017 sales had grown to $6.59 billion.
Mayfield's Celebrate
Celebrate Life's Special Moments with Flowers
Pink Roses, Orange Lilies, Lavender Alstroemeria
The design team at Mayfield Flowers created this gorgeous design. We call it "Mayfield Celebration." This arrangement features gorgeous hot pink roses, then adds orange lilies, purple alstroemeria and green button pops, with a ribbon accent. They drop all these beautiful flowers into a cubed glass vase, lined with a leaf wrap.
Mayfield Florist