Mayfield Florist
The weather is getting warmer, the bees are buzzing, and the flowers are blooming. Yes Spring 2023 starts on March 20th! If you're looking for a way to spruce up your home or garden with Spring Flowers and Plants. Spring flowers are beautiful and perfect for your springtime event or gift. Spring flowers are available in many different colors and varieties, so you can find the perfect ones for any occasion. Whether you're looking for spring bouquets, centerpieces or gifts, there's no better way to show someone how much you care than with a beautiful bouquet of fresh-cut flowers! There are many different types of spring flowers, including tulips, daffodils and hyacinths. You can even get spring plants to bring some of the beauty of the season indoors! These plants will add color and life to your home for months after you take them home. We have compiled a list of some of my favorites below:
Spring Flower Bouquets
A bouquet is a collection of flowers that have been gathered together in a vase or other container, often as part of an arrangement for display. Flowers are usually gathered from their original source (such as the garden) but can also be purchased from florists who grow them specifically for that purpose. A floral arrangement may include additional greenery, such as leaves or stems, which are sometimes referred to as filler items when they're included with the flowers themselves in an arrangement. Floral arrangements are typically used to decorate a room in the home, office or any other location. They can also be given as gifts to others, often as a token of appreciation for some kind act or service. Other times they're used as centerpieces for special occasions, such as weddings and anniversaries.
Spring Flower Types
Spring flowers are a beautiful way to add color and life to your home. You can choose from many different varieties of spring flowers, including tulips, daffodils and hyacinths. Or you can opt for something more exotic like crocuses or even miniature roses! Spring flowers come in all shapes, sizes and colors so there's something for everyone.
If you're looking for something small but still bright and cheerful then consider getting some Anemone 'Bach's Caribou'. It has dark red petals with white centers that grow up to 6 inches tall so they make a great statement piece on any table when paired with other spring plants like pansies or violas which also work well because they don't require much sunlight so will thrive indoors too!
If, however, you prefer something bigger, try growing some Gladiolus 'Black Beauty' (Gladiolus hybridus) instead; these have huge blossoms that measure up to 10 inches wide so definitely make quite an impact when placed alongside other potted plants such as Caladiums which grow large enough themselves anyway but also provide shade underneath their leaves – perfect if yours tend towards being sunburned easily like mine do."
If you're looking for something more unusual than consider getting some Crocus 'Black Magic' (Crocus sativus). It has dark purple petals with white centers that grow up to 6 inches tall, making them perfect for adding color to your indoor garden during the spring season!
Spring Plant Gifts
Spring is the perfect time to give someone a plant as a gift. It's an affordable option that can be used to show your loved ones you care, even if they have green thumbs or black ones!
Here are some ideas on how to give spring flowers and plants:
If you're looking for something small but sweet, consider giving tulips or daffodils from your own garden. The blooms will last longer than those bought at the grocery store, so this is a great way to save money while giving an extra-special present.
Find out if your friend has any favorite flowers or plants–and then surprise them with one! If she loves roses but only has space for one type in her yard, offer up some extra potted rosebushes so she'll always have access when needed without having extra work maintaining them herself.
If you want to give something more personal, try giving a plant that has meaning. For example, if your friend enjoys gardening but is new to it and doesn't have an extensive collection of plants yet, consider giving them some seeds–especially ones that are easy to grow like zucchini or tomatoes.
Spring Floral Favorites
Spring flowers and plants are a popular choice for many people, regardless of the occasion. Spring flowers can be a thoughtful gift for friends and family members who are celebrating an anniversary or birthday. They're also great for welcoming new babies into the world! Spring plant types include tulips, daffodils, hyacinths and more–all available. If you're looking to send bouquets of these beautiful spring blooms, below are ideas.
Rainbow Bouquet includes red roses with pink carnations and white daisies.
Mixed Bouquet includes red roses with yellow mini calla lilies.
Pink Bouquet includes pink roses along with alstroemeria stems.
Burgundy Bouquet includes burgundy roses with red carnations and white daisies.
Gardenia Bouquet includes gardenias along with pink alstroemeria stems.
Floral Products with Satisfaction Guarantee
We are committed to providing you with the highest quality floral products and service. If you are not completely satisfied with anything in your order, just let us know and we'll refund your money, including shipping charges.
Conclusion
Spring is a beautiful time of year, and it's the perfect time to celebrate with flowers. Whether you want to send spring flowers or plants, we have plenty of options for you! If you need help choosing the right bouquet or plant gift, our floral experts are here to assist with same day delivery in many areas across the U.S.
SPECIAL DISCOUNT OFFERS – USE ON MAIN WEBSITE
Mayfield Florist Same Day Delivery Spring Flowers and Plants
Mayfield Florist offers gorgeous farm fresh flowers, to customers in Catalina, Arizona. Our firm was established in 1982. We are a true, second generation, family owned and operated floral design firm. Products we sell include farm fresh flowers, plants and gifts for all occasions. We employ one of the most talented floral design staffs in Arizona. They are known for producing luxurious, upscale floral designs. The delivery staff at Mayfield Florist makes daily delivery runs to all Tucson and Catalina area hospitals, churches, funeral homes and mortuaries.
Voted Best Florist in Tucson Arizona
Mayfield Florist offers the best selection of beautiful Spring flowers in Tucson. We have all your favorite varieties of flowers, in-stock and available for immediate purchase. We encourage you to take a look at our gorgeous Tulips. They are a seasonal product, generally only available during the Spring. They are absolutely gorgeous. In addition to gorgeous tulips, we also have beautiful full bloom hydrangea, fabulous gerbera daisies, alstroemeria, dahlia, daffodils and much more.
Local Same Day & Rush Flower Delivery/Nationwide Same Day Flower Delivery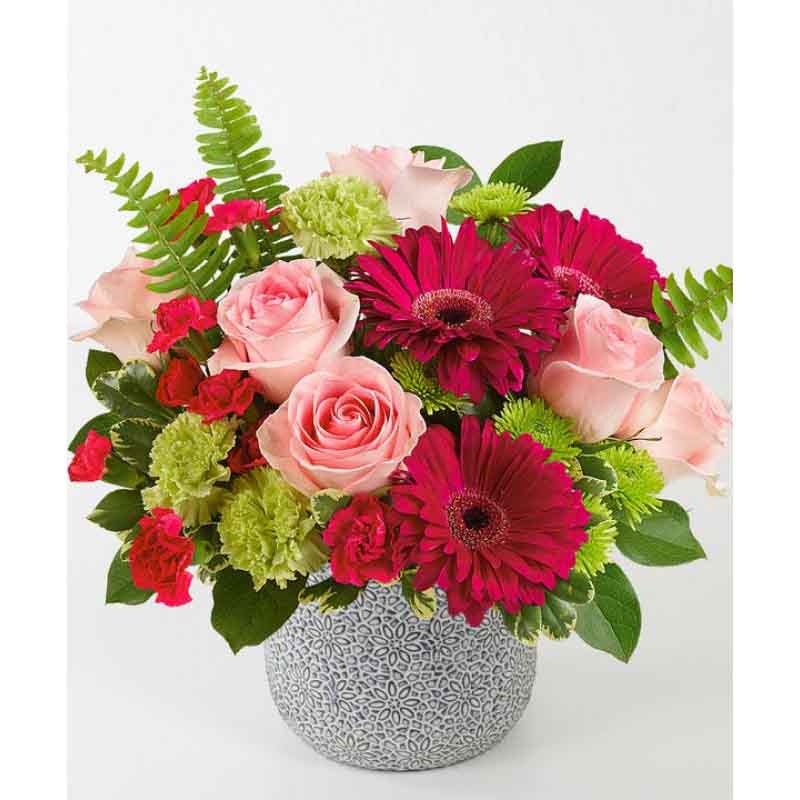 Tucson Pretty & Petite
Premium roses, gerbera daisies, Carnations and more are presented in a designer ceramic container. Makes a charming gift for many different occasions.
Mayfield Florist
2200 N Wilmot Rd
Tucson, AZ 85712
(520) 886-4443