Mayfield Florist
Whether you practice Christianity or just would enjoy some time off work and school, Easter is an opportunity to celebrate spring and the coming of warmer weather. One of the best ways to celebrate is with Easter Flowers. This tradition has been around for hundreds of years, and it shows no sign of fading! Although there are many different types of flowers that can be used for Easter arrangements, certain ones have become iconic symbols for the holiday over time.
SPECIAL DISCOUNT OFFERS – USE ON MAIN WEBSITE
About Easter
Easter is a Christian holiday, celebrating the resurrection of Jesus Christ. It's celebrated on the first Sunday after the full moon after the spring equinox, which can fall anywhere between March 22 and April 25. Easter flowers are thought to bring good luck and happiness, so if you're looking for some new blooms this season, we've got some ideas for your consideration!
Easter flowers are a wonderful way to celebrate the holiday, and we have some great ideas for how you can incorporate them into your celebration. If you're hosting an Easter party, consider buying a large centerpiece that includes Easter lilies and tulips in shades of yellow, white and pink.
Easter Lilies
Lilies are the most popular flowers for Easter. They symbolize purity and innocence, which makes them perfect for celebrating this religious holiday. Lilies come in white, yellow or pink and can be found in a range of sizes and prices. They can also be arranged in various ways to create unique bouquets for your loved ones!
The Easter lily is also known as the "Easter Lily" or simply "Lily." It is a type of plant that grows from bulbs and has long stems with white or yellow flowers. These plants can be found in many different varieties, including hybrids. They are often used to decorate Easter baskets for children because they symbolize purity and innocence.
You can also use other popular Easter flowers, such as tulips and daffodils. Tulips are a common spring flower that symbolizes new life and renewal after winter. Daffodils represent the return of springtime beauty after winter's harsh conditions, making them another traditional choice for Easter decorations. Hyacinths are a bright purple bulb plant that you might recognize from its sweet scent and often used in bouquets during this period as well. Daisies aren't usually associated with Easter but they're still great if you want something simple yet beautiful!
Popular Easter plants include ferns, orchids and hoya plants
If you're looking for some Easter plants, but aren't sure what to get, there are a few popular choices that make great gifts. The first is ferns. Ferns have been used as symbols of life and rebirth since ancient times because they look like new growth emerging from the ground after winter has passed. They're also easy to care for and can be kept indoors or out depending on where you live–so even if your recipient isn't an avid gardener, he or she will still be able to enjoy these beautiful plants!
Orchids are another popular choice for Easter gifts because they represent resurrection and new beginnings just like springtime does. Their flowers come in many colors and sizes (some as small as 1/4″ across!), so there's something for everyone here! Hoya plants are also good options if you want something different than ferns orchids; these tropical native plants produce clusters of fragrant blooms all summer long which makes them ideal additions to any garden.
All-white lilies are considered the most traditional choice for Easter arrangements. They symbolize purity and innocence, making them a natural fit for this spring holiday. Lilies have also been associated with springtime in many cultures, including China, where they're thought to represent renewal; in Japan, where they're associated with longevity (and also used in funerals); and in France, where they're associated with Joan of Arc's martyrdom on May 30th (the day after Easter).
If you'd like to add some color to your arrangement instead of going all white–or if you just want something different from what everyone else is doing–try pink roses or yellow tulips instead! If you're looking for something more creative than a traditional Easter arrangement, try making one with eggs. You can use real eggs or plastic ones as long as they're not too big; if they are, make sure to hide them behind other flowers so that guests can't see them.
A variety of flowers make beautiful arrangements for this festive holiday. When planning your Easter flowers, you can choose from a wide range of flowers, plants and orchids. You can even use seasonal flowers such as tulips and hyacinths to add color to your home. Easter flowers are a great way to celebrate the holiday. Whether you're sending them as gifts or using them to decorate your home, Easter flowers are sure to spread joy and happiness.
Conclusion
With so many beautiful flowers and plants to choose from, it can be difficult to decide what to put in your Easter basket. If you're looking for something simple, then consider choosing a few white lilies or daisies. If you want something more colorful or festive, then try combining tulips with some daffodils or hyacinths. Whatever type of flowers or plants you choose for this special day will surely add some springtime cheer!
Mayfield Florist Same Day Delivery Easter Flowers and Plants
You cannot send Easter eggs – so send a fresh bouquet of Easter flowers instead! Mayfield Florist has the best and brightest flowers for Easter, including the traditional Easter Lily. Send Easter flowers to Tucson, AZ or nationwide for a joyful Easter celebration. Looking for the perfect Easter basket? We can help you with that. Our Easter flower baskets are filled with gorgeous flowers, seasonal plants and lush green ferns. We also have a nice selection of Easter Lilies and those are available for purchase via online or in-store purchase. Do you need palm fronds for your church service? Give us a call and we can get those for you as well.
Mayfield Florist offers fresh, high quality floral products. We serve the greater Tucson area, including Drexel Heights. Our Ecuadorian roses are simply stunning. We are a second generation, family owned and operated floral design firm. We provide flowers for all occasions. Our wedding and event flowers are simply breathtaking. We employ a very talented team of floral designers. They create some of the most luxurious, upscale flower arrangements you can imagine. The delivery staff at Mayfield Florist is second to none. They make daily delivery runs to all Tucson area hospitals, churches, funeral homes and mortuaries.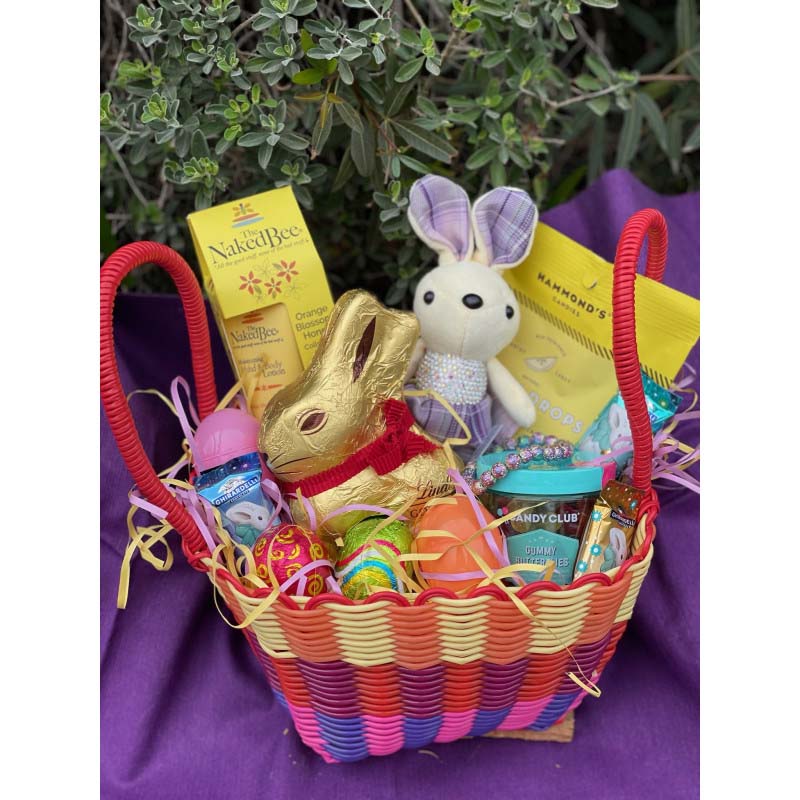 Hoppy Easter Basket
Get ready for Easter with our Hoppy Easter Basket!
Packed with all the goodies you need for a happy celebration, this basket is the perfect way to hop into the festivities for anyone 5 to 100 years old!
Inside the basket you'll find:
A 7oz milk chocolate Bunny by Lindt
3 piece gift set of hand cremes & lip balm by The Naked Bee
A bag of gourmet lemon drop hard candies from Hammonds
A tub of delightful gummy butterflies from Candy Club
A rainbow hematite bracelet in spring pastel colors
A variety of Ghirardelli Chocolate bunnies & eggs
As well as an adorable plush bunny keychain décor
(* Some Products from our featured vendors may vary *)
Mayfield Florist
2200 N Wilmot Rd
Tucson, AZ 85712
(520) 886-4443