Mayfield Florist
Do you know someone that is retiring? A retiree is a unique person to buy flowers for. You want to honor their many years of service, but you do not want to seem too sentimental. However, there is no reason why you cannot combine these two things! If you know someone who is retiring soon, consider giving them our beautiful Retirement Flowers or Plants as a token of appreciation for all they have contributed to society and the world around them. Here are some suggestions that will make this gift even better:
SPECIAL DISCOUNT OFFERS – USE ON MAIN WEBSITE
Retirement Flowers
Flowers are a great way to celebrate a retirement. Whether you are celebrating the end of your own career or that of someone close to you, flowers are a gift that lasts and will bring joy for many years to come. There are many flowers that are appropriate for retirement: roses, lilies, daisies and chrysanthemums are just some examples. You can also consider giving plants as gifts–they will grow quickly into beautiful plants that will remind your loved one every day of their special day!
Again, some of the best flowers for retirement include lilies, roses and daisies. These are all beautiful and long-lasting gifts that will remind your loved one of their special day every time they look at them! If you're looking for something different and unique, consider giving your loved one a "flower angel". These little angels are made from silk flowers and are very delicate; they make great keepsakes that can be placed on a shelf or in a vase as decoration every day.
If your loved one is more into gardening than they are flowers, consider giving them a gift certificate for some plant or flower types they might want to plant in their garden. Of course, you could add in some new tools or seeds so that they can plant additional flowers in their garden! If you do not know what kind of plants or tools they like or need, consider giving them a book on gardening instead.
Retirement Plants
Cacti are a great choice for retirement plants. They are easy to care for, and many varieties have beautiful flowers that bloom year-round. Succulents also make good retirement gifts. These plants can survive in dry conditions and do not require much water or sun exposure to thrive, making them perfect for those who may not have their own green thumb but still want to give their loved one something special on his or her big day. Other options include Orchids (which come in many colors), Aloe Vera (good for skin), Air Plants (no soil needed).
If you are giving flowers as a gift, it is best to present them in an elegant vase or container. The container should be large enough to accommodate all of your flowers comfortably without crowding them too much–you do not want anyone getting hurt! If you find yourself without any suitable containers, try using something else instead: maybe an empty bottle will do just fine? Gift wrap can be tricky when working with living things like plants and trees; luckily there are plenty of options available by our talented Floral Designers.
Conclusion
These plants and flowers make great gifts for retirees. The best part is that they can be placed in any room of the house, so you do not have to worry about finding a place for them.
Mayfield Florist Offers Same Day Delivery of Retirement Flowers or Plants
Voted Best Florist in Tucson
Mayfield Florist offers the best selection of gorgeous farm fresh flowers in Casas Adobes, Arizona. We have been serving customers in Casas Adobes since 1982. We provide local same day and express flower delivery service for our Casas Adobes, Arizona customers.
The City of Casas Adobes, Arizona, was originally founded as a small community called "El Rancho de los Golondrinas" in the early 1900s by Spanish settlers. They named it after the swallows that fly around the area during their nesting season. The name was later changed to Casas Adobes, which means adobe houses in Spanish. The city was incorporated in 1956 and grew quickly due to its proximity to Tucson and its location near Interstate 10. The population today is over 40,000 residents, who live in over 20,000 housing units.
Mayfield Florist was established more than 38 years ago. We have been designing and delivering fresh flower bouquets to our customers in Casas Adobes, Arizona during that time. We are a second generation, family owned and operated floral design firm. The products we sell include farm fresh flowers, plants and gifts for all occasions. We employ one of the most talented floral design staffs in Arizona. They are known for producing luxurious, upscale floral designs. The delivery staff at Mayfield Florist makes daily delivery runs to all Tucson and Casas Adobes area hospitals, churches, funeral homes and mortuaries.
We purchase many of the flowers we sell direct from flower farms. Our staff buys from both domestic and international growers. Buying direct offers many great advantages. It ensures that our customers always have access to the widest selection of floral varieties. We by premium flowers which also ensures that our customers have access to the finest, freshest, highest quality floral products available. Our product mix includes all of the local favorites, such as gorgeous long stem, spray and garden Roses.
We also sell Holland & California Tulips, Full Bloom Hydrangea, and exotic orchids. Choose from Cymbidium, Dendrobium or Phalaenopsis Orchids. Our Gerbera Daisies are also something special. Every arrangement we create is backed by our 100% customer satisfaction guarantee.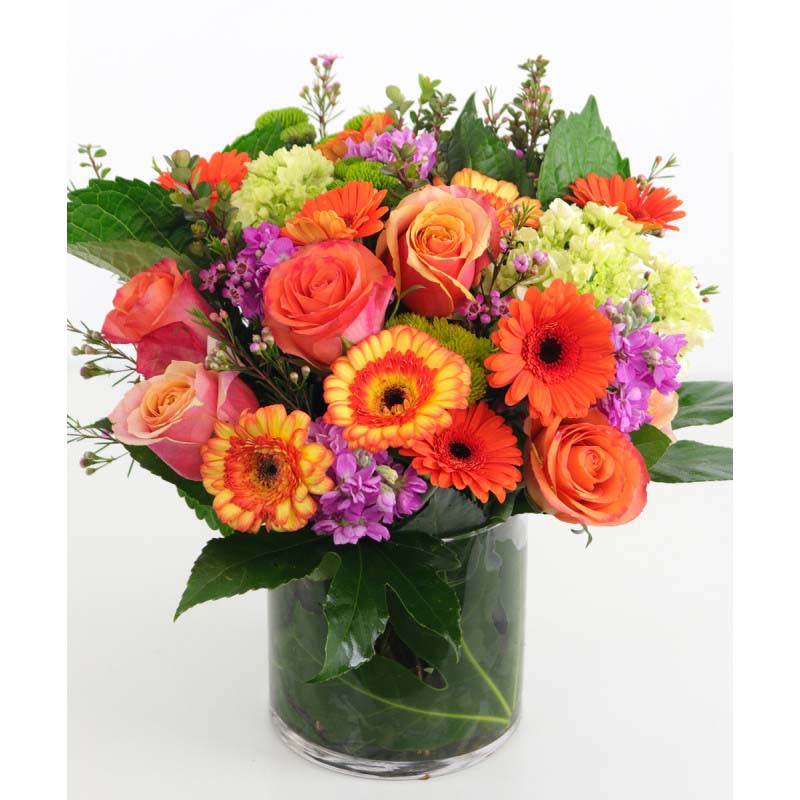 Mayfield's Dreamsicle
This lush, colorful arrangement features loads of premium flowers and tons of texture in a 5×5 cylinder.
PRODUCT DETAILS
Arrangement name: Mayfield's Dreamsicle
Flowers in the design: Gerbera Daisies, Hydrangea, Orange Roses, Pink Roses
Colors in the bouquet: Green, Pink, Purple, Orange, White
Country of origin for flowers: Ecuador, USA
Suggested use: Administrative Professionals Week, Anniversary, Birthday, Get Well, Graduation, Just Because, Love & Romance, Mother's Day, Valentine's Day & more
Recommended add-ons: Balloons, Chocolates, Hand-Written Card, Teddy Bears
Mayfield Florist
2200 N Wilmot Rd
Tucson, AZ 85712
(520) 886-4443