Mayfield Florist
Sisters are some of the best people in the world, and it is no surprise that National Sisters Day was created to celebrate their special bond. This year, you can celebrate your sister by sending caring National Sisters Day Flowers. This gift will make her happy and show how much you love her! National Sisters Day is a holiday that is celebrated on August 6th this year. It was created by Hallmark in 2000 and is meant to honor the special bond between sisters and celebrate their unique friendship.
SPECIAL DISCOUNT OFFERS – USE ON MAIN WEBSITE
To celebrate National Sisters Day, you could:
Give your sister a call or text her to say, "Happy National Sisters Day!"
Take her out for lunch or dinner at her favorite restaurant (or make her favorite meal).
Send her flowers or another thoughtful gift with a note reminding her how much she means to you!
If you do not have a sister, consider celebrating National Sisters Day by calling or texting one of your close friends. You can also send them flowers or another thoughtful gift with a note reminding them how much they mean to you! The best part of National Sisters Day is that you do not need an excuse to celebrate your sister. You can do it anytime! Whether you are celebrating her birthday, Christmas or just because, she will love knowing how much she means to you.
The holiday was created by the greeting card company Hallmark, and it first appeared on their products in 2000. Hallmark also created a website for National Sisters Day where you can find activities, crafts and recipes to do with your sister(s). The idea behind the holiday is to honor the special bond between sisters and celebrate their unique friendship. This is a great time to honor your sister and celebrate her special bond with you. If you have more than one sister, consider planning an activity or creating a small gift for each of them.
The best way to celebrate National Sisters Day is with your sister(s). You can plan a day together or do something special for them. If you're not able to spend time with your sisters, consider sending them a card or making a phone call. The special bond between sisters is a gift from God. Sisters are unique and can share their love, laughter and tears with each other. They can be a source of joy and comfort to each other during difficult times in life. On this day, you should honor your sister by doing something kind for her that reminds her how much she means to you. You might take her out for lunch or dinner at her favorite restaurant or buy her flowers just because it is National Sisters Day!
If you do not have a sister, it is still important to take the time to remember what your relationship with her means and how much she means to you. You might consider celebrating this day by spending time with another woman who is important in your life, like a best friend or mother.
Flowers make an affordable and thoughtful gift for your sister. If you do not have time to visit us in store, please consider shopping and ordering flowers online.
Flowers are a great gift for any occasion. Whether your sister is celebrating her birthday or just had a baby, flowers are an affordable and thoughtful gift.  Online ordering is convenient and easy! You can even send flowers to someone else's address if they live far away from where your sister lives (like if she has moved across town). Flowers are also very affordable–you can get them in many price ranges. And who does not love getting fresh cut blooms delivered straight to their door?
Sunflowers
If you are looking for a way to celebrate National Sisters Day with your sister, consider sending her a bouquet of sunflowers. Sunflowers are known as symbols of strength, warmth, love and happiness. They are also easy to grow and last for a long time.
If you want to send your sister a bouquet of sunflowers, try these tips:
Choose bright yellow blooms for the best effect.
Make sure the stems are long enough for your sister to enjoy them in her home or office.
Consider adding in a few sunflowers with other colors.
Choose a vase that's large enough for your sister to display the bouquet on her countertop or desk.
Orchids
Orchids are another great choice because they are delicate but also long-lasting flowers that suit any occasion or style. If you are not sure what to get your sister, consider an orchid plant. These plants are easy to grow, and their blooms will last for months!
Orchids also make a great Valentine's Day gift because they symbolize love and romance.
Succulents
If your sister is a fan of succulents or cacti, consider buying her an air plant. These plants are easy to care for and can be placed on almost any surface. They are also the perfect gift if you want to give your sister something that is unique and eye-catching! Succulents are relatively easy to care for and can last for several years. They also come in a wide variety of colors, shapes, and sizes, so you can find one that fits your sister's style perfectly!
Roses
Roses are another popular choice for National Sisters Day because they are both romantic and classic beauties that suit any occasion or style. Roses come in many colors, shapes, and sizes–you can even find them in shades of pink!
In addition, a gift card is always a good option. Gift cards are also great if your sister has specific tastes–you will know that she will be able to buy exactly what she wants! If you do not want to go with this option, consider buying her some new clothes or jewelry. She might like something from the latest fashion trends or even an accessory such as earrings or a bracelet.
Carnations
The classic carnation is a great choice if you want something simple yet elegant.
Conclusion
We hope this post has helped you learn more about the holiday and has inspired you to celebrate it in a meaningful way. If you have any questions or comments, please let us know in the comments below!
Mayfield Florist Offers Same Day Delivery of Gorgeous Sunflower Flower Arrangements for All Occasions including National Sisters Day
Voted Best Florist in Tucson Arizona
Mayfield Florist offers the best selection of sunflowers in Tucson. We purchase many of the sunflowers we sell from local and regional flower farms. Our sunflowers are absolutely gorgeous. They have long stems and beautiful large blooms. Our design team loves sunflowers and has created a number of absolutely fabulous sunflower themed arrangements. If you don't see the sunflower arrangement you want on our site, just contact one of our flower shops. We can custom design the exact sunflower arrangement you want.
Sunflowers are one of the most recognizable flowers around, with their giant heads and bright yellow petals. They're also incredibly versatile, as they can be used as food and medicine, in addition to being grown for their ornamental value. Sunflowers are a favorite flower in floral design, and for good reason. They're large, bright, and cheerful, and they add a lot of visual interest to any arrangement. When designing with sunflowers, you want to keep in mind that they have a very distinct look: their petals are large and flat, with little to no variation in color from one petal to the next. This makes them ideal for creating bold arrangements with lots of color contrast.
Sunflowers also work well with other flowers because they're so large—you can use them as the centerpieces or accents of an arrangement without needing much else to fill out the look. If you do want extra flowers in your arrangement but still want it primarily made up of sunflowers, try using smaller (or "mini") versions of other flowers like daisies or roses as filler between your larger sunflowers.
Sunflowers grow to be about six feet tall and are usually planted in rows that are three feet apart from each other. Sunflowers generally grow best in warm climates—the farther south you go in the U.S., the better. The sunflower is native to North America, where it is been cultivated since before European settlers arrived on these shores. Today, most commercial crops are grown in large farms in California, Georgia, Kansas and some smaller farms in Arizona as well.
Our firm is one of the premier floral design firms operating in Tucson, Arizona. If you are in the area, please stop in and visit our brand-new flower shop location at 2200 North Wilmot Road, Tucson, AZ 85712. The design center has a beautiful customer showroom, open to the public for in-store shopping. Our showroom is filled with occasion themed gifts. It has a large walk-in cooler. The award-winning floral design staff at Mayfield Florist keeps that cooler filled with beautiful, farm-fresh floral bouquets, themed for many different occasions.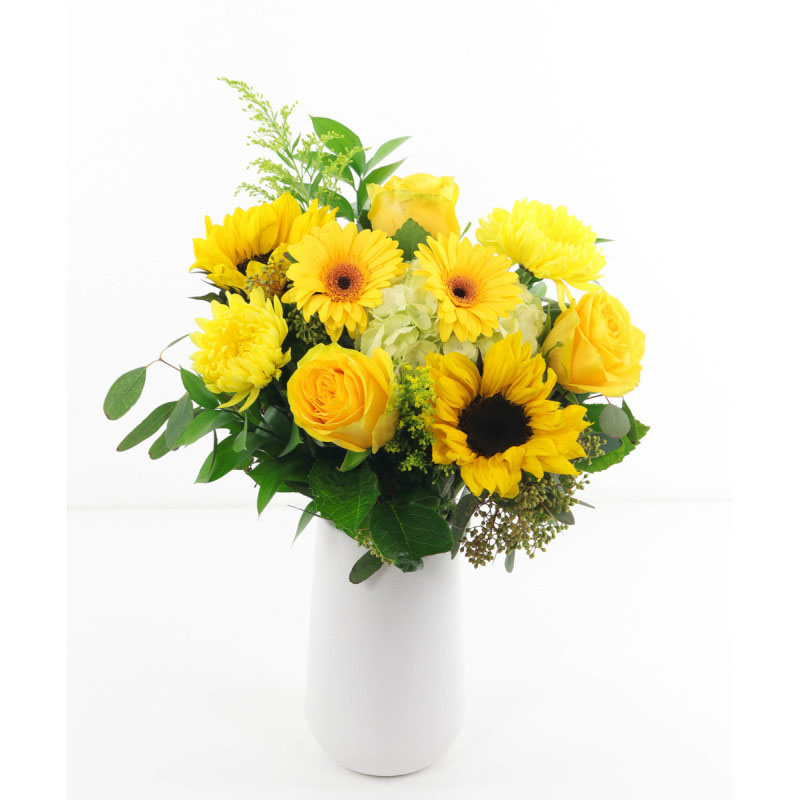 Sunny Delight
California grown sunflowers, Ecuadorian garden roses, stunning hydrangea and miniature gerbera daisies are arranged in a white ceramic vase.
Fancy: DOUBLE THE FLOWERS FOR A PREMIUM LOOK
PRODUCT DETAILS
Arrangement name: Sunny Delight
Flowers in the design: Yellow Mini Gerbera Daisies, Seeded Eucalyptus, Yellow Garden Roses, White Full Bloom Hydrangea
Colors in the bouquet: Green, Yellow, White
Country of origin for flowers: Ecuador, South Africa, USA
Suggested use: Administrative Professionals Week, Anniversary, Birthday, Get Well, Graduation, Just Because, Love & Romance, Mother's Day, Valentine's Day & more
Recommended add-ons: Balloons, Chocolates, Hand-Written Card, Teddy Bears
INFORMATION ABOUT THE FLOWERS IN THE DESIGN
Mini Gerbera Yellow Daisies are a type of flower that originated in South Africa. These flowers are characterized by their large, bright yellow petals, which can be up to 10 inches long. Mini Gerbera Yellow Daisies are most commonly used in bouquets and centerpieces, as well as other types of floral arrangements.
Garden roses are the most popular type of rose out there, and they can be found in gardens all over Europe and North America. They have large flowers with a wide variety of colors, which makes them perfect for floral arrangements and bouquets. Garden roses tend to be bigger than most other types of flowers, which makes them great for weddings or other big events where you want to make an impact.
California Sunflowers are a type of flower that originated in the United States. They can be used in floral designs and many other ways. The California Sunflower is unique because it has a large center disk and many smaller petals surrounding it. The sunflower is also known for its strong color, which can vary from yellow to orange to red.
Mayfield Florist
2200 N Wilmot Rd
Tucson, AZ 85712
(520) 886-4443